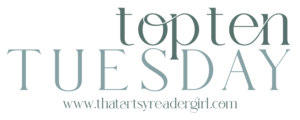 Hosted by That Artsy Reader Girl
All of these things are green lights for me when deciding whether to try a book. The more of them that pop up, the better the chances are of me loving that story!
1. Moderately descriptive writing.
I want to be able to clearly imagine what the characters and settings look like, but I don't want read Tolkien-like works that describe everything in minute detail over many pages. Yes, some stories need to have long, flowery descriptions in them, but they are generally not my cup of tea.
2. Complex characters
They do not need to be people I'd ever want to spend time with, in real life, but they should have plenty of interesting and surprising layers to their personalities that are slowly peeled back as the storyline progresses.
Character development is one of those things that can pull book down to a low rating or catapult it to a five-star read depending on how well it's done!
3. Diversity
Diverse reads are automatically pushed to the top of my TBR.
4. Little to no romance
Kudos to all of the romance readers out there! While I do sometimes enjoy books that have a dash of romance sometimes, I prefer characters who pursue other goals in life most of the time.
5. Lots of platonic relationships
This is something I'd be thrilled to see a lot more of in stories in general. Show me the relationships between relatives, coworkers, friends, enemies, acquaintances, neighbors, and more. I love seeing how character relate to each other in these moments. The more complicated things are between everyone, the better.
I also find it much more interesting to read romances that develop from longterm friendships because that's how I ended up falling in love with my spouse.
6. Short stories or novellas
While I do enjoy longer works as well, my sweet spot is something that can be read in an afternoon.
7. Historical accuracy
Whether it's historical fiction, a biography, or a nonfiction work about the past, I want it to be as historically accurate as possible.
8. Puns
The cozy mystery genre excels at coming up with all sorts of puns for their titles. I wish this trend would spread to other genres more often. I love it.
9. Scientific accuracy
Hard science fiction is difficult to write but so much fun to read. I love stopping a chapter or two into these sorts of books to research anything from cordyceps to what astronauts are actually trained to do to see where the line truly is between fiction and fact.
Sometimes there is a lot of fiction added when you're talking about a TV show like The Last of Us, but it still taught me all sorts of interesting things about how some species of cordyceps infect certain species of ants. In other cases, stories like Andy Weir's The Martian are surprisingly accurate in the majority of their scenes!
10.Playful use of tropes.
It's always cool to see authors acknowledge the tropes in their genres and then play around with them in unusual ways or even gently poke fun of them.