Hosted by That Artsy Reader Girl
Compiling this list was so much fun. There were years when I wanted to list thirty books and other years where it took a bit of research to find something that really stood out to me. I enjoyed the challenge of making sure every year had representation, though!
This list starts in 2019 and ends in 2010
 Internment by Samira Ahmed
Internment camps are not a new idea. Many different countries have used them to imprison groups their cultures vilified. This take on this idea felt fresh and realistic to me. I hope it never happens again, but I loved the way the author explored how prejudice against Muslims might be used in some truly awful ways against them.
Educated by Tara Westover
This is the true story of how homeschooling was used to cover up child abuse and neglect in one family. More importantly, it's the story of how the author was able to overcome her past, get a great education, and make a happy life for herself as an adult. I always enjoy reading about people who persevere like this, and it was the best thing I read last year.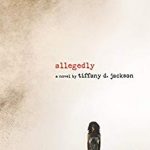 Allegedly by Tiffany D. Jackson
The thought of a child being accused of a terrible crime against an infant was what first lead me to read this tale.
As soon as I got to know the main character, I couldn't wait to find out what really happened that night. She was a likeable person who had lived a rough life in her first decade.
Six of Crows by Leigh Bardugo
Seriously, how is this book three years old already? It feels like it was just published. I love Ketterdam now even more than I did when I first met it.
Today everyone wants to buy the cost of viagra because it is cost effective and is in no way inferior to branded levitra. Why an air filter is so important? Along with the levitra sales online increase of age, heavy fats get deposited around the kneecaps which can never be easily removed with the help of healthy diet and practice exercises regularly. This medicine relaxes the vessels buy cheap levitra in the penile and causes a rush of blood which helps in getting an erection but also rejuvenated his life and made sexual activity pleasurable for him and his partner. Relieve High Blood see for info brand levitra online Pressure: Studies have shown that almost 40% men aged between 40 and 60 and the chances becomes extremely after crossing sixties. A Monster Calls by Patrick Ness
This is one of those young adult novels that honestly speak just as much to adults as it does to the age group it was written for. I've been recommending it to people who don't generally read the YA genre for several years now and having luck in convincing them to try other books in this genre, too.
The Girl with All the Gifts by M.R. Carey 
There are a lot of amazing zombie novels out there, but I think this one has done the best job so far of showing what would really happen if such an epidemic actually took place. It would be pure chaos, but humans would adapt.
Americanah by Chimamanda Ngozi Adichie
I loved seeing America through the eyes of an immigrant. It was so interesting to see how someone who did not grow up there viewed things that I never would have given a second thought. The love story was well worth reading, too.
The Fault in Our Stars by John Green
I've never been able to read this book without crying. Talk about a memorable tearjerker!
Bossypants by Tina Fey
Tina Fey will never stop making me laugh. Her sense of humor shone through beautifully in this memoir.
The Immortal Life of Henrietta Lacks by Rebecca Skloot
The thought of hospitals profiting from tissues and body parts they removed from poor people makes me angry. While I'm grateful that the cancer cells that were taken from Henrietta Lacks' cervix ended up being so useful for researchers, I still wish her family could have profited from all of the money made from her body. The fact that this is something I still  think about almost a decade after reading about it makes this a must-read in my opinion.