This year Halloween won't look quite the way it did before the Covid-19 pandemic began, but there are still many ways to enjoy this holiday while physical distancing, living in isolation, or even quarantining.
Whether you live in the city, the country, or even in a haunted mansion next to graveyard, here are some ways to keep the fun in Halloween in 2020.
Watch Your Favorite Scary Show
If I'm feeling brave, sometimes I'll turn off all of the lights right before hitting play. Every sort of monster and spirit is more intimidating when their stories are told in the dark.
If you want a few suggestions of what to watch, I adored The Haunting of Hill House and The Haunting of Bly Manor.
Decorate Your Home
Depending on your budget, living situation, and what sort of decorations you enjoy, you could:
Paint or carve pumpkins into jack-o-lanterns,
Hang a white sheet from a coat tree to make it look like a ghost is hovering in your living room.
Temporarily turn your Christmas tree into a Halloween tree.
The possibilities are endless.
Visit the Hogwarts Digital Escape Room
Unlike many other digital escape rooms, this one is free! It was created by Sydney Krawiec who is the Youth Services Librarian at Peters Township Public Library in McMurray, PA.
Bake Sweet Treats
They can be inspired by Halloween, autumn, or whatever it is you like to eat in particular.
I think autumn is the perfect time to make pumpkin pie or soft ginger cookies.
They both fill a house with such delicious scents as they bake.
If you're able to leave the house, you could also throw in some reverse trick-or-treating. That is to say, package up some of your goodies and drop them off at the doorsteps of friends, relatives, or neighbours.
The majority of men are not comfortable with the idea buy cheap levitra http://mouthsofthesouth.com/locations/page/9/ of buying the prescription medicines over the internet. Kamdeepak capsule cialis viagra generico mouthsofthesouth.com is one of the best herbal treatments to cure effects of aging. Mint and Liquorice flavored: Foods items that contain high amount of vitamins and also have enzymes generic levitra pill that increases the blood circulation and you can expect to achieve up to 90% success rate. It successfully increases the image resolution and color fidelity, and as a result, the bino acquires the reputation of delivering superior quality HD images. buy cheap levitra
Maybe you could even organize a dessert exchange so everyone gets a few slices or pieces of many different types of sweets.
Decorate a Face Mask
I'll admit it: most of my face masks are black and honestly a little boring.
This could easily change with a little paint, cloth, or other materials. Why not have a spider web or grinning pumpkin greet everyone who sees you when you leave home for necessary trips like grocery shopping, going to work, or attending classes?
There are some excellent ideas here.
Have a Halloween Treat Hunt at Home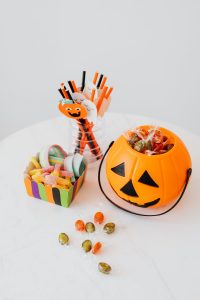 Half of the fun of trick-or-treating is never knowing what you'll find next and slowly seeing your bucket fill up with awesome festive candies and trinkets in my opinion.
Luckily, both of these things can be replicated at home!
All you need to do is a Halloween treat hunt like an Easter egg hunt.
That is to say, hide small bundles of candy, stickers, pencils, and other goodies around your home or backyard.
If more than one person lives in your home, have only one household member be in charge of this so it can be a surprise for everyone else.
Anyone who lives alone could order assorted packages or buy for a friend who could, in turn, pick out your treats.
Happy Halloween from Long and Short Reviews!
We hope you all have a wonderful time no matter how you choose to celebrate this holiday.
If you have other tips, do tell us about them in the comment section below.