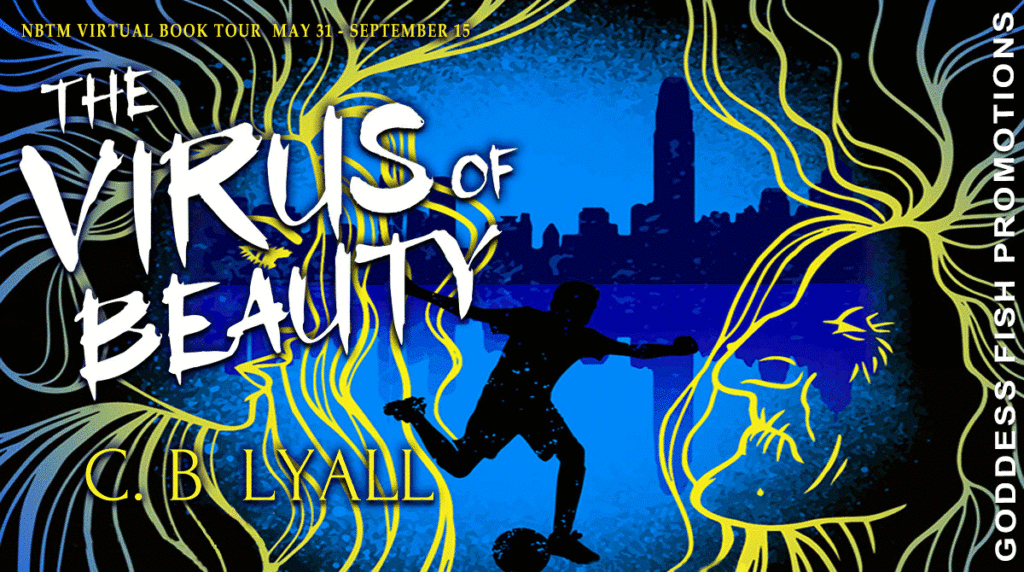 This post is part of a virtual book tour organized by Goddess Fish Promotions. One randomly chosen winner via rafflecopter will win a $50 Amazon/BN.com gift card. Click on the tour banner to see the other stops on the tour.
If you could have one paranormal ability, what would it be?
The ability to teleport. I'd no longer have to use airplane to visit my family in England or for vacation. We waste so much time getting from one place to another. I think it would be amazing to take seconds rather than hours to travel.
What is one thing your readers would be most surprised to learn about you?
I've parachuted. When I was 21 years old. A friend and I went to a small airfield in Sunderland, UK. Being the only female on the jump I had to go first. We jumped solo on static lines. It is the most frightening experience I've had. I blacked out after I jump. The chute opening revived me. Needless to say, I only jumped the once.
When writing descriptions of your hero/ine, what feature do you start with?
Height usually, although this is the first time, I've thought about it. At school I was taller than average. And having lived in India and Hong Kong I became aware of other people's height a lot. My youngest son grew to be above 6 feet and was made very conscious of his height when we traveled around India and Asia. Strangers would want to include him in their family photographs!
Are you a plotter or a pantser?
I like the "Save The Cat" method, which definitely makes me a plotter. Writing a series, I think you must be. That doesn't mean I know everything about the story when I sit down to write a first draft, but I know where I want to start and how the book will end.
Did you learn anything from writing this book? If so, what?
First, I learned that I could write a novel length manuscript. That is a big deal in itself. A lot of would-be authors start and never finish that first book. I also learned about the process of writing. Giving yourself permission to write without editing that first draft, then being patient about the number of revisions required before a manuscript is ready for publication.
The Virus of Beauty – Book 1

Ugliness is power, and the Virus of Beauty is spreading causing panic throughout the witch population.

Wilf Gilvary is a teenage wizard who is terrified of using magic. When his father dies under mysterious circumstances, the same day the Mages Crystal shatters, Wilf is plunged into the middle of a political struggle between the witches and wizards in the Magical Realm. He'd rather play soccer than practice magic, but he's forced to make a choice between the life of a normal Hong Kong teen and one of wizardry after a powerful virus begins to decimate the witch community. The cure is spellbound in a journal Wilf inherited from his father and when his friend Katryna contracts the virus, Wilf understands that he must overcome his fear of magic to unlock the journal's secrets – but will it be too late to save her?

The Veil of Corruption – The Virus of Beauty Book 2

Witches and magic are taking over Wilf's life.

After being thrust into a long-standing conflict between the witches and wizards that has destabilized the Magical Realm and finding the antidote for the Virus of Beauty, Wilf would like to return to his normal soccer playing teenage life. But he can't rest until his stepsister, Myra, is caught and brought to justice. It's been three days since Myra took to the skies above Hong Kong and disappeared. Now Wilf is accused of corrupting the Veil, a defensive barrier between the witch and wizard cities. As the spell expands throughout the magical realm it is attacking witches and wizards. But Wilf would rather embrace his witch friend, Katryna, than his wizard powers. When evil forces have other plans and they kidnap Katryna, Wilf realizes that he'd do anything to save her and the Magical Realm, even if it means risking his own life by connecting to the primary source of all magic.

The Vassal of Magic – The Virus of Beauty Book 3

Wilf Gilvary is a slave to the magic he hates.

Yet his powers seem a solution for saving the Magical Realm and Katryna, the girl he loves. If only he could figure out how to tap his magic's full potential.

As factions of witches and wizards vie for control of the Magical Realm, Wilf embarks on a harrowing journey that plunges him into the realm's ancient secrets. At first, Wilf begins to doubt everything. His affection for Katryna might be the remnants of a broken love spell. And he still struggles to control his magic.

But Wilf risks his life to learn more about his powers and his destiny. It leaves him facing an impossible choice: forever abandon his dreams of life as a Normal in Hong Kong, or allow magic and the Magical Realm to perish from the world.
Enjoy an Excerpt from The Virus of Beauty
"Wilf, is that you?" Reginald's shout was followed by a creaking sound from the basement stairs.
Wilf bolted for the front door. His shoes crunched on the broken glass. He jerked open the door and the bell gave a traitorous jingle. He shot out of the store and back into their living quarters. He barged into the kitchen.
"What happened?" Myra asked, putting down the bread knife.
He threw himself onto a chair, poured cornflakes and milk into a bowl, and shoveled a spoonful into his mouth.
"Wilf," Myra said, taking on the adult tone she'd started using two years ago, when she'd turned eighteen. "I take it you didn't find your card in the store."
"It wasn't me," he mumbled through his mouthful of cereal. "But I'll be blamed. Tell him I was here, having breakfast."
"Why am I covering for you again?" She folded her arms and tried to look more imposing than her five-foot, two-inch height would allow.
Wilf's spoon leaped from his hand and splashed into the bowl with the first heavy footstep on the stairs. The faucet stopped dripping and the clock held its next tick. The small kitchen in the Gilvarys' Hong Kong apartment held its breath.
The kitchen door flew open, and revealed his father, shaking with rage. After a moment, Reginald thrust his hands into his pants pockets.
"You've shattered the Mages Crystal." His lips formed a thin line on his angular face. "It's been in our family for generations.
About the Author Carolyn Lyall was born in Stockton-On-Tees, United Kingdom. As a child Carolyn growing up in Northern England in the sixties Carolyn loved sports, reading and amateur dramatics. She joined a renaissance group, practiced the broadsword and dreamed of visiting other worlds. Her
passion for what could be drove her forward when faced with everyday struggles. Her first memorable skirmish with gender inequality came at nine-years old when she was told that only boys were allowed to play soccer. In response, she simply refused to do any classwork until
they changed their old-fashioned policies. She won that battle.
At the age of 18, she took a role as typist for a nursing school in Middlesbrough. She then moved to London and enrolled in night school. She was quickly recognized for her ability to fit in anywhere and for not being afraid to push back on the predominantly male leadership. She
eventually became a project manager in software development and micro-computers, bridging the gap between computer programmers and management.
Her dream to travel was finally realized in 1990 when she moved to New York City, USA with her husband and the first of three sons. This was the steppingstone to a lifelong adventure that has taken her and her family to India, Belgium and Hong Kong.
Raising her family in multiple countries around the world, she saw that each move, while a shock, was an opportunity for her sons to redefine themselves against new challenges and different cultural norms. Now, that her sons have left home, Carolyn has used her passion for
the fantastic to create a world where every day gender inequalities are at the forefront of a world ending conflict. She shares this story through the eyes of a young man who is suddenly thrust into this new world along with all of his own woes and prejudices. The introduction to this world is in Carolyn's debut YA fantasy novel, "The Virus of Beauty," which wasreleased July 31, 2019 under C B Lyall.
Carolyn has published two short stories in an annual anthology by 25 Servings of Soop. She wrote a number of articles for the American Women's Associates Magazine. Fueled by her love of the works of Terry Pratchett, Sarah J Maas, Cassandra Clare, Brandon Sanderson and others, Carolyn has completed a number of writing courses, which included a Master Fantasy/Science Fiction writers course with Gotham Writers' Workshop, a YA Voice class and Advance Novel Writing course at Sarah Lawrence College's Writing Institute.
Website | Facebook | Twitter | Instagram
Buy Book 1, Book 2, or Book 3 are available from Amazon.