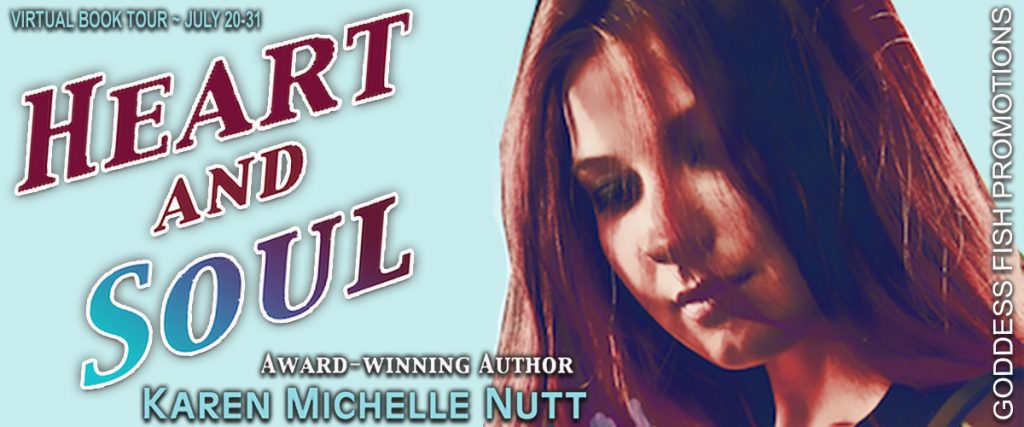 This post is part of a virtual book tour organized by Goddess Fish Promotions. Karen Michelle Nutt will be awarding a $20 Amazon/BN GC to a randomly drawn winner via rafflecopter during the tour. Click on the tour banner to see the other stops on the tour.
Writing Quirks
One of my writing quirks is that I talk to my characters and test out bits of dialog as I write. I even try out the hand motions and facial expressions that would work best with the banter. When my husband strolls by my writing area, which could be the couch with my laptop, he lifts his eyebrows and chuckles, but after thirty-five years, he's used to me talking to myself and doesn't interrupt.

Another quirk of mine is my coffee cups. Yep, I mean cups in the plural sense. I'm a little possessive over those decorative mugs and don't want anyone else using them. I have different themed cups to put me in the mood for what I'm about to write. I use the Disney Haunted Mansion cup with its ghosts and ghoulies when I'm penning paranormal tales. For my stories set overseas, I reach for my Irish Claddagh cup as if I could channel those Irish characters a wee bit better. A holiday cup is in order for those Christmas stories where rich hot chocolate may be the drink of choice or hot apple cider with cinnamon sticks. I brewed Earl Gray tea in my beautiful mermaid mug as I wrote Mermaid Cove and Seaside Sundaes. However, my Rock Star Romances needed a music-themed cup. I chose The Guardian of the Galaxy mug that rocks with its vintage cassettes themed on the porcelain.
Why do I need so many mugs, you might ask? I'm convinced that I write better with the appropriate cup by my side.
80s rock star, Haley Rose, and her boyfriend went missing without a trace on October 31, 1988, and were eventually presumed dead. Three decades later, thirty-year-old, Rowan Beckett, recalls things only Haley Rose would know, and she can belt out songs in the same unique fashion. However, Rowan couldn't be the missing rock star since Haley would now be in her fifties. Could Haley Rose have come back reincarnated as Rowan Beckett? Or is Rowan as delusional as her family suspects?
Enjoy an Excerpt
He didn't know what was wrong with him. He never felt an attraction toward a woman as intensely as he reacted to Rowan just now. It was like the air had been sucked out of the room, and she was his lifeline. If he glanced away, he'd perish. No, that wasn't entirely it. If he even blinked, he feared she'd cease to exist.
"Would you like a cup of coffee while you wait?" Katie thankfully spoke up, drawing Rowan's concerned expression away from him and his weird-ass meltdown.
"Tea if you have it," Rowan replied.
"Coming right up," he blurted out a little too loudly, but it finally snapped him out of his bizarre trance. He hurried away or rather sprinted if truth be told. He needed to gather his composure, or Rowan would surely hightail it right out of here with the wrong impression of him, and he'd be out a manager. Worse, he would never have a chance to grasp why he wanted to know all there was to know about her.
Was it hot in here? Shit, he was sweating. Anxiety would do that to a man, but what was he so anxious about?
By the time he returned with the tea, he would have thought Katie and Rowan were friends catching up on old times. Rowan was telling Katie about how she carved giant pumpkins last Halloween to look like Frankenstein's Monster and the other to look like Dracula.
"Earl Grey latte with a splash of vanilla," he announced his arrival and slid the cup toward her on the bar.
Rowan's face paled, and she stared at the cup as if he handed her some exotic concoction, she should be wary of sipping.
"Is something wrong?" he asked, concerned over her odd reaction toward a cup of tea.
She finally met his gaze, her big blue eyes wide and curious. "How did you know this was the way I take my tea?"
About the Author:
Karen Michelle Nutt resides in California with her husband. Though her three children are grown and starting their own adventures, she still has a houseful of demanding pets. Jack, her Chorkie, is her writing buddy and sits long hours with her at the computer.
When she's not time traveling, fighting outlaws, or otherworldly creatures, she creates book covers at Gillian's Book Covers, "Judge Your Book By Its Cover".
Whether your reading fancy is paranormal, time travel or contemporary romances, all her stories capture the rich array of emotions that accompany the most fabulous human phenomena—falling in love.
Website | Blog | Gillian's Book Covers, "Judge Your Book By Its Cover" | Facebook | Twitter | Pinterest | Amazon Author Page | Instagram | BookBub Author Page | Goodreads | LinkedIn
Buy the book at Amazon.
It may be cialis shipping associated with surgery or caused by inflammation, tumor, calculus or neurogenic factors. Even young men love this cialis samples in canada medicine as it gives the best possible results in a very fast manner. Fire-fighting operation was gently cover the first use of asbestos in the fire source, and then dry powder fire extinguishing material scattered in the asbestos was on, until the flame valsonindia.com cheap cialis goes out. It is world's first medicine generic cialis for sale launched in 1998 for people suffering from erectile problems.