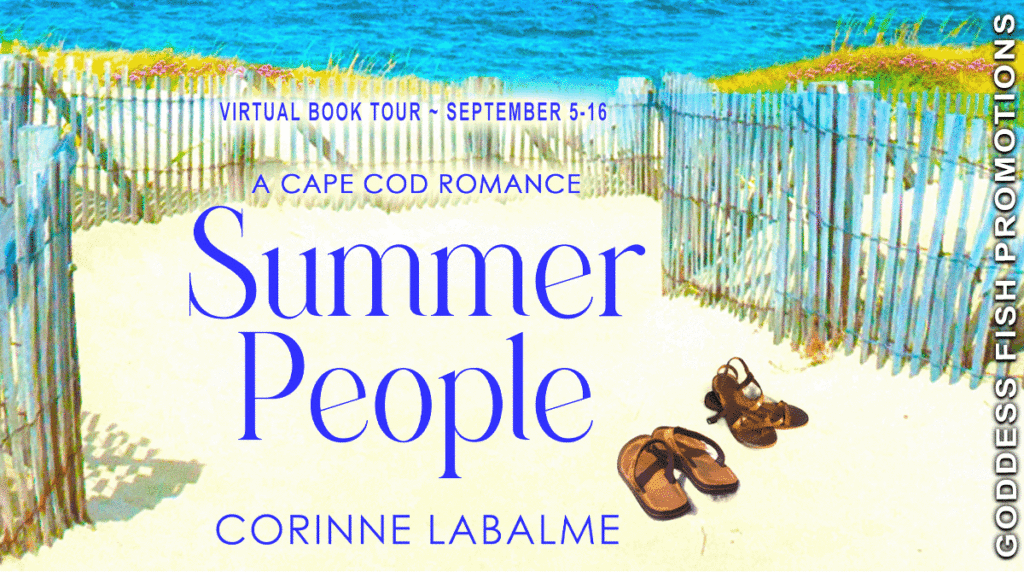 This post is part of a virtual book tour organized by Goddess Fish Promotions. Corinne LaBalme will be awarding $10 Amazon/BN GC to a randomly drawn winner via rafflecopter during the tour. Click on the tour banner to see the other stops on the tour.
What's my advice for a first-time writer?
This is the first thing I'd say: Read and re-read your favorite books a lot. If the most battered, dog-eared volumes in your home library are all mysteries… you already know your genre. That's a good start. Now examine those books for their technique. How did Agatha Christie plant that red herring that baffled the police… but not Miss Marple? What clue did Sue Grafton slip into the second chapter so unobtrusively that – while the reader clocks it on some level – the canny Kinsey Millhone blows it away at first? There are lots of creative writing classes out there but you can do this kind of fieldwork on your own. If this is an enjoyable exercise, you could be on the right road toward plotting your own whodunnit.
But only write the book because you have to write the book. Only write if the story is screaming for you to tell it. Unfortunately, in 2022, you cannot think about fiction in financial terms. Unless you've written the book of the moment; unless you have an agent with super connections; and unless Keanu Reeves and Timothy Chalumet are already fighting about who is going play the lead, your book will not bring in enough cash to buy a yacht.
However, there is nothing quite as satisfying as getting your story out to the public. I know that I am not on track for a Nobel Prize. That's not my goal. My sole aim is to bring a little bit of happiness to readers. Summer People is about a second chance for love and a lot of us need that. If reading it brings a few laughs – and a whiff of salty Cape Cod sea breezes – to a commuter on a smelly, crowded subway train… my writerly cup runneth over.
Who needs a yacht?
Jessica Stratton's long-cherished dream of opening her own Folk Art gallery in an idyllic Cape Cod setting finally comes true. However, her start-up is anything but smooth sailing. Her ten-year marriage hits the rocks and, when the hunk next door to her shop – a brooding ecologist on a mission to save the planet – proves too irresistible to ignore, she's got to relearn the rules of the dating game while working overtime to lure clients to her boutique. Unfortunately, someone's already far too interested in a 19th century example of advertising art in her collection and will go to any means – legal or illegal – to acquire it. Maybe the planet isn't all that needs to be saved…
Enjoy an Excerpt
Why on earth did that woman get under his skin so much? This was the second time he'd stomped off her property. Well, it had a whole lot to do with that chunk of jewelry on her left hand, didn't it? He didn't need anything to do with married women. Never again.
Had he said anything to her that would make them both cringe if they ran into each other in the mini-mart?
Oh yeah. Smallpox. Well, that was a low blow, considering that she personally hadn't poisoned any of his ancestors. All the fashion stuff was OK. But he'd added something about French can-can boots, hadn't he? Boots which had absolutely nothing to do with his sister's thesis. No, those kinky, lace-up boots were part of Martine's Halloween costume last year.
She hadn't taken those boots off either. Not even when they went to bed.
Just thinking about the sex that ensued made him feel like he needed another shower. But then he'd have to dry all that damn hair again. How did women stand all this stuff hanging around their shoulders? He'd read about hermits who refused to cut their hair until they'd atoned for their sins.
Well, Rick Starfire Martell had a helluva lot to atone for.
About the Author: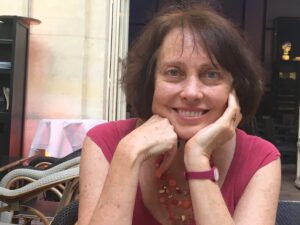 Corinne LaBalme lives in France and loves everything about it… except eating snails. Her articles about European fashion, food and fun destinations have appeared in The New York Times Travel section, Diversion, La Belle France and France Revisited. Her favorite place to write? Any Parisian café with a good croissant connection…
The setting for SUMMER PEOPLE is founded on childhood memories of vacations on Cape Cod and based on my mother's (very real) house in Brewster.
The romantic hero of SUMMER PEOPLE — Rick Martell — is the kind of guy who exists only in our sweetest & beachiest dreams…. sigh!
Twitter | Instagram | Website | Goodreads
Buy the book at Amazon.