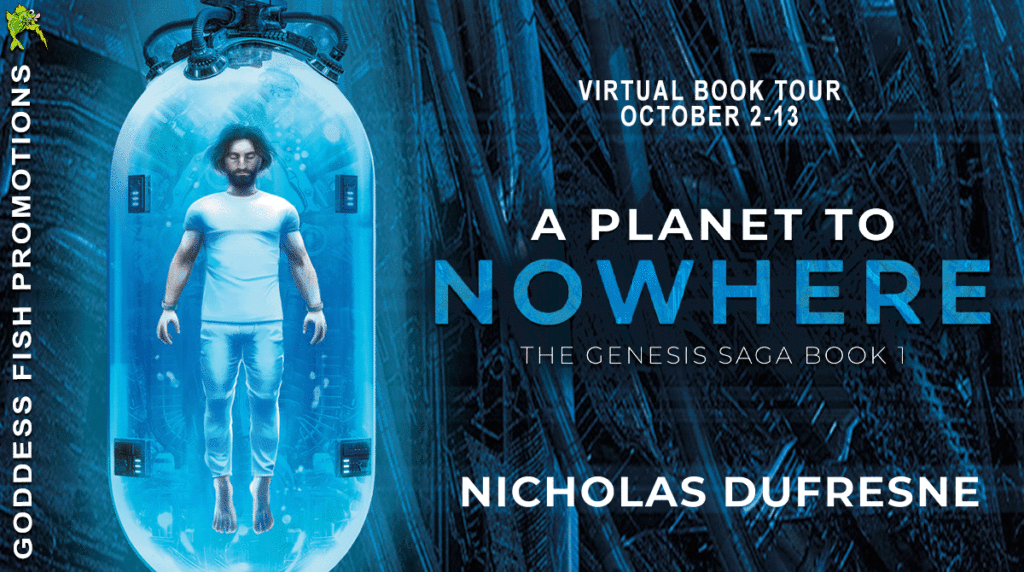 This post is part of a virtual book tour organized by Goddess Fish Promotions. Nicholas Dufresne will be awarding a $15 Amazon/BN GC to a randomly drawn winner via rafflecopter during the tour. Click on the tour banner to see the other stops on the tour.
What would I tell an aspiring author?
Start at the beginning, and when you get to the end, stop. It might sound simple, but in practice, it's incredibly hard to do. So much of yourself goes into the world and characters you create that it can be hard to make something complete. Something whole. Something you're satisfied with.
This piece of advice resonated with me when I was working on my novel. I had within me something I wanted to share with the world and knew the only way I'd be able to do so was if I sat down and did it myself. Whenever I was stuck writing in a slog, I would think about finally writing down the words "The End" and it gave me the motivation to continue.
A story can be daunting to pen down but can be broken up into tiny, much smaller pieces that you can chip away at until it's done. You don't need huge writing sessions where thousands of words flow out of you and into your manuscript. Just do what you can when you can and always keep moving forward.
Each person has within them a voice just waiting to be heard by the world, and I think this is what makes every piece of literature unique. Through written words, you get a glimpse into somebody else's mind as they breathe life into a story only they could dream up.
It can get hard, finishing that story or editing that chapter but I assure you it's all worth it in the end. To see other people immerse themselves in your creation and form thoughts and opinions on your story you never thought possible is a wonderful feeling.
Nothing can compare to holding your book in your hands for the first time and realizing that you're the one that made it all possible. Seeing and feeling a tangible result to all that effort I put into mine made so incredibly proud of what I had accomplished.
It took months to write my first draft and years before it was finally published. And yet, I never stopped chipping away at it, one step at a time. No matter how hard it got, I kept at it. I didn't wait for motivation to strike me before deciding to write anything down. I wrote and made the inspiration come to me because every word I added gave me new ideas for the next one.
My story was constantly on my mind, and I think up new scenes wherever I go. When I think I find something that works, it leaves me excited to sit down and flesh it out. So far, I've written four books in the Genesis Saga series but have only published the first one. I started at my story's beginning and when I get to the end, I'll stop.
I just haven't gotten there yet.
Adrian thought his time as a human experiment was over, that he was done suffering and had finally died. Never did he expect to wake up somewhere new, somewhere alien and far different than he could've ever imagined.

Has he found salvation, or is a test subject all he's destined to be?

***

When a scouting mission brings Reya and her team to a star sector that doesn't support life, they stumble into far more than they first bargained for. The planet they thought was deserted contains secrets with far-reaching consequences.
Enjoy an Excerpt
The last thing he remembered was his futile struggle against the blue. Everything had been blue. He'd felt himself fade as the last vestiges of life fled from his body. His mind had shut down, turning itself off. And then, everything went black.
The darkness.
That crushing, never ending darkness.
Adrian shivered for entirely different reasons as his body heat leached away into the ground beneath him. He breathed deep lungfuls of air, immersed in the simple feeling of being. Blinking owlishly, he rid his eyes of the substance that clouded them while he lay on his back and stared at the ceiling.
About the Author: Nicholas Dufresne is a Canadian writer from Montreal. An avid reader and lover of stories, delving into the worlds created by others is a passion of his that inspired him to write one of his own to share with the world. Fantasy and science fiction are his preferred genres, both to read and write. When not reading or writing, he's probably dreaming up new worlds to explore.
https://nicholasdufresne.com | Facebook | Instagram | LinkedIn
Buy the book at Amazon.