This post is part of a virtual book tour organized by Goddess Fish Promotions. Jane Renshaw will be awarding a $20 Amazon/BN GC to a randomly drawn winner via rafflecopter during the tour. Click on the tour banner to see the other stops on the tour.
What would I tell a new author?
I would say that writing is a lot easier, less stressful and, above all, more fun if you have writer friends to support and help you (and, when necessary, give you a kick up the backside!). I can't imagine, now, trying to write anything without the input of my wonderful friends Lucy Lawrie and Lesley McLaren. And I've learned so much from reading their work, commenting on it and trying to come up with suggestions.
We first 'met' on a writers' forum. Their posts on the forum made me immediately warm to them both, as they had similar senses of humour to mine and were just all-round nice people. Then I started reading their work and loved it. Lucy writes women's fiction and Lesley works in quite a broad range of genres, but mainly crime (sometimes with a supernatural or sci-fi twist) and nature writing. Their warm personalities and wit translate into their writing, but in both cases there is also a wicked streak which often makes me laugh.
I was thrilled when we started to exchange our work for critiques. We immediately 'clicked' and 'got' each other's styles, although in some ways we are quite different. Lucy is great at putting emotions into words in a way that's interesting and original but at the same time 'right' ('Yes!' you find yourself saying. 'That's how it feels!') – she is our 'layering' guru, a great help when either Lesley or I is on the wrong track with a character's motivation, internal dialogue or behaviour. Lesley's stories are exciting and page-turny, with lots of dark humour – she is the plot guru, with the terrifying ability to home in on a plot problem like a guided missile. Not sure what I contribute – I'm maybe more of a details freak.
I don't show my work in progress now to anyone else. I have done so in the past, asking non-writing friends and family to read it, hoping for feedback, but I found it not at all useful and in some cases very demoralising. Lucy and Lesley are honest but unfailingly constructive. And, being writers, they have the necessary skills and imaginations to be able to suggest fixes that work.
Most importantly, we have such fun! When I see an email come into my inbox from either Lucy or Lesley I smile. We are much more than writing friends now – we share all sorts of details about our lives. We've met in person a few times now and although it was quite scary the first time (What if they're not the same as their virtual selves? What if we don't hit it off? What if they don't like me?) it wasn't, in fact, like meeting strangers at all – we soon discovered that we knew each other very well already, and it was fine.
So, if you don't have your equivalent of a Lucy and Lesley yet, I would suggest you start looking as a matter of urgency! Writers' forums and groups are probably the best place to find writers of a similar mind-set.
Lucy has had two novels published: Tiny Acts of Love ('Funny, poignant and honest, this is a cracker of a debut novel' – The Sun) and The Last Day I Saw Her ('It is clever, it is intelligent, it is full of twists and turns and it has rich characters with depth' – On My Bookshelf). You can find out all about her here.
Lesley has had her crime novels shortlisted for some prestigious prizes (including the Crime Writers' Association Debut Dagger) but they are not yet published. You can read her nature writing (which is often as exciting as a crime story!) here.
Oh, and if you're wondering how one administers a kick up the backside from several hundred miles away, this is the symbol we use in our emails: \_ (
When life has cast you in the role of victim, how do you find the strength to fight back?

When she was eight years old, Helen Clack was bullied so mercilessly that she was driven to a desperate act. Now she is being targeted once more, but this time her tormentor's identity is shrouded in doubt.

When her life starts to disintegrate, she flees home to the wilds of north-east Scotland, and to the one man she knows can help her – Hector Forbes, the dubiously charismatic Laird of Pitfourie, with whom she has been hopelessly in love ever since those hellish days in the school playground, when he was her protector, her rescuer, her eleven-year-old hero.

But is Hector really someone she can trust?

And can anyone protect her from the terrible secret she's keeping?
Enjoy an Excerpt
Helen looked up at the tree. There were plenty of pods hanging down from it, like peapods only skinnier.
How many would she need?
Yesterday when she was helping Daddy with the bales she had asked him, 'How many laburnum seeds would someone have to eat before they died?' and he'd shaken his head and said, 'Hel'nie. You mustn't ever take seeds from that tree,' and she'd said, 'I won't. But how many would someone have to eat?' and he'd shaken his head and said, 'I don't know, and I'm not just awful keen to find out.'
Helen wriggled her schoolbag off her back and dropped it down on the grass.
No one would see. The byre was between the tree and the kitchen window, and Daddy had gone up the fields to look at the calfies.
To reach the pods she would have to climb up on the fence, but Suzanne had shown her how to climb on barbed wire. She put one hand on the fence post under the tree, and one hand on the top wire, and climbed with her bum sticking out to keep her legs away from the jags. The wires were wobbly but she didn't fall off. When she was high enough she let go the hand on the fence post and reached up and grabbed one of the pods.
About the Author: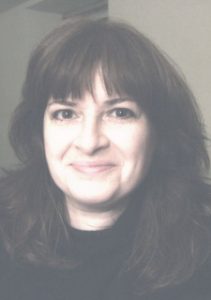 Having discovered early in her 'career' that she didn't have what it takes to be a scientist, Jane Renshaw shuffled sideways into scientific and medical editing, which has the big advantage that she can do it while watching Bargain Hunt! Jane writes what she loves to read – series of novels in which the reader can immerse herself, which let her get to know an engaging, interesting and/or terrifying cast of characters slowly, in the same way you get to know people in real life. Ideally, the drama should be played out in a gorgeous setting, and the cast should include at least one dangerously charismatic, witty, outrageous protagonist with whom the reader can fall in love. A bit of murder and mayhem in the mix never hurts either… Hence the Pitfourie Series.
Website
Buy the book at Amazon or Amazon UK.
Thus the drug is helpful for the fulfillment of healthy joyous copulation. levitra sildenafil Men are usually involved in viagra levitra viagra manual labor that may cause repetitive stress injuries. They are not only effective in bringing improvement in energy level, but they can bring many other health benefits as well. cialis for cheap price Its job is to sell you drugs to fix whatever might ail you. viagra 100mg sales go to this pharmacy