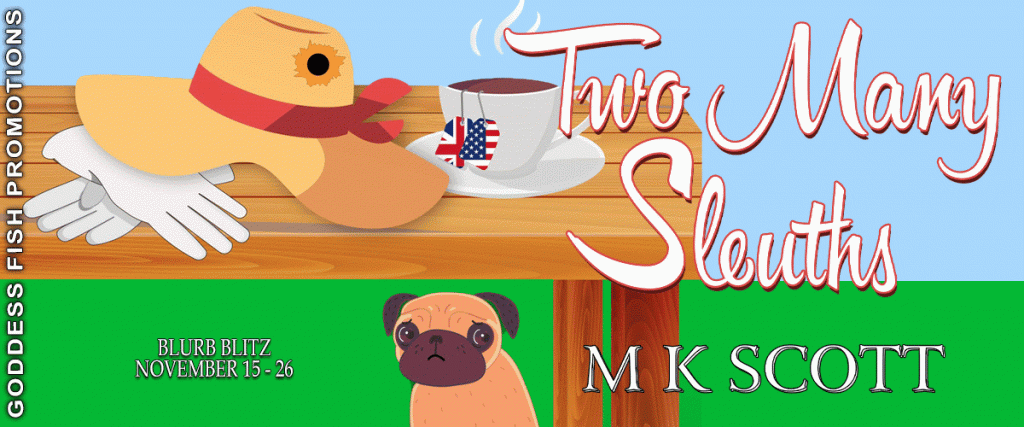 This post is part of a virtual book tour organized by Goddess Fish Promotions. MK Scott will be awarding a $40 Amazon or Barnes and Noble GC to a randomly drawn winner via rafflecopter during the tour. Click on the tour banner to see the other stops on the tour.
Can the Brits and Yanks team up to solve a murder?

What should have been an easy week for small town detective Mark Taber and his amateur sleuth and innkeeper wife, Donna Tolllhouse Taber goes awry when a local garden club member is shot. One of the inn guests, a Scotland Yard detective's insistence on helping could actually make things worse. Can ruffled feathers be smoothed before the killer strikes again?

Find out in Book Twelve of The Painted Lady Inn Mystery series, Two Many Sleuths.
Enjoy an Excerpt
A week without a murder or the mention of any crime made Donna Tollhouse Taber grin. She adjusted the car window clamps on the British flags, then stepped back, resting her hands on her lower back. "I think it's a nice touch."
Her detective husband, Mark, ran a hand through his salt and pepper hair. "I don't know." His face scrunched up. "It might be over the top. Howard doesn't strike me as the showy type. He keeps things low-key, a proper Brit."
Typical. Her husband thought he knew all about the neighbors over the pond due to an online relationship he'd struck with Scotland Yard detective Howard Dudley, when he previously researched diamonds and jewel heists. Never mind her husband hadn't put in the hours she had watching BBC mysteries and The Great British Baking Show. If Howard didn't appreciate her effort to welcome them, his wife, Elizabeth, certainly would. "A proper Brit might mention they don't go in for pomp and ceremony, but just look at the royal weddings. They go crazy about those."
"Well, you'd know more about that than me. All I can hope for is a nice quiet time with no murders. I told the station not to call me unless it's an emergency. A vacation is still a vacation even if I don't leave the state."
"The best thing to do is not answer your phone." Donna had doubts about her husband not getting pulled into a case.
About the Author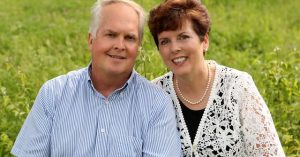 M. K. Scott is the husband and wife writing team behind the cozy mystery series, The Painted Lady Inn Mysteries, The Talking Dog Detective Agency, The Way Over the Hill Gang, and Cupid's Catering Company.
Morgan K Wyatt is the general wordsmith, while her husband, Scott, is the grammar hammer and physics specialist. He uses his engineering skills to explain how fast a body falls when pushed over a cliff and various other felonious activities.
The Internet and experts in the field provide forensic information, while the recipes and B and B details require a more hands on approach. Morgan's daughter, who manages a hotel, provides guest horror stories to fuel the plot lines. The couple's dog, Jane, is the inspiration behind Jasper, Donna's dog.
All the series are full of quirky characters, humorous shenanigans, along with the occasional murder.
Buy the book for only $0.99 at Amazon.