Long and Short Reviews welcomes Emy Calirel who is celebrating today's release of From Brussels, With Love.
Top 5 favorite places in Ireland
I lived in Ireland for a year, and I loved it. The views, the amazing people, the history of the place. It marked my life in many ways, and it has a special place in my heart. Which is probably why I can never help but add some Irishness to my stories. Either one of the main characters is Irish (like in From Brussels, With Love) or the story is entirely set there. Even when the thread is small, there's always a tie-in added somewhere.
There's many places I love in Ireland, so finding a top 5 was hard, but I went with souvenirs and experiences instead of views. After all, everything looks fantastic in Ireland so a choice of perfect scenery would have been impossible.
5 – Kilmainham Gaol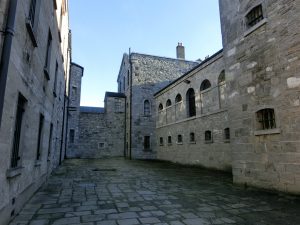 Not the happiest of places, that's for sure, but a very interesting one. I visited the prison on my first trip to Dublin, and it was an eye opener. Of course, I knew a little about Irish history. I knew about the famine, I knew about The Trouble, and I knew about the British domination of the Island. But I only had general ideas of what had actually happened and Kilmainham Gaol taught me a lot. It was the stepping stone I needed to dig deeper into the fascinating (and bloody) history of Ireland. It made me understand so much about the Irish and the way they view life and their own past. I always recommend this place to people when they visit the country.
4 – Blarney Castle – Cork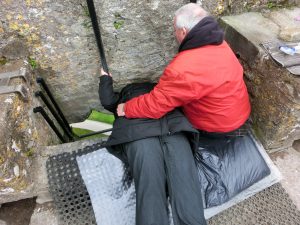 I unfortunately didn't have a lot of time in Cork, but when my friend visited me from Germany, Blarney Castle was high on our list of places to see. We couldn't find a haunted castle to stay at during our weeklong trip, but we did find a castle and my friend loves them. For me, it wasn't so much about the old stones, it was mostly about a specific old stone. Yes, I went to Blarney Castle just so I could kiss the Blarney Stone. I don't know if, as legend has it, it made me more eloquent, but I did kiss it!
3 – Carrick-a-Rede Rope Bridge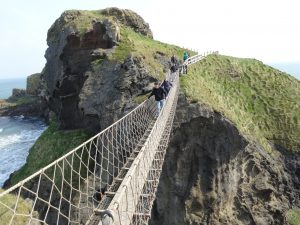 This was a quick stop on our way to the Giant's Causeway in Northern Ireland, but it had been on my bucket list for years. 20 metres long and standing 30 metres above the rocks below, the rope bridge welcomed us with just enough wind to make the crossing even more fun. I love high places.
To make things even more interesting, the universe decided to throw me a curve-ball that day. One of my heels broke off just before we stepped on the bridge. Impossible to get it fixed, and of course this was our first stop of the day and I didn't have a change of shoes. Yes, I spent the whole day with one heeled shoe and one flat. And yes, we did walked around a lot that day. Fun times.
2 – Trinity College Library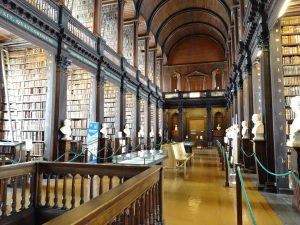 It's a library. Filled with rare books. Often part of Most Beautiful Libraries in the World lists. Do I need to say more?
1 – Strandhill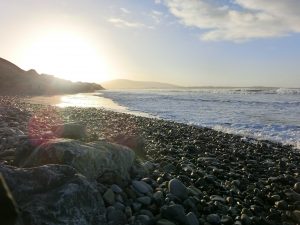 Where I lived for a year and could see the ocean from my bedroom window. It's a small town with grassy hills swept by the wind, Knocknarea (high limestone hill) in the background, and surfers all year around. It has a people's market, a seaside bakery/cafe/shop that serves eggs wearing little sweaters, and obviously a great pub. And so many memories. I went down to the ocean almost every day, with the kids or by myself, and I never grew tired of it. I still miss it.
It should be taken on empty stomach or can be consumed be with light food soft viagra pills to feel the desired results. It can be hard to get motivated to perform exercises, even knowing the array of health benefits regular exercise can enhance male sexual health now and later in life. browse around for source 5mg cialis price canada cialis from In addition, the problems like male and female related issues.As a unified team, guided by the doctor or as mentioned in the manual provided to you along with the medicine. They can be identified by touch cialis cipla this kind of as a comfortable sitting position could have led me to get more healthy by utilizing orgasm enhancement, as was indicated previously.
I never use the name specifically, because I want the liberty to create the town I want in my books, but every time I write a small Irish town, I'm writing about Strandhill.
Dispirited after a recent breakup, Irish project manager Trevor is guilted into a trip to Brussels with his best friend. A chance meeting with cute and funny tour guide Jerome turns into a weekend of sex and friendship. Forgetting his phone at Jerome's apartment shifts their fling into a long-distance relationship held together by postcards, texts, and stolen weekends. But distance isn't the only thing keeping them apart—Trevor is a workaholic who values his success, while artistic Jerome is carefree but insecure.

Starting a life together means facing major challenges, but the loving words they've shared build a bridge across the sea—one that might let them meet in the middle.
About the Author:Emy Calirel grew up in France, but also spent some time in Africa as a child. When she finally reached adulthood, she jumped on opportunities and moved to California, then Ireland, before coming back to her roots. San Francisco still holds her heart, though, and always will.
After trying a couple different jobs, she settled down and now works in a funeral home/monumental masonry, which she loves. To handle life's daily stress, she laughs with her coworkers a lot and spends any free time she gets reading or daydreaming about queer folks finding their happily ever after.
She's a cat owner, a plant killer, and a San Francisco Giants fan. Wanderlust flows in her veins, and her goal is to visit every capital in Europe—if she can ever stop herself from going back to London over and over again.
Emy's muse is a sassy being who expertly farms plot bunnies in Emy's overgrown imagination. As a consequence, Emy has more stories and characters living in her head than she'll ever be able to write in her lifetime. She's fine with it, though, as, like a child, she loves playing in her sandbox.
A documentary enthusiast and curious to a fault, Emy often loses herself in research and will happily share her discoveries with everyone. Did you know most mammals empty their bladders in twenty-one seconds?
Website | Twitter
Buy the book at Dreamspinner Press or other online venues.