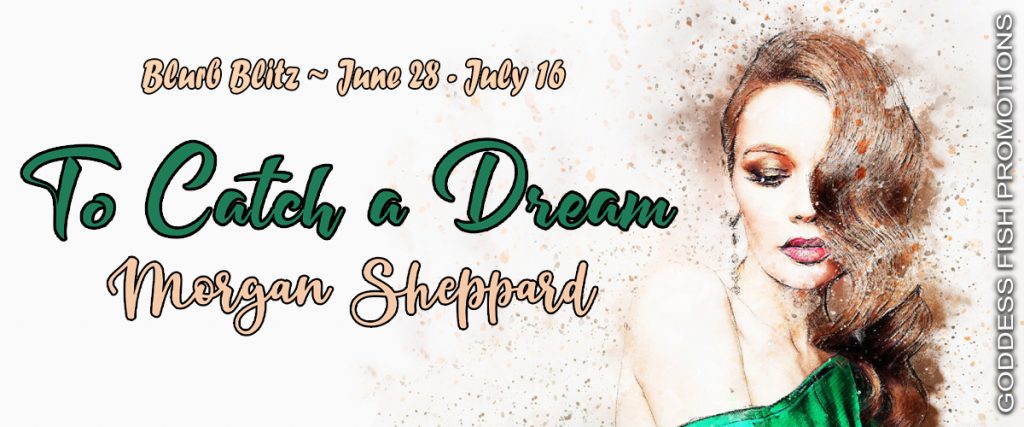 This post is part of a virtual book tour organized by Goddess Fish Promotions. Morgan Sheppard will be awarding a $5 Amazon GC to a randomly drawn winner via rafflecopter during the tour. Click on the tour banner to see the other stops on the tour.
A new job and good friends, twenty-six-year-old Caitlin has it all. Strong, independent, and content with her life, Caitlin isn't looking for love.

Smart, sexy, and sweet, Will is everything a girl could want. He also makes Caitlin want things she was certain she could live without.

Life isn't always simple though, and Caitlin has decisions to make. Her ex-boyfriend, Andrew, is still hanging around and causing trouble. Not only that, but Cat refuses to choose between a new man and her two best friends.

With her heart on the line, Caitlin must decide if she's prepared to take a chance or play it safe.

To Catch a Dream is a sweet contemporary romance with sensual moments. It also contains some strong language.
Enjoy an Excerpt
Will entered the small office and shut the door behind him, immediately blocking the noise from the calls, and taking all my breath at the same time.
"You're nothing but trouble," Will complained, his eyes warm with affection as he looked at Ashley, and I firmly told myself to behave.
Ashley stuck her tongue out at him. "This is Caitlin, our newbie," she introduced me. "Play nicely with her, or she'll think you're an ogre."
My mouth dried at the thought of Will playing with me, and I swallowed hard. "Hi, Will," I said with a small wave.
A crooked grin broke free and my heart went that little bit faster. "Hey, Caitlin. Glad to have you with us. Listen to what Ashley says, and ignore most of it. If you need me, I'm always here."
My heart leapt at his words, and I gave myself a stern talking to as they joked together. I was in no position for a crush on anyone, let alone someone at a place where I had only just started.
"Yeah? You never say that to me?" whined Ashley, before she burst out laughing.
"That's because you know my job just as well as I do," said Will. "Now, continue. We're going to the pub at lunch, two shifts. You're on the first one."
"Yes, boss," said Ashley with a salute. "Do you need a lift?"
"Not today. I'll see you there." Will nodded to me and shut the door.
"You can wipe the drool now," Ashley said, her tone teasing as she returned her attention to me. "He has that effect on all the girls."
I self-consciously wiped at my mouth, before I cursed. "Dammit, Ash. Look what you made me do."
About the Author:
Originally from the United Kingdom, Morgan Sheppard now resides in Germany, although she freely admits to having left part of her heart in Wales.
Whilst a writer mainly in the fantasy genre, Morgan is more than happy to share her love of reading amongst the many different genres out there, and can always be found with a book close by.
As well as reading and writing, Morgan spends her time looking after her family and trying to learn German. Unfortunately, a natural aptitude for languages doesn't appear to be one of her strong points. However, stubbornness is, so she continues to persevere. So far, Morgan is confident enough to order a beer and a pretzel.
You can also subscribe to her mailing list here, and get a #FREE copy of Marella, the book that started the World of Wraidd Elfennol series.
Amazon Author Page | Author's Database | BookBub | Facebook Group | Facebook | Goodreads | Instagram | LinkedIn | Pinterest | Tumblr | Twitter | Website