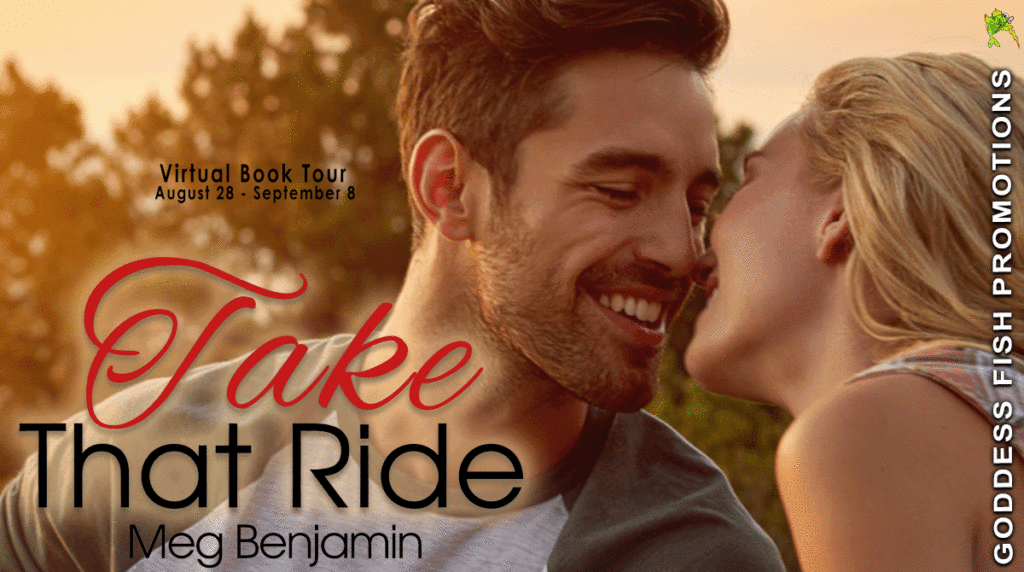 This post is part of a virtual book tour organized by Goddess Fish Promotions. Meg Benjamin will award a $15 Amazon/BN gift card to a randomly drawn winner. Click on the tour banner to see the other stops on the tour.
The Take That Ride Playlist
Take That Ride, my newest Konigsburg book, is all about music. In particular, it's all about Texas Americana music. My hero, Coy Blackburn, is a touring musician trying to get his musical groove back. My heroine, Lexi Markham, has been hired to drive Coy and his band around town. When Coy discovers a premium collection of country and folk albums from the seventies at Lexi's house (they belonged to her late mom), he's a happy man. And he's doubly happy when he and Lexi make some sweet music of their own. The music they listen to plays a big part in their story, so I made up a playlist of some particularly important songs. You can find it here.
I won't go through everything on the list, but here are some highlights.
1. Take That Ride. All my Konigsburg books are named after songs, and this is Emmylou Harris's lovely song about a woman trying to decide if it's time to move on. But to me it's a broader question than that. Both my characters are trying to decide if it's time to take that ride. To take the next step in their lives and their relationships. In a way, that's the central question in most romances, and their decision to go for it is what makes the story move.
2. Ain't Livin' Long Like This. A Waylon Jennings standard that Coy is trying to do as a duet with his opening act, Marcia Mills. They can't quite get it to work until fate presents them with a surprising new guitarist who leads the way. This version is by guitar virtuoso Daniel Donato, who sounds a lot like my character Danny the roadie.
3. Mr. Bojangles. Coy plays this beautiful David Bromberg version of the Jerry Jeff Walker song when he visits Lexi's place for the first time, and it forms a bond between them. It also represents what he's after in his time singing at the Faro tavern in Konigsburg since he really wants someone to play the Bromberg guitar line while he sings, and he finally gets it right.
4. Mamas Don't Let Your Babies Grow Up To Be Cowboys. Yes, the Willie Nelson classic. Coy sings it because he thinks even Lexi will recognize it, and he's sort of stunned when she gets tearful. She tells him she was remembering how her father and mother danced to that song at her sister's wedding, and how happy they were. "I think that's what music's supposed to do, sort of," she says. "Make you think. Make you feel." An idea Coy takes to heart.
5. I Threw It All Away. Ever have a song come on the radio that suddenly sums up everything you're feeling, everything you're worried about? This Dylan song does that on the last night Coy and Lexi are together. Coy keeps trying to convince her and himself that he'll come back, that he won't forget what they have together. The Dylan song comes across as a warning—don't blow this! Don't give up on what they might be able to create. But circumstances may override whatever the two of them want.
6. On the Road Again. This Willie song doesn't actually show up in Take That Ride, but it's still got resonance. In the end, Coy's got a tour to finish. But now he's got something else, too. And yes, he wants to get back on the road again, with Lexi.
Since I love Americana music, I had a great time writing Take That Ride. And I hope this playlist will make it easier for non-fans to experience the music along with my characters. Here's hoping it's a hit. Happy listening, y'all!

They've only got a week. They need to make it count.

Coy Blackburn is an up-and-coming country singer, but right now he feels more like he's down-and-going. He's at the end of a long tour, and his band is dragging. A week-long gig at the Faro tavern in Konigsburg, Texas, may get them back on their feet or it may be a disaster. For Coy, it feels like it could go either way.

Lexi Markham is living life on auto-pilot at the moment. As the main driver at her family's tour business, she spends her days taking tourists around the Texas wineries and trying to get over her breakup with her lying fiancé. Now her sister has booked her to drive a country band around town, and she's definitely not feeling it.

When Coy and Lexi meet, sparks fly—and not it a good way. Still, trust the power of music (and a back country cloudburst) to overcome a few bumps in the road. But can they even think about the future when they've only got a few days together?
Enjoy an Excerpt
Lexi propped herself against the doorway watching the band slide into the complete number. After a moment, Deirdre stepped up behind her. Lexi didn't recognize the music the band was playing, but it must be one of their regulars, given the easy way they seemed to be moving through the verse. As if they felt comfortable with what they were doing. After they'd played a few minutes that were strictly instrumental, Coy stepped to the microphone and began to sing.
The words weren't familiar, but she found herself listening closely. Something about a couple that had broken up but still had feelings for each other. The man in the song missed the way they'd been together, even though he didn't exactly miss the woman herself. It was a complicated kind of lyric, a lot more complex than she might have expected.
Lexi wasn't sure if she'd heard Coy sing before or not. The last time she'd heard them rehearse, she hadn't paid much attention. She was fairly certain now she'd never really heard him sing. His voice was deep and resonant, but not exactly a bass. More like baritone. Something about the way Coy sang those complicated lyrics began to reach deep into her senses. He wasn't really living the song, but he made her feel as if the feelings he described weren't totally unfamiliar. As if he knew how to make her feel them, too.
A shiver traveled up her backbone, and her arms seemed to tingle. She checked to see if she had gooseflesh.
About the Author Meg Benjamin is an award-winning author of romance. Meg's Konigsburg series is set in the Texas Hill Country and her Salt Box and Brewing Love trilogies are set in the Colorado Rockies (all are available from Entangled Publishing and from Meg's indie line). Her new cozy mystery series, Luscious Delights from Wild Rose Press, concerns a jam-making sleuth based in the mythical small town of Shavano, Colorado. Along with contemporary romance, Meg is also the author of the paranormal Ramos Family trilogy from Berkley InterMix and the Folk trilogy from Soul Mate. Meg's books have won numerous awards, including an EPIC Award, a Romantic Times Reviewers' Choice Award, the Holt Medallion from Virginia Romance Writers, the Beanpot Award from the New England Romance Writers, and the Award of Excellence from Colorado Romance Writers.
Website | Facebook | Pinterest | Instagram | Twitter
Buy the book at Amazon.