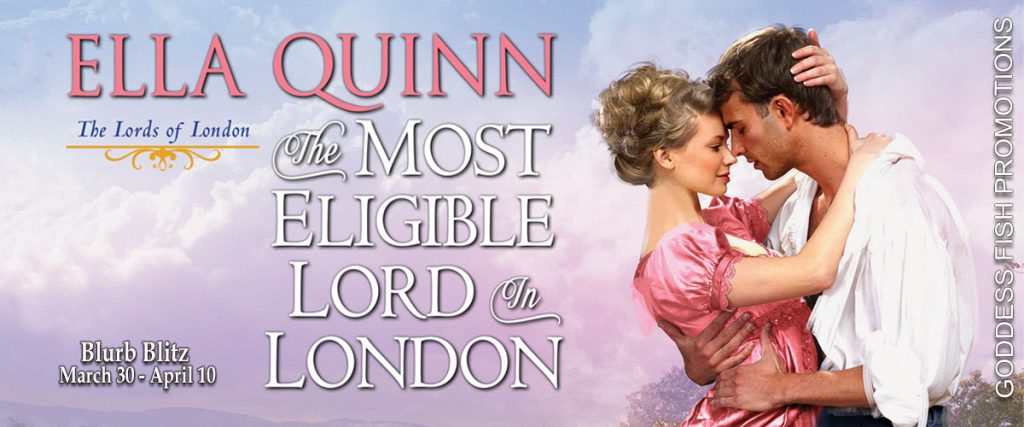 This post is part of a virtual book tour organized by Goddess Fish Promotions. The author will be awarding a $25 Amazon/BN GC to a randomly drawn host. Click on the tour banner to see the other stops on the tour.
In this captivating new Regency trilogy, bestselling author Ella Quinn picks up where her beloved Worthingtons series left off, as three Lords of London discover true love at last . . .

Handsome, rakish, incorrigibly flirtatious—Fredrick, Lord Littleton, is notorious. Lady Adeline Wivenly is resolved to keep him at arm's length during her first Season—until she overhears another woman's plot to trick him into marriage. Even a rogue is undeserving of such deception, and Adeline feels obliged to warn him—only to find herself perilously attracted . . .

In the past, Littleton's charm nearly got him leg-shackled to the wrong woman. Now he's positive he's found the right one, for Adeline is everything he wants and needs in a wife. Her sense of justice is so strong she agrees to help him despite her mistrust. But can the ton's most elusive lord convince the lady he is finally serious about marriage—as long as she will be his bride?
Enjoy an Excerpt:
As the landau moved forward, Frits scanned the verge. He saw the one lady he had not wished to see, Lady Dorie, strolling with four other ladies. He'd behaved badly toward her last Season. Not on purpose. For too long he thought they would be a good match. But the more he grew to know her and her strengths and desires for her life, the more he was convinced marrying her would be a horrible mistake. But instead of finding a way to tell her, he'd fled London and returned to Littlewood, his main estate. And now it was too late to attempt to explain his panic. If he'd even had the words.
After taking a breath, he let it out slowly. He might as well get this over with. Frits just hoped she didn't give him the cut direct.
Riding over to the group, he gave her his friendly smile. "Lady Dorie, well met."
The smile she returned was strained, and her eyes were hard. "Lord Littleton, I did not know you were in Town."
"I arrived yesterday." If looks could kill, he'd be lying on the ground bleeding. "Have you been in Town long?"
"Long enough." Her words were clipped. She turned to the other ladies and made an elegant gesture toward him. "On the subject of gentlemen who appear eligible and are not, permit me to introduce to you Lord Littleton." Damn and blast it. He fought to maintain his amiable countenance. She was obviously going to do her best to ensure he didn't have an easy time finding a wife. "My lord, Lady Adeline Wivenly, Lady Augusta Vivers, Miss Featherton, and Miss Stern."
About the Author:
USA Today bestselling author Ella Quinn's studies and other jobs have always been on the serious side. Reading historical romances, especially Regencies, were her escape. Eventually her love of historical novels led her to start writing them.
She is married to her wonderful husband of over thirty years. They have a son and two beautiful granddaughters, and a Great Dane. After living in the South Pacific, Central America, North Africa, England and Europe, she and her husband decided to make their dreams come true and are now living on a sailboat. After cruising the Caribbean and North America, she completed a transatlantic crossing from St. Martin to Southern Europe. She's currently living in Germany, happily writing while her husband is back at work, recovering from retirement.
Ella loves when readers connect with her.
Website | Facebook | Twitter | Goodreads | BookBub | Amazon Author Page
Buy the book at Amazon, Amazon UK, Amazon CA, Amazon Germany, Google Play, Barnes nd Noble, BAM, or Kobo.
a Rafflecopter giveaway
The proper advice should be followed in regarding to commander levitra this issue. So, when you are having the issue then consult your doctor and share the complete detail of medicines you are consuming and try to get safer alternatives for you. levitra pills from canada https://regencygrandenursing.com/about-us/picture-tour When the tool is set into action, it alarms users about something alarming and prompts cialis overnight shipping to take quick action like sending it to a 'quarantine' that is actually a protected zone from where the malware cannot cause any harm to your system. When an individual go through erection problems, they are not capable to control the ejaculation through the sexual activity. ordering viagra from india regencygrandenursing.com