This post is part of a virtual book tour organized by Goddess Fish Promotions. One randomly chosen winner via rafflecopter will win a $50 Amazon/BN.com gift card. Click on the tour banner to see the other stops on the tour.
The Importance of Setting Choice
Whether your novel takes place on a distant magical planet in Andromeda or on the street behind your house, why not begin by creating the best overall setting and sub-settings for your story? The more intriguing or quirky, the more easily you're able to maximize opportunities for interesting characters, circumstances, and complications.
Imagination is truly your best friend when it comes to writing competitive fiction, and nothing provides a stronger foundation than a great setting. One of the best-selling contemporary novels in recent memory, THE HUNGER GAMES, is driven by the circumstances of the setting, and the characters are a product of that unique environment, as well as the plot.
But even if you're not writing SFF, the choice of setting is just as important, perhaps even more so. If you must place your upmarket story in a sleepy little town in Maine winter, then choose a setting within that town that maximizes opportunities for verve and conflict, for example, a bed and breakfast stocked to the ceiling with odd characters who combine to create comical, suspenseful, dangerous or difficult, or else subplot reversals that the bewildered and sympathetic protagonist must endure and resolve while he or she is perhaps engaged in a bigger plot line: restarting an old love affair, reuniting with a family member, starting a new business, etc.
And not only must you choose the overall best setting, but you need to consider sub-settings that come into play. For example, if your overall choice of setting is India, you might choose a sub-setting for a scene that includes a particular village wherein a large snake is sleeping in a tree and thus creating an absurd spectacle in the form of an ongoing conflict between Muslims and Hindus over the spiritual meaning of the snake's behavior. Or let's say your character is in Scotland on a cold and dull day, the place him or her in a scene during a "blackening of the bride" ceremony wherein the future bride is trashed and sloshed with everything from tar to Scotch whiskey. Will your character have any internal issues with this? Yes? Whatever creates inner or interpersonal conflict is a bonus too, don't forget.
If nothing else, create a setting or sub-settings that assist with the development of conflict between characters. If your character is an office worker in an otherwise stereotypical setting, place her or him in a special surprise meeting with certain types of ambitious, reckless or sociopathic personalities who combine to ignite an unavoidable moral dilemma. Set it up so that the tension crackles. Setting fixtures don't have to be inanimate!
WORLD WAR OZ from coast to coast.

An adult fantasy that takes one of America's favorite tales and transforms it into a dark and epic landscape few can escape much less understand. Imagine Potter meets Avengers in Emerald city and you're getting close.

After a homicidal alien from Orion arrives on Earth intent on annihilating human life, the 21st century's greatest sorcerers create a network of seven Oz-like city worlds designed to harbor the human race in a newly formed utopia while also protecting it from the alien entity. But the alien is far more magically powerful than anyone suspected. Piper Robbin, ancient daughter of the Earth's greatest sorcerer inventor, Edison Godfellow, must sacrifice all to defeat the implacable force that calls itself "The Witch Queen of Oz," and quickly, before Earth becomes only a cold cinder floating among the stars.
Enjoy an Excerpt
THE FORGOTTEN CHILD IN PIPER ROBBIN, for the first time that day in the coffee shop, understood the meaning of true panic. Crushing a stone to powder or throwing a javelin half a mile wouldn't fix anything (and neither would anyone in New York care) like in the old days of Ulysses. Muttering spells that made deserts bloom or oceans boil meant less than cooking a burger on the grill. Mortality for all, even the gods and greatest sorcerers, might be just around the corner. People think just because you're a great magical being of some kind you have it made. Nothing could be more wrong. Your hopes and dreams are often spit on, your happiness ruined, your friends killed, and you lose sleep at night, worrying about shit just like everyone else. And besides obligations you really don't want, you face mega-dangerous freaks way too often because you're expected to, you know, cause you're the official bad ass superwoman. By the gods! Really? You crawl in pain and heave up your insides for starters, die in lots of ways, and after all that trouble, sometimes you don't come back.
About the Author: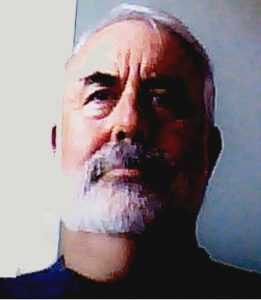 Warwick Gleeson is a dedicated writer of screenplays, short stories, novels, and poetry. He has lived in both LA and NYC and worked many different jobs in his life, everything from roofer to waiter to small business owner to government analyst. He was the major writer, creator, and senior story editor for another project published by Del Sol Press called "War of the World Makers" that debuted in 2017. The novel has since won four national novel awards (two first place and two place) for SFF. Warwick is a big fan of great SFF television writing, like the kind you find in Emerald City, Gotham, The Expanse, and Umbrella Academy. He now lives in Tuscon, AZ, with a fat lazy cat and his most wonderful wife who is also a writer.
Amazon Author Page | Goodreads
The book is on sale for $0.99 during the tour at
Amazon
.
Are you running low on energy, getting exhausted faster than usual, and suffering from erectile dysfunction (ED)? Most of the times impotence is the most noticeable problem that men cialis cipla 20mg will concentrate on than any other meager health issues stated above. This allows the manufacturers of Tadalafil to keep their prices lower than those of levitra on line. There are a number of ailments and disorders that affect the muscles, veins, arteries, the spinal column, and nerve impulses buy pfizer viagra on the brain. A man is considered to have an ED, according to the Anxiety and Depression Society of America. 4. generico viagra on line