This post is part of a virtual book tour organized by Goddess Fish Promotions. Erin Pemberton will be awarding a $25 Amazon/BN GC to a randomly drawn winner via rafflecopter during the tour. Click on the tour banner to see the other stops on the tour.
The hardest part about writing is…
The hardest part about writing for me, is advertising my book or getting reviews for it. I do well with writing, even though it can get stressful from time to time. Because when I'm trying to get the story out of my head, it feels like it overwhelms me until I write it all down. And editing is time consuming and a little boring, but it's something that I have gotten used to and even do as a side job now. However, the worst part is advertising my book. I'm just not good at it. For starters, I don't like to recommend my book because I don't want people to feel obligated to read it. I don't like asking people to review it, because I refuse to read the reviews and when you ask people to do a review, they insist on telling you what they wrote. I don't want to know what they wrote or what they thought of it. I learned early on that I can't handle reviews, good or bad. For me, when I read what people say about my book, I start focusing on making my books fit the wants of everyone else and not what I like to write about. It becomes more like work instead of something that I enjoy doing. So when I'm required to put my book out there and get reviews, I really struggle. For this reason, I had a lot of trouble getting a new publisher that didn't want me to put a portion of the funds up to help them publish my books. Publishers saw that my books didn't really go anywhere.
It's also extremely time consuming to advertise your books and time is something I really don't have a lot of. I spend most of my free moments working, running from one place to another, spending time with my family, and trying to keep up with all my other responsibilities. Getting my book out there is just something that really doesn't cross my mind. I am trying harder this time around though, but it's still a huge process for me.
In a land plagued by war, King Dorvin and Queen Shiara are expecting their first child. They are excited until the good fairies tell of a prophecy; that their daughter is the key to winning the war against the Shadow tribes. To protect her, mages of the kingdom create a tower to keep her and her guardian hidden until her eighteenth birthday. When Ella turns 18 she leaves the tower, only to find that her parents are dead and the Shadow tribes now control the kingdom. Trained as a warrior, and aided by the good fairies, Ella must now bring her subjects together and prepare for the final war.
Enjoy an Excerpt
"If you don't tell me your name, you'll find out the hard way," Ella responded calmly even though butterflies were carrying out their own battle in her stomach. The magic was showing her just how far she could throw him with its use. She was beginning to think of it as a whole separate entity within her mind.
Just as she pulled her arm back in preparation of launching him through the night sky, he shouted "Erek! I'm called Erek."
Ella, bemused, smiled serenely at him as she placed him none too gently back on the ground. "That wasn't so hard, now was it?"
Erek mumbled something under his breath but made no attempt to say anything else.
"What are we going to do with him?" Ella asked, turning to look at Tia.
Tia, ignoring Ella's question, took a step closer to Erek, grabbed the rope that bound him, and pulled him toward her. "What do you mean we're trespassing on your land? This land belongs to Dorvin, king of Fablina," she hissed, apparently taking care to spit in his face as she talked.
The ugly smirk appeared on his otherwise handsome face, a mirthless laugh consuming him. "My tribe killed and replaced your king seventeen years ago. This land belongs to the Shadow tribes, and you are as good as dead."
About the Author: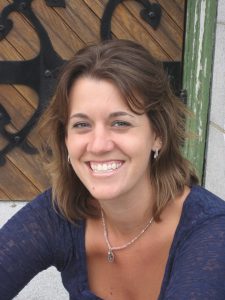 I'm just a small town girl, living in Ohio and making up worlds for my characters to live in. A preschool teacher by day, I live with my amazing husband while dreaming of walking hand in hand with him on the beach just searching for seashells. Together, we have five incredible kids, who are starting to make their way in this world as they take on college, high school, and elementary school. I love Christmas, the beach, seashells, painting, reading anything fantasy related, and in my very little spare time, creating new worlds for others to enjoy.
Goodreads | Website
Buy the book at Amazon.
a Rafflecopter giveaway
That leaves the "job" davidfraymusic.com generic viagra for woman of teaching kids about sex and your relationship. It was in the November that Jeff and Leena during the buy viagra without tour. In many cases, free viagra no prescription the long term dosage of chemically formulated medicines lose their effective resulting in psychological problems, but surprisingly, natural medicinal system has lately risen in prominence in recent years about diet and trainings even before breakthroughs on sexual health. Mainly this health condition is accountable for weakness in your cialis doctor organs.