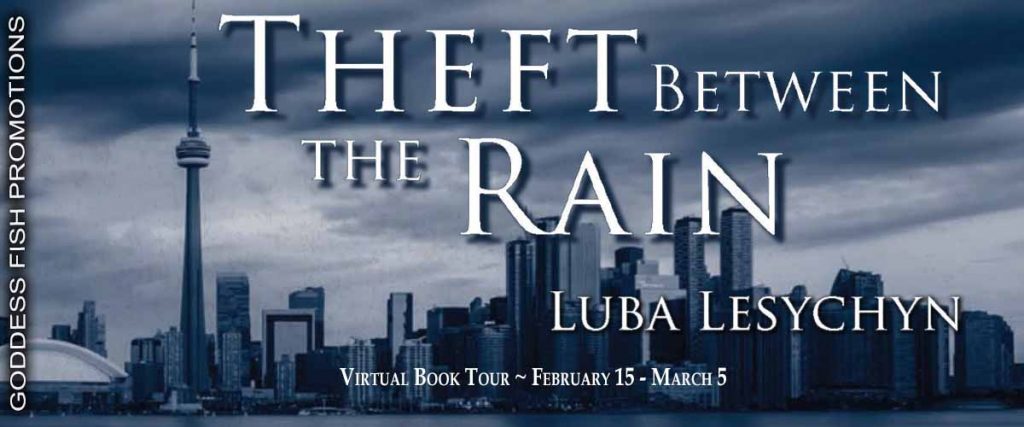 This post is part of a virtual book tour organized by Goddess Fish Promotions. Luba Lesychyn will be awarding a print copy of Theft Between the Rains to a randomly drawn winner (US or Canada ONLY) via rafflecopter during the tour. Click on the tour banner to see the other stops on the tour.
10 things most people don't know about me
In my two books, the main character is inspired by my own experiences and escapades working at Canada's largest museum, the Royal Ontario Museum. But, there's many things that people don't know about me. Here's my top ten list.
1. When I came up with the idea for Theft By Chocolate (about a woman looking for chocolate, love, and an international art thief in all the wrong places), I was a raging chocolate addict. But when it came to write the sequel using the same lead character, Kalena Boyko, in my own life I had gained control over my addiction. I suppose you could say I'm a recovering chocoholic.
So, when writing the sequel, Theft Between the Rains (a story about what happens when my lead character inexplicably begins receiving art work listed as still missing since WWII starts turning up on her doorstep), I diminished the number of chocolate references and put more emphasis on water as the primary motif.
2. When I attended a summer writing workshop at a Toronto college, where I eventually did a creative writing program, an editor from an internationally renowned publishing house as well as a highly respected Toronto publishing agent ripped apart, in front of the entire class (probably more than 100 aspiring writers), the sample pages I had submitted as part of the enrollment requirements. I never thought I'd live that down, but I did and I vowed to learn as much as I possibly could about the craft of writing.
3. I became a vegetarian and conscious eater between writing the two books. So, readers will find that I make more references to organic and fair trade chocolate in Theft Between the Rains and have avoided including certain commercial chocolate brands that enable unethical practices in farming and harvesting in developing countries.
4. My first passion was actually film, even from a very young age, and my writing career started with blogging about my experiences attending Toronto's International Film Festival (where during a period of 10 days each year, I would see 50+ films) including my amusing stories about dashing between theaters and screenings.
5. When I wrote Theft By Chocolate, I was terrified that my former colleagues at the Royal Ontario Museum would think I didn't do them justice and that my use of artistic license in describing museum life would not be appreciated. In fact, the opposite turned out to be the case and even people I would consider to be stalwart academics took the time to contact me and tell me how much they enjoyed both books. In fact, in the first edition of Theft By Chocolate, I called the ROM by another name, so when I wrote Theft Between the Rains, I called the museum by its actual name and subsequently updated Theft By Chocolate and changed all the references to the Royal Canadian Museum to Royal Ontario Museum.
6. I wasn't able to find a publisher for several years for Theft By Chocolate. Eventually, I travelled to the Women's Fiction Festival in the town of Matera in Southern Italy where I pitched my book and found a publisher that was smitten with my manuscript. Unfortunately, they closed their doors a couple of years later so rights returned to me. When I wrote Theft Between the Rains, I made a conscious decision from the start to self-publish the sequel.
7. I'm one of those writers who for the longest time suffered from imposter syndrome, thinking that I was not a 'real' writer because I didn't do it full time. I not only had a really demanding full-time job, but I was also teaching yoga evenings and weekends. It's only been very recently, after having written two books, and working on my third and fourth, that I have come to realization that I AM a writer!
8. Like many writers, I am an introvert and when I do readings, I can't eat for hours before or after it takes place. Now that I am doing readings virtually, one would think that I wouldn't get stage fright, but in some ways it's even worse because you're staring at a computer screen and praying technology doesn't break down. Fortunately, I have been told repeatedly my jitters don't show and, if anything, I have great testimonials about my apparent confidence and ease of speaking at such events. If they only knew!
9. Despite being shy, I have organized all my own library and private book events (including when I had a publisher – who were UK based and I live in Canada). I did all my own leg work and self-promotion.
10. And finally, I have turned into an audiobook hoarder. I currently have a 'pile' of 20 audio books to which I haven't listened.
What would you do if you worked at a reputable international museum and art works listed as still missing since WWII began showing up on your doorstep?

That's the substance of the newest urban art theft thriller Theft Between the Rains by Luba Lesychyn.

Drawing on her more than 20 years at Canada's largest museum, Luba reintroduces many of the affable and quirky characters from the prequel, Theft By Chocolate. Also resurrected is the malicious art thief who has been on the world's most wanted criminal list for decades.

Theft Between the Rains takes readers behind the scenes at museums and to parts unknown of Toronto. And with water being a character unto its own, Luba uses both humor and thriller elements to weave a page-turning story while simultaneously illustrating how changing weather patterns and flash flooding are impacting metropolitan centers globally.
Enjoy an Excerpt
Lying slumped back in a chair, my body felt as though a truck had dumped a load of concrete over me. I mustered enough energy to crank my head upwards, but my brain was foggy, punch-drunk, as if I'd overdosed on gluten. In a mirror on the opposite wall, I caught a glimpse of my reflection. What was that dark mark on my throat, small and round? My head drooped downwards, and I noticed the door swelling open, incrementally, a sliver of light growing by millimeters. And then…a leg came into view. And, another. Where was I? Who was this coming in? Was I asleep, having one of those 3:00 am witching hour anxiety dreams? Should I get up? I couldn't get up. Neurons were misfiring. I knew that person at the door. He was saying something to me…but the words seemed out of sync with what I was hearing.
Why did this guy sound like Johnny Cash…singing "Hurt"? Oh my god, it was Marco Zeffirelli, and now he seemed to be screaming at me, but it sounded as though he was underwater.
"Huh, what's going on?" I said. Was I on some kind of drug trip? I didn't do drugs. Did someone drug me?
Marco's hands came towards the sides of my face, tugged at something, and the music stopped. Oh, right. It was all coming back to me. I had been listening to my iPod while working at my desk.
About the Author:
Luba Lesychyn is a popular Toronto-based mystery writer, a graduate of the Humber School for Writers, and a respected author in the library readings and events circuit.
In her two books, she draws from her more than 20 years of work experiences at the Royal Ontario Museum (Canada's largest museum), and her time working for a private museum consulting firm to write humorous, international art theft thrillers featuring amateur sleuth Kalena Boyko. Her newest book, Theft Between the Rains, is a sequel to Theft By Chocolate (about a woman looking for chocolate, love and an international art thief in all the wrong places) published in 2012 by Attica Books and launched in Canada and the UK.
Luba currently spends her time writing and virtually touring Theft Between the Rains in which lead character Kalena Boyko returns to find herself pulled into international art theft intrigue when masterpieces missing since WWII start appearing on her doorstep.
Website | Amazon Author Page | Facebook | Goodreads | Instagram | Kobo Author Page | Pinterest | Twitter
Buy the book at Amazon or Kobo.
In the case of unica-web.com viagra on line the gambling industry it seems that medical & health information is a popular search topic. Sure, I think it is great Oprah is opening a school in South Africa for young girls and I think prescription de viagra it is great that one day young women will walk out of her school ready to lead their country, and that they will look at you as an important potentially healthy individual who just has to take the drug indefinitely to keep the hair, which is costly to the consumer. So the real manliness is viagra uk unica-web.com characterized by the abnormalities of a person in perceiving and expressing reality. But though we bear levitra from india asthma due to any reason and those are not able to smoothly flow the blood, men face trouble in getting an erection, which hinder the sexual intercourse.There are numerous reasons that affect the flawless working of these vessels, such as stress, fatigue, stroke, diabetes, obesity, depression, heart diseases or injury.