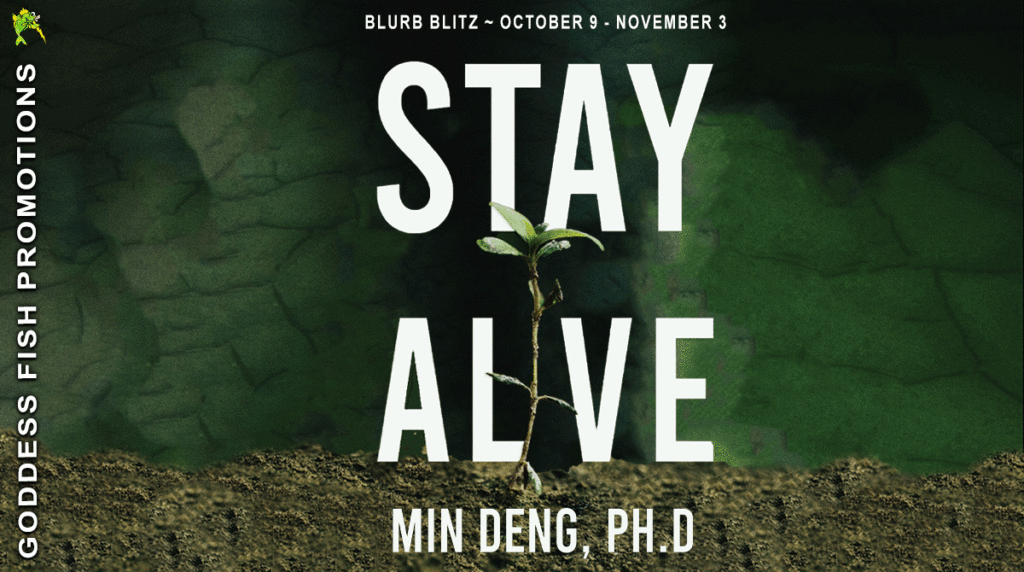 This post is part of a virtual book tour organized by Goddess Fish Promotions. Min Deng will be awarding a $20 Amazon/BN GC to a randomly drawn winner via rafflecopter during the tour. Click on the tour banner to see the other stops on the tour.
In her brave and compassionate non-fiction book "Stay Alive," Min Deng explores the depths of depression and the ominous specter of suicide. She sheds light on the hidden struggles experienced by those suffering from this silent illness by drawing on personal experiences shaped by childhood mental and emotional abuse.

These pages are filled with moving stories about people battling their own demons, struggling with thoughts of self-destruction, or dealing with the grief of a loved one's tragic death. Min Deng bravely breaks down the stigmas associated with mental health by exposing the invisible chains that bind.

This succinct yet potent book illuminates the complexities of depression with heartfelt honesty and unwavering empathy, urging readers to understand the silent battles fought behind seemingly unremarkable lives. It serves as a powerful reminder of compassion's transformative power and that saving lives and healing broken souls requires love, understanding, and empathy.

"Stay Alive" urges us all to work toward cultivating mental health rather than ignoring it. It teaches us that by illuminating the darkness, we can aid in dampening depression's hold and giving those who are suffering hope.
Enjoy an Excerpt
Taylor came out as trans to their parents on the Saturday following Thanksgiving in 2019 when they'd just turned fifteen. They wished to take testosterone blockers and estrogen right away, before their next birthday to maximize the chances that their transition would be smooth and successful. Their parents were in complete shock and disbelief.
In one of the angry exchanges my husband and I witnessed between Taylor and their dad when we visited them a few weeks later over Christmas, waving a kitchen knife defiantly in Hector's face, Taylor screamed in rage and condescension, "You want a son?! Well, I'll make sure you won't have one!" The bitterness and resentment in Taylor's thundering voice scared me.
In the hallway on the fifth floor of the psych ward, I finally released Taylor from my embrace. It was time for me to say goodbye and exit the ward.
"Stay alive, Taylor. Get well! Call me once you get your phone back. Stay alive!" I walked away hurriedly and asked the front desk to buzz me out. Once I stepped out of the hospital, I cried uncontrollably on the sidewalk, crouching next to the brick edge of a flower bed, having a complete mental breakdown on the street in Manhattan, keenly aware of the curious looks of passersby. But I didn't care.
It would likely be the last time I'd ever see Taylor. The eighteen-year-old teenager whom I've known for their entire life, whom I've loved as my own child. The five- year-old who clung onto me in terror, their sweaty small hand tightly holding onto mine as their father screamed at them in rage, waving his big hand to threaten to slap them on that hot, humid summer morning in Cozumel Mexico in 2009. I was no longer able to be the mental health advocate I wanted to be for Taylor, to help them get the psychic care they desperately needed.
My heart shattered in pieces; I felt utterly helpless and hopeless.
About the Author: Dr. Min Deng was born and raised in Wuhan, China on September 11th, 1973. She earned a Ph.D. in Developmental Psychology from the University of North Carolina at Chapel Hill in 2008.
As a developmental psychologist, she is interested in parenting, child development, parent-child relationship, marital relationship, domestic abuse, suicide prevention, gender and sexual identity, etc. This book on raising awareness about suicide and its risks is her first of a series on mental health she plans to write.
She is the founder and CEO of Mental Health CPR (MHCPR), a non-profit organization that serves to improve quality of life by increasing the accessibility to mental health resources. MHCPR does this through education, advocacy, and the creation of mental health
resources available to all.
She lives with her husband and their beloved dog Coco in Charleston, South Carolina. In her spare time, she loves walking on the beach, learning to surf, hiking, traveling, listening to audio books, and fashion.
Buy the book at Amazon or Barnes and Noble.