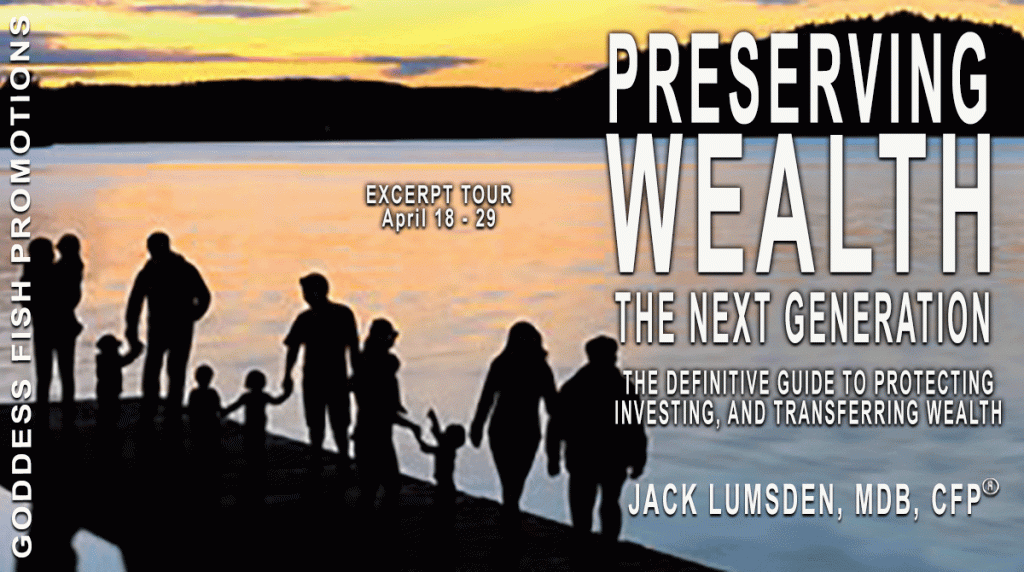 This post is part of a virtual book tour organized by Goddess Fish Promotions. Jack Lumsden, MBA, CFP® will be awarding a $15 Amazon or B/N GC to a randomly drawn winner via rafflecopter during the tour. Click on the tour banner to see the other stops on the tour.
"Toronto-based research firm Strategic Insight projects that approximately $1 trillion in personal wealth will be transferred from one generation to the next in Canada between 2016 and 2026, with roughly 70% of that in the form of financial assets." – Advisors Edge January 30, 2018

"70 % of Wealth Transfers fail." – The Future of Estate Planning. Trusts and Estates June 2010

"65% of Canadians say it's likely they will leave an inheritance to their heirs or estate but only 46% of Canadians have a will." – Sun Life Canadian UnretirementTM Index, 2015.

Experts estimate that $1 trillion of inheritances will pass from one generation to the next within a decade in Canada. In addition, many individuals are selling their businesses, resulting in substantial gains. Accordingly, the ability to effectively manage one's wealth and prepare and implement a proper estate plan is no longer just prudent. It's crucial.

Jack Lumsden is an experienced financial advisor who uses an easy-to-read narrative style to clarify financial planning concepts that everyone needs to know. Preserving Wealth explains:

•Investment strategies to provide for growth and protection of capital,
•How to develop an effective estate transfer plan to reduce estate costs and taxes,
•Strategies to preserve wealth and safeguard an inheritance or gift for the next generation,
•How to select an executor, and what to do if you are an executor,
•The critical discussions to have with your family, and
•How to assemble a financial team.
Enjoy an Exclusive Excerpt
My wife, Sandra, got up from the table and said she'd meet Uncle Wayne down at the dock if I would get our kids, Connor and Paige, cleaned up. They're just three and one, so getting sticky maple syrup off their little hands and faces is a bigger task than it sounds. However, I had them cleaned up and into their bathing suits in no time, so their cousins, Scott and Jan, could look after them.
Sandra and I had decided it was important for both of us to be as involved as possible in these financial meetings so that we could make decisions together about our family's future.
Aunt Lorraine thanked Sally for breakfast and went outside to say hi to Uncle Wayne before venturing home to see what Mark's boys and their girlfriends were up to.
As Scott took Connor and Paige outside, David asked if we had all made our Double-O lists of what we own and what we owe, along with a monthly accounting of our income and expenditures. We all had, except Sally. No one was particularly surprised about that.
Uncle Wayne burst into the cottage with Sandra in tow and was very direct. "It's a beautiful day, so I don't want to waste any time. Someone get me a coffee, and then let's get right to work."
I fetched the coffee, and we all gathered on the porch.
"First, let's go over your Double-O lists," Uncle Wayne said.
Sally looked a little sheepish while David pointed out that her list wasn't ready.
Uncle Wayne admonished her gently. "You've got to put some effort into this, Sally. It's very important for each of you to have a clear sense of everything you own and owe. You can't plan wisely for the future without knowing where you are today. I'd keep the Double-O list and copies of all your other financial documents in a three-ring binder and/or use a secure cloud storage service. I really like the cloud storage service, as you can access it anywhere from your computer, and all the documents are stored and backed up for you in a remote secure storage system. That makes it easy to keep track of everything, and you'll also have easy access for our meetings. I should also point out that all your original documents, such as wills, mortgage agreements, deeds to the house, and insurance policies, should be kept in a safety deposit box. If you haven't got one, get one immediately. You can also scan all of those items in a cloud storage service as well for quick access. Okay, enough lecturing. Let's go over the major liabilities that each of you have."
We could see he wasn't kidding about not wasting time. I mentioned that our major liability was the mortgage on our house. Mark had already paid off his mortgage, and David and Alice just had a small one left.
Sally said she had no liabilities at all. Uncle Wayne's eyebrows went up and his eyes got narrow.
About the Author:

JACK LUMSDEN, MBA, CFP®, is a financial advisor with over twenty years of experience. He has enjoyed building a strong career and loyal client base. In addition to helping clients preserve and transfer their wealth, he focuses on those who are or will be making the transition from their working years to retirement with the need to develop a lifelong income and cash-flow strategy from the financial assets they have accumulated.
A lifelong resident of Burlington, Jack dedicates much of his spare time to staying active and coaching high school football. Spending time with family is another of his core values. He enjoys attending sports events with his son, Connor, and country music concerts with daughter, Paige, while he and his wife, Sandi, like to travel with friends and explore new destinations.
Jack's education includes a BBA from Wilfrid Laurier University (where he met Sandi), and an MBA from McMaster University. He is also a CERTIFIED FINANCIAL PLANNER® or CFP® professional.
Please NOTE: The publisher is running a Goodreads giveaway in conjunction with the tour: 10 print-copies. Anyone in Canada on Goodreads can enter.
Financial Planning Website | Author Website | Facebook | Goodreads
Get your copy of Preserving Wealth free from BookFunnel
Buy the book at Amazon, Amazon CA, Bookshop, Indigo Chapters, Barnes and Noble, or Book Depository.