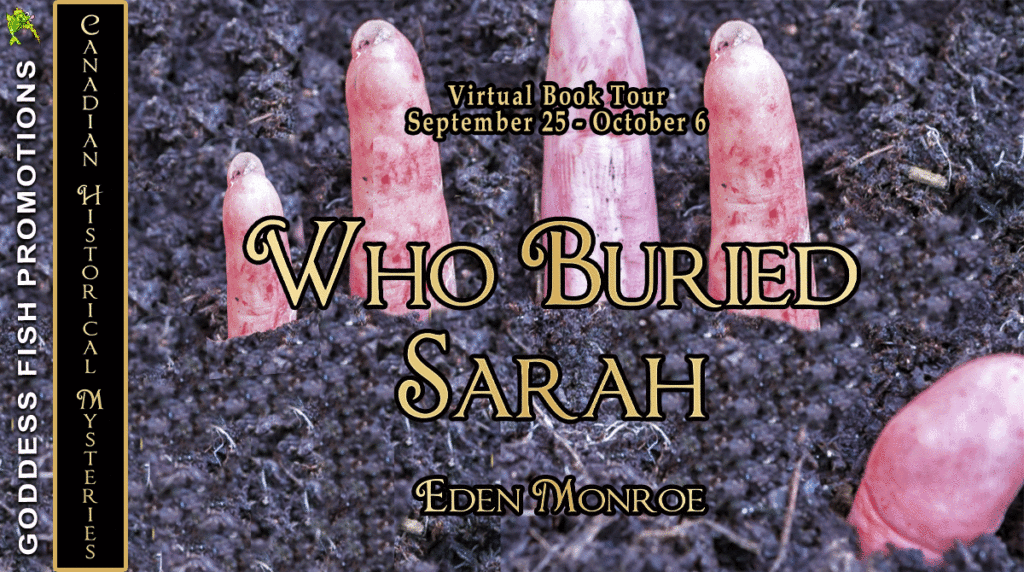 This post is part of a virtual book tour organized by Goddess Fish Promotions. The author will award a $20 Amazon/BN GC to a randomly drawn winner. Click on the tour banner to see the other stops on the tour.
Pondering the Muse
When I thought about writing Who Buried Sarah, my first step was to decide on a provocative title and then write the story to fit that title. Next I briefly considered time periods in which to set this story, and quickly settled on the 1920's, my source of inspiration very quickly coming into focus. First of all 1926 when the story begins as well as 1927 as it continues are important family milestones for me, as are the settings of Gondola Point and the neighbouring village of Rothesay. Both are very dear to me because my mother spent her formative years in that area, a poor girl and youngest child of a widowed mother who worked as a live-in maid. That meant Mum had to go to school with the sons and daughters of the Rothesay elite. Given my mother's obvious economic and social limitations she naturally felt ostracized, and her natural inclination toward melancholy, which I inherited, did not make for an easy time.
Sarah and Fanny in Who Buried Sarah shared similar life circumstances, although I choose to help them rise above it. They would not suffer as my mother once did.
My father also briefly lived in Gondola Point, a small farming community on the Kennebecasis River, and met my mother selling strawberries door to door. So how could I have anything but a romantic heart?
My inspiration for Sarah's fiancé, Connor McLagen, the son of wealthy businessman Pritchard Mclagen and his wife Agnes, is again a throwback to old-money Rothesay and the privilege of affluence. At one time Rothesay was a summer haven for the well-to-do of nearby Saint John, but following the great fire in June of 1877 that destroyed a major portion of that city, many who had summer homes in Rothesay chose to relocate there on a permanent basis – social standing intact.
Of course placing McLagen & Son Ltd. on the Saint John waterfront during Prohibition was a natural fit. I simply could not resist the easy pickings offered by this venerable old city, incorporated in 1784: the salty tang of ocean breezes, the bustling harbor and stately stone buildings – architectural triumphs – that rose in defiance from the ashes of the great fire. A story set in Saint John is certainly worth telling.
To help breathe life into my characters I cast their roles from the ranks of TV and cinema to star in Who Buried Sarah. Going about it that way, as I always do, helps dialogue flow more easily while I get to know everyone better. When the characters are fleshed out so to speak and I hit the groove, it makes for a much more relaxed experience. I become the spectator, or however they wish to put me to good use to get their story told. But even those stars who've been cast must continue to inspire me, or I will find someone else to play the part. It has certainly happened before.
I'm also heavily influenced by music – inspired by a song I hear on the radio or wherever. If I am greatly moved by a song, if it touches that spot deep within me, a book idea is immediately born. I don't even have to write it down. I will never forget the emotion it evoked in me. Emotions are one of my best inspirations, as are passions. For example, my passion for roses became Sarah's passion for roses in Who Buried Sarah, her independent spirit my own battle cry.
Sarah, the only child of Rev. and Mrs. Cranston Estey, was betrothed to Connor McLagen of the affluent McLagen family. The McLagens were socially revered, although there were rumours of nefarious underpinnings to their substantial wealth, and the God-fearing Esteys were not in favour of the marriage.

Three days before the June 1927 wedding, Sarah disappeared. Her note said she'd changed her mind and decided to leave town.

A week later she was found, buried in a rose garden, the gruesome and sensational discovery knocking New Brunswick prohibition wars out of the headlines.

There were many with secrets to keep…
Enjoy an Excerpt
"Then stop playing with fire. Look, I like it that you want to … go further … but not now, darling. We have to wait for the right time and I promise to live up to your expectations. There will be nothing holding us back then, but I promise I will be gentle."
Shifting away from him slightly, she gazed out across the river. "I understand that. I'm not exactly inexperienced about such things, Connor."
Had she really just said that aloud? She was aghast that the secret she knew she had to share with him at some point had spontaneously bubbled to the surface. This was probably the worst time for such a revelation, but there was no turning back now.
There was silence as she waited for the fallout from the bomb she'd just dropped, not daring to look at him.
"Excuse me?" he asked after a moment, his voice gone hard. "What did you mean by that, Sarah?"
Apparently this had unexpectedly become the time for truth telling. She was as surprised as he was it was happening, but she loved him too much not to be completely honest. She'd just thought it would somehow be easier to do. "What I mean is … I've … ahhh … been with a man before."
He was deadly calm. "In what way?"
About the Author: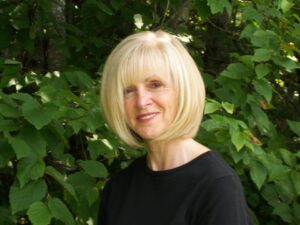 Eden Monroe writes about real life, real issues and struggles, and triumphing against all odds. A proud east coast Canadian, she enjoys a variety of outdoor activities, and a good book.
Website | Facebook
Buy the book at Amazon.