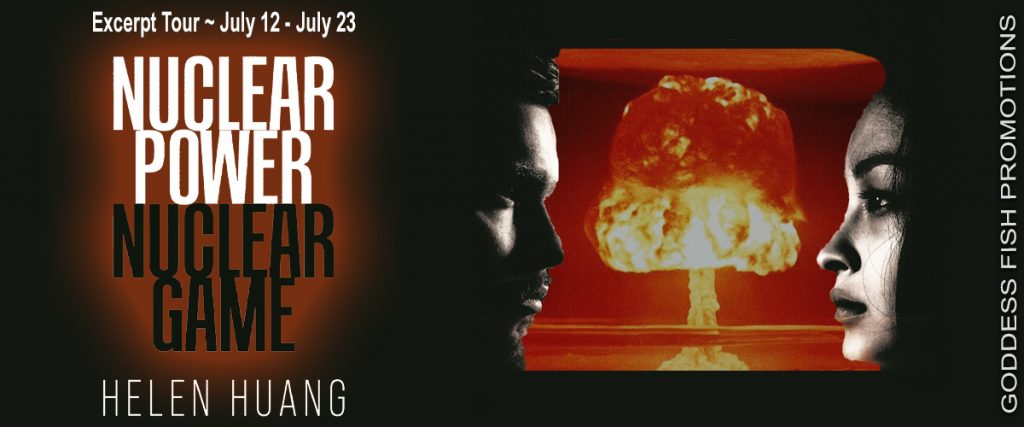 This post is part of a virtual book tour organized by Goddess Fish Promotions. Helen Huang will be awarding a $15 Amazon or B/N GC to a randomly drawn winner via rafflecopter during the tour. Click on the tour banner to see the other stops on the tour.
The year is 1950. Zoe and John, two young nuclear scientists from Berkeley, seem to have the perfect life, with promising careers and marriage plans. But their innocence is soon shattered when the Chinese Communist Party seizes power. Choosing to postpone the wedding and return back to her home country, Zoe finds herself locked in a political cage and separated from John indefinitely.

Caught in a complex web of revolutionary propaganda and forced to participate in dangerous research, Zoe must confront the looming question of where her true loyalties lie: with her country or with John back in America?

Set during China's march towards nuclear power amidst the political turmoil of the Cold War, Nuclear Power Nuclear Game spans multiple decades and countries across the globe to tell the story of two nuclear scientists' fight for world peace and a love torn apart by conflicting ideologies.
Enjoy an Exclusive Excerpt
Zoe finished her glass in one gulp. She was not good with alcohol, especially champagne. However, the fire working its way from her throat to her belly seemed to give her courage. "If I tell you something now, you must promise not to be angry with me," she said, running her delicate fingers through his hair.
"Go on." He smiled, thinking she was playing one of her naughty games. Her sweet but coy disposition was one of the things he loved about her.
"Last week I got another letter from my father," said Zoe, her eyes slowly probing his face. "He said that since the Communist Party took over and established the People's Republic of China last October, conditions have improved dramatically. The new government gives poor people jobs and houses and is cleaning up the brothels and opium dens. They have even promised a transparent and democratic political system made up of diverse voices. At Beijing University, Father says that everyone in the mathematics department is enthusiastic about building a new, modern China." She hesitated and then plunged on. "He wants me to come home to be part of the change, so I—" She stopped suddenly as John's lips compressed into a thin, tight line and the joy drained from his eyes. But he was enough of a gentleman to let her finish. Her last words came out in a rush. "I've decided to go back to China as soon as possible."
John turned away from her, his gaze drifting aimlessly across the cloudless blue sky. For the first time, Zoe noticed the crowds. It looked like half the population of San Francisco was in the park enjoying the first warm day of 1950, oblivious to her misery.
"What about us?" When John finally broke the silence, his voice sounded flat and emotionless.
"I love you no matter where I am. You know that." She kissed his cheek. "It's just temporary. You can join me in China soon, if things go well; otherwise, I'll come back here."
"But you love San Francisco! You said you wanted to stay here."
"I do! I love it almost as much as I love China. I've found peace and happiness here. With you."
"Then stay here with me," John said, his voice tight with pain and passion. His fingers clutched at the grass, shredding the budding shoots.
"I can't." Her voice throbbed with anguish and she dropped her eyes, looking down at her hands clenched in her lap, unable to meet his gaze.
John cupped her chin in his hand and raised her eyes to his. For a long time, they stared at each other without speaking, neither wanting to continue the conversation. Finally, he dropped his hand and turned away, watching a cargo ship on the horizon head toward the open sea as he searched for the words that would change her mind. He was familiar with her stubborn and independent spirit. Once she made up her mind, wild horses wouldn't change it.
About the Author: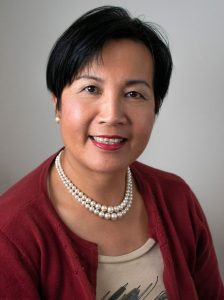 Born and raised in Shanghai, Helen Huang now resides in Melbourne, Australia. Nuclear Power Nuclear Game is her first novel, inspired by her own experience living under the Communist regime and working at a nuclear institute in China.
To be a novelist was Helen's childhood dream. She started writing Nuclear Power Nuclear Game when she was a housewife looking after her four daughters. It took her sixteen years to write, as she raised her children and grew her house design and construction business. Helen hopes to finish a sequel to Nuclear Power Nuclear Game next year.
Website | Goodreads
Buy the book at Amazon, Amazon CA, Amazon AU, Indigo Chapters, Barnes and Noble, Book Depository, Kobo, Smashwords, or iBooks.