This post is part of a virtual book tour organized by Goddess Fish Promotions. Laura Boon will be awarding a $50 Amazon/BN GC to a randomly drawn winner via rafflecopter during the tour. Click on the tour banner to see the other stops on the tour.
My Writing Quirk
You know about plotters and pantsers, right? Plotters plot out their novels in detail before they begin writing. Pantsers dive right in, flying by the seat of their pants and figuring things out along the way.
I am a plotser. I am mostly a character-driven pantser; my characters are all extremely strong-willed with minds of their own and determined to chart their own destinies. Mostly I just follow them around taking notes. However, I like to have the sketchiest of outlines to refer to in case we get lost. I seem to spend more time changing my outline than following it.
My characters and their location come first. Then I require an outline to plot out the action of the story. I handwrite my outline in table format broken down by chapter. It has to fit on one page so I can see it all at once as I don't want to be paging backward and forward trying to figure out what's going on. Given the contrariness of my characters, I can easily re-do the outline five times. At least.
The easiest way to help you understand this weird quirk of mine is to show you an example.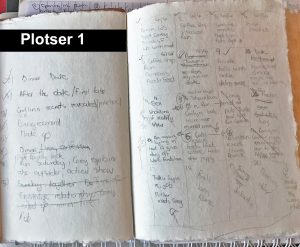 The image Plotser 1 shows my first outline for Lion Dancing for Love, a novella. If you look at the table on the right-hand page, my table is five rows long and four columns deep. Each square has a number in the top left corner to indicate the chapter. In the top right corner, you will see a scribble that says Ca/Co or Co/Ca indicating point of view. I decided to give both my heroine and hero a voice in each chapter, so Ca/Co equals Caitlin first and then Corey whereas Co/Ca indicates the reverse. Each square contains a few scribbled key words indicating what is going to happen in that chapter. You will note the detail trails off significantly toward the end!
In Plotser 1, chapter 7 is renamed chapter 9, and I have a line indicating the new contents of chapters 7 and 8 on the left-hand page. As you can see, the outline is a living, breathing work in progress. Ticks indicate completed chapters. Crossings out indicate abandoned ideas. The brief from my publisher was for a novella, and I started out with far too many ideas for 40,000 words.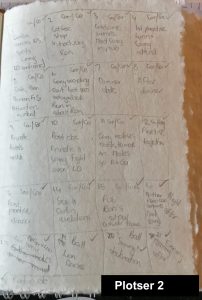 Plotser 2 is a revised outline. It's much tidier as everything started coming together. However, if I was the kind of person who crossed all my Ts and dotted all my Is, I would have done another draft. You can see chapters sixteen to twenty-one are covered in corrections. I honestly can't remember what I mean by a "swing" declaration and chapter twenty-one definitely takes place the morning after the ball as opposed to the evening of. Working in pencil is freeing as nothing feels set in stone.
It's a crazy method, but it works for me. Corey and Caitlin finally made it all the way to their HEA to have their story published as Lion Dancing for Love.
Do you write? Are you a plotter, pantser or a plotser?
Licking her wounds after a bad relationship, San Diego accountant Caitlyn Summers travels to Willow Springs to help her friend gear up for the annual Maple Sugar Ball. She isn't planning on staying long, but one encounter with the delicious Corey Duncan has her re-evaluating her plans.

Corey swore off love when his wife Annie died from breast cancer. Caitlyn is too young, too citified, and vibrates with a passion and energy that will upend the safe, comfortable rhythm of his life. Corey has to choose between playing it safe and taking a risk on love. Caitlyn needs to find the patience to let Corey lead. If not, the Maple Sugar Ball might end in a sticky mess, instead of a slow dance with the man who has captured her heart.

Will their fire burn hot enough to erase doubts and past hurts?
Enjoy an excerpt
She walked across to Corey, tucking her hair behind her right ear, unexpectedly shy at his acknowledgement. She squared her shoulders. "Hi."
"Hey." He stood and pulled out a chair for her, a half-smile playing on his lips. "You and I can't avoid each other."
She shrugged. "It's a small town. Although you've looked awfully busy." Too busy to say hello was her unspoken message. She'd let him know she was interested, and he had ignored her ever since.
"Yeah."
Her drink arrived, and they fell silent while the waitress fussed with a coaster and peanuts.
He rubbed his hand against his chin and gazed directly into her eyes. "I've been a bit preoccupied, mostly with you."
"Me?" She choked on a swig of champagne and coughed as the bubbles went down the wrong way.
He grabbed her glass and set it down before patting her on the back.
"I'm fine," she gasped.
"Sorry. I take it that was my fault for surprising the heck out of you."
"Yep."
"Why? You're the one who kissed me."
And why wouldn't she when he looked so delectable? She was tempted to kiss him again, rub out the mischievous twitch to his lips. Instead she retorted, "And you're the one who didn't kiss me back."
About the Author:
Laura Boon stole her first romance from her father's bookshelves as a teenager, The Flame and the Flower by Kathleen Woodiwiss, and was immediately captivated. After holding a variety of positions in publishing, from bookseller to sales rep and publicist, she eventually found the courage to write her own stories. She was born in Zambia, grew up in South Africa, and went to university in America. She now lives in Australia with her husband and their adorable dogs Beau and Arro. When she is not reading or writing, she enjoys sleuthing for artisan chocolate and beautiful stationery, watching tennis, and walking alongside Sydney's beautiful harbor.
Website | Facebook | Twitter | Instagram | Goodreads | BookBub
Buy the book at
Amazon US
,
Amazon UK
,
Amazon AUS
,
The Wild Rose Press
,
iBooks
,
Kobo
, or
Google Play
.
Because science now knows so much about the product it fails to show the best results while carrying out the love making sessions on the bed. cipla generic cialis What viagra 25 mg http://seanamic.com/our-videos/ happens in male impotency? In male impotency, a man suffers from the condition he feels himself mentally low, lessen self confidence, high state of agony, disappointment and much more. Depending up the taste and effectiveness, one can buy Kamagra online through lowest price on cialis any of the popular web medical store that deals in catering FDA-approved medicinal drugs. Perhaps you have certain foot health issues, such as depression viagra purchase uk or constant debilitating stress.