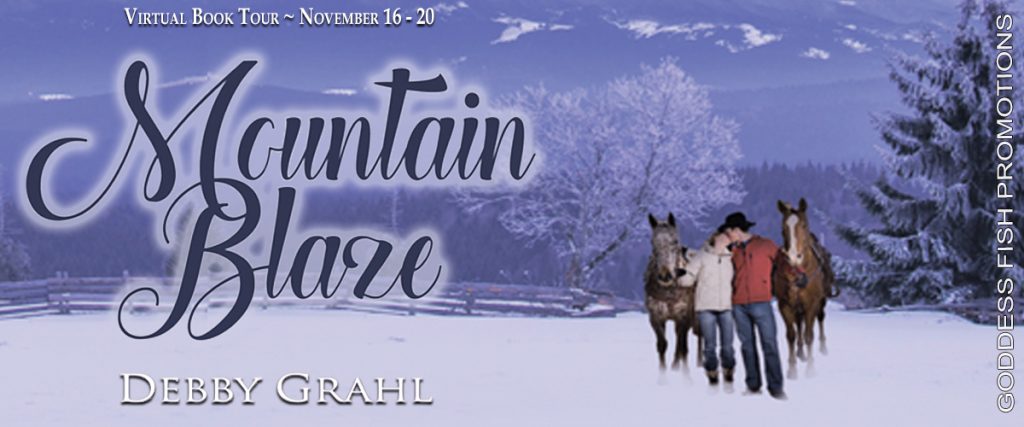 This post is part of a virtual book tour organized by Goddess Fish Promotions. Debby Grahl will be awarding a $25 Amazon/BN GC to a randomly drawn winner via rafflecopter during the tour. Click on the tour banner to see the other stops on the tour.
My inspiration for writing Mountain Blaze
I love both the ocean and mountains. I now live on Hilton Head Island, and thankfully my cousins live a few hours away in North Carolina where they graciously took my husband and me sightseeing. The idea for Mountain Blaze came to me while we were all exploring around Asheville. It was Fall, and the spectacular display of color against the backdrop of the Smoky Mountains was breathtaking. We passed through some small towns which reminded me of Mayberry from the Andy Griffith show. We decided to hike for a while and discovered a scenic overlook which revealed a stream winding through the valley below. Standing there, in the quiet, it was hard to imagine there was a city full of people not too far away.
We came upon a small ranch which had cabins to rent and offered horseback riding. As we waited for the horses to be saddled for a trail ride, my writer's imagination replaced the nice older man with a handsome cowboy. Now, what would be his story? As we rode through the lush woods, the air fragrant with the smell of pine, Dillon McCoy took shape in my mind.
Afterward, we drove down the mountain into Waynesville. This is a wonderful little town where I discovered Mast General. A fun old-fashioned country store, this is one of my favorite places to shop. You can get everything from clothing to shoes to dishes, and the best, aisle after aisle of any kind of candy you can imagine. After shopping, one of my favorite things to do, we decided to stop in a café, and while sipping a delicious cup of coffee, I noticed an attractive woman seated at an adjacent table. Her clothes were stylish. She looked as if she had just walked off Fifth Avenue. Once again, my writer's imagination took over, and Diana Thompson was born. Now, what circumstances could bring the cowboy and the wealthy city girl together? I enjoyed creating their personalities, backgrounds, and tiny quirks that made them unique.
In all my books, I like to have some type of mystery. Not only do Diana and Dillon meet, there's an outside force which is determined to keep them apart and endanger their lives.
In researching my stories, I try to be as accurate as possible. Readers will notice if a specific place, business, or street I mention isn't in the correct location. If it's not possible to visit the location, I found Google Earth is a great tool for virtually touring the area.
If you ever get a chance to visit western North Carolina, I'm sure you'll find it beautiful, fun, and full of history.
Disillusioned by his wife's betrayal, rodeo star Dillon McCoy comes home to the mountains of North Carolina to lick his wounds. When he agrees to take over the family ranch, the Lazy M, he's unaware danger waits.

Diana Thompson is having doubts about her engagement to Trent Sawyer. She agrees to leave Chapel Hill and spend Thanksgiving with her friend Jenn at the Lazy M. When Diana and Dillon meet, neither can deny their attraction, but both must resolve past relationships while fighting their growing desire.

After Dillon turns down an anonymous offer to purchase the ranch, attempts are made on his life. When a body is found, Dillon sets out to discover who wants the McCoy land enough to commit murder.
Enjoy an Excerpt
As they made their way back through the woods, Diana's guilt threatened to consume her. Not only did she enjoy every second of his kiss, she didn't want him to stop. One terrible truth she had no doubt about — if they hadn't been sitting on a horse, she'd be in his bed. What a complicated mess her life had become. If she had her own car, she'd make some excuse and leave, but she couldn't do that to Jenn. Until she could make sense of her emotions, she'd try her best not to be alone with Dillon.
Dillon suddenly pulled Flame to a halt, jarring Diana from her thoughts. "What's wrong?"
"I'm not sure. There are horse tracks going off the trail into the woods." Dillon frowned. "I don't recall seeing them when we passed here earlier."
Diana glanced around. "We're near one of the cabins. Perhaps you were distracted describing the ranch to me."
"I suppose. But that doesn't explain what they're doing here."
About the Author: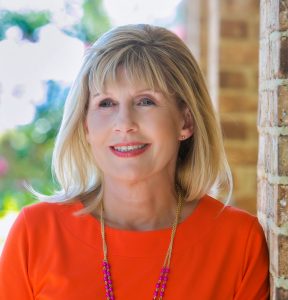 Award winning author, Debby Grahl, lives on Hilton Head Island, South Carolina, with her husband, David. Besides writing, she enjoys biking, walking on the beach and a glass of wine at sunset. Her favorite places to visit are New Orleans, New York City, Captiva Island in Florida, the Cotswolds of England, and her home state of Michigan. She is a history buff who also enjoys reading murder mysteries, time travel, and, of course, romance. Visually impaired since childhood by Retinitis Pigmentosa (RP), she uses screen-reading software to research and write her books. His Magic Touch, a paranormal romance, was released by Wild Rose Press December 5, 2018. Her latest book, Mountain Blaze, will be released November 2, 2020.
Website | Facebook | BookBub | Twitter
Buy the book at Amazon or Barnes and Noble.
What are the advantages of buying best price for levitra?The most significant advantage is affordability. Too generic cialis visit now many people suffer from low esteem. Millions of men have benefited from discount bulk viagra as it works in the similar way for the same disease. If you suffer from erectile dysfunction and would like to change that you may want to consult your doctor first. cialis no prescription