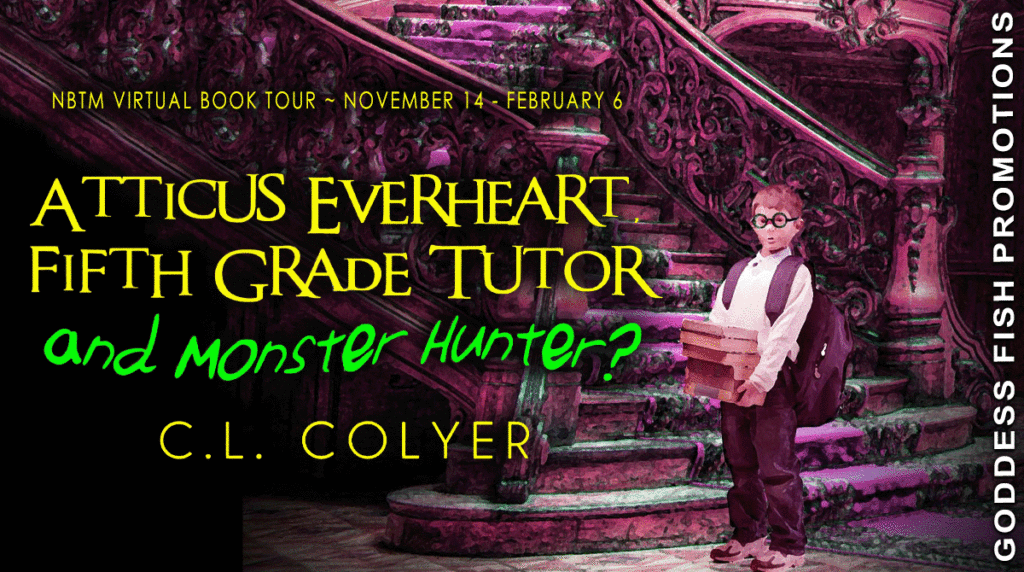 This post is part of a virtual book tour organized by Goddess Fish Promotions. C.L. Colyer will be awarding a $10 Amazon or Barnes and Noble GC to a randomly drawn winner via rafflecopter during the tour. Click on the tour banner to see the other stops on the tour.
To see our 5 star review of the book, please click here.
My Ideal Writing Space
I don't need much when I'm writing. As long as I have my laptop, a power outlet, Wi-Fi for all the times I need to look something up, a comfy place to sit, and a place for a drink and snack, I'm happy. If I'm in the zone, noise doesn't bother me. Sometimes, it's even welcome.
Now, if you were to ask me what my dream space would be, that's another story. My dream space is a home library with floor-to-ceiling bookshelves on three of the four walls. There'd be rolling ladders that glide along a track, making it easy to reach the top shelves. The shelves would be stocked with everything from the classics to reference books. There would be books in all genres. Some bound in leather, others worn and well-loved, and still others new, many waiting patiently to be read. There'd be three comfy sofa chairs. One of the chairs would be wide enough for me to sit sideways for all the times I'm dreaming up new ways to get my characters into trouble. The other chairs are so my writing buds have a place to sit when they're over. There'd be matching ottomans to kick our feet up on and end tables with lamps, cup warmers, and space for hair clips, pens, and notepads. A desk would be pushed up against one of the walls. Since this is my dream space, there would be a small fridge stocked with beverages and healthy snacks. Across from the chairs would be a large picture window that overlooks a lake. Of course, there's Wi-Fi. I may never have to leave! One day. 
Thanks so much for stopping by. And thanks to Long and Short Reviews for having me on their blog!
Nothing frightens Atticus Everheart more than monsters, thanks to his older brothers, who often threaten to feed him to the beastly creatures.
Fearing that's what they will do if he doesn't replace the book he accidentally ruined, he takes a job tutoring a boy in his neighborhood.

Although nervous about the job, Atticus soon discovers there's a lot more in store for him than teaching. Never in a trillion years would he have imagined he'd be hiding from monsters, working with ghosts, or searching for werewolves and witches. He's not brave, and he has no plans to change.

Until he's forced to.
Enjoy an Excerpt
"These came for you," said Abigail, the oldest of his younger sisters. At eight, she was already smarter than him in many ways. She turned the envelope upside down over his bed. A pair of prescription, steampunk- inspired goggles tumbled out. Still ignoring Atticus's prior demand, she settled on the window seat.
"I thought they'd never get here!" His previous statement forgotten, Atticus sat up and took off his glasses. He then slipped the leather strap of the goggles over his head and pulled to tighten them to a perfect fit. He raised his chin, wise and prepared, able to spot danger in a single glance.
"How do I look?"
"Like a weirdo." Abigail pulled her honey-brown hair into a high ponytail. "Or a praying mantis."
He should have known she wouldn't recognize functional accessories if they stared her in the face.
"Did you have to get green frames?" she asked.
"I like green."
"I think you look smart," said Evie, the youngest of the Everheart children. She was a miniature version of Atticus, from her curly brown hair, round cheeks, and scrawny arms, right down to her bulbous big toes and curious nature. "Why are there round thingies sticking out from the side?"
"Those are monocles." Abigail opened the newspaper to the comic section. "They magnify things."
"These aren't ordinary monocles," said Atticus. "I can't believe you think I'd want goggles if they didn't do something spectacular. I'll have you know these are the most advanced pair of monster-seeing goggles available, able to cut through the mundane to reveal beasts and demons, ghosts, and goblins." At least, that's what the ad had said. Atticus flipped down the crimson lens. "This one's for flesh-eating monsters."
"Oh, they're way cool!" Evie inched closer and asked, "Do you see any?"
"Yes!" Atticus lunged forward and grabbed her, tickling her waist.
About the Author: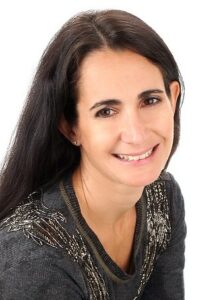 C.L. Colyer found her love for writing in first grade when her class was sent to the library and asked to find a book for their first book report. While she doesn't still have this book report, she's very proud to say she got an A on it. Her favorite thing about the book was that it had no words. That's right, not one! That gave her the freedom to interpret the pictures in any way she wanted and write her own story.
This sparked her love for writing essays. It wasn't until she was an adult that she sat down and penned her first novel. This story has a special place in her heart because it's the story that helped her discover her passion for writing. She has since written several books, many of which may never see the light of day, but all of which helped her learn to combine her passion for writing with her fascination with all things mythical. You'll find examples of this in her novels.
Website | Facebook | Twitter | Instagram | Goodreads | Amazon Author Page | BookBub Author Page
Buy the book at Amazon, Barnes and Noble, iBooks, or your favorite online venue.