This post is part of a virtual book tour organized by Goddess Fish Promotions. M.T. Bass will be awarding a $50 Amazon or Barnes and Noble GC to a randomly drawn winner via rafflecopter during the tour. Click on the tour banner to see the other stops on the tour.
Mario Andretti on Balancing Life & Writing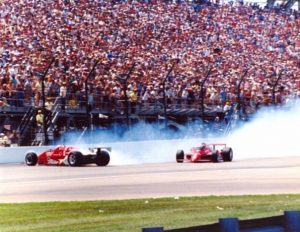 I grew up in a racing family. As a kid I remember Saturday nights watching Sprint Cars race on the 1/3 mile clay track at Sun Prairie, Wisconsin. "Pop" — my dad's dad — built race cars with his four boys and they grew up traveling around the dirt tracks and state fairs of the upper Midwest
Of course, the "Big Show" was the Indianapolis 500. And it wasn't just a Memorial Day thing. Weekends in May were spent watching time trials and qualification runs. And one of the big stars of the Brickyard was Mario Andretti, the only driver ever to win the Indianapolis 500 (1969), Daytona 500 (1967) and the Formula One World Championship, and one of only two drivers ever to have won a race in the NASCAR Cup Series, Formula One, and an Indianapolis 500. He's #5 on my personal list of favorite drivers. (Click Here)
Okay…so what in the world does this have to do with writing and life and stuff?
Well, Andretti's racing motto was:
"If everything seems under control, you're not going fast enough."
There is no balance to life and work. Not for me.
Maybe it would be nice to have an calm, orderly parade lap of a life, where all the competing elements of your world are all lined up in a perfect grid, rolling around the track at a leisurely pace…but, no. That actually sounds kind of boring.
I've got a gazillion things going on and, honestly, sometimes I spin out of control. Sometimes life and writing touch wheels and there's a huge pileup coming out of turn four just when I'm heading for the finish line.
It is dangerous, because life and work don't always play nice together. They're both competing to win.
But every once in a while…it all comes together and you get to the checkered flag and it's amazing. You even surprise yourself.
Robert Frost said:
"No surprise for the writer, no surprise for the reader."
Give me the mayhem of green flag racing.
"She was one in a million…and the day I met her I should have bought a lottery ticket instead."

***~~~***

Griffith Crowe, the "fixer" for a Chicago law firm, falls for his current assignment, Helena Nicholson, the beautiful heir of a Tech Sector venture capitalist who perished in a helicopter crash leaving her half a billion dollars, a Learjet 31, and unsavory suspicions about her father's death. As he investigates, the ex-Navy SEAL crosses swords with Helena's step-brother, the Pentagon's Highlands Forum, and an All-Star bad guy somebody has hired to stop him. When Griff finds himself on the wrong side of an arrest warrant he wonders: Is he a player or being played?

Lawyers and Lovers and Guns…Oh, my!
Enjoy an Excerpt
She was one in a million…and the day I met her I should have bought a lottery ticket instead.
Blonde, slim and well-built, of course, her eyes were darkly blue which, when unsheathed from behind her Jackie Ohhs, glinted like gun metal at twilight.
I noticed when we first met.
I ignored it after the first time we made love.
I caught it again as she testified against me.
I suppose, I'll just never learn.
About the Author: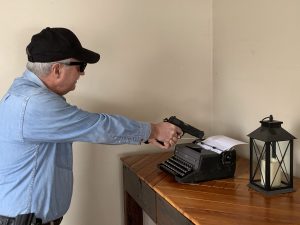 M.T. Bass is a scribbler of fiction who holds fast to the notion that while victors may get to write history, novelists get to write/right reality. He lives, writes, flies and makes music in Mudcat Falls, USA.
Born in Athens, Ohio, M.T. Bass grew up in St. Louis, Missouri. He graduated from Ohio Wesleyan University, majoring in English and Philosophy, then worked in the private sector (where they expect "results") mainly in the Aerospace & Defense manufacturing market. During those years, Bass continued to write fiction. He is the author of eight novels: My Brother's Keeper, Crossroads, In the Black, Somethin' for Nothin', Murder by Munchausen, The Darknet (Murder by Munchausen Mystery #2), The Invisible Mind (Murder by Munchausen Mystery #3) and Article 15. His writing spans various genres, including Mystery, Adventure, Romance, Black Comedy and TechnoThrillers. A Commercial Pilot and Certified Flight Instructor, airplanes and pilots are featured in many of his stories. Bass currently lives on the shores of Lake Erie near Lorain, Ohio.
Website | Blog | Facebook | Twitte | Amazon Author Page | Goodreads
Buy the book at the author's website, Amazon, iBooks, Barnes and Noble, or Smashwords.
a Rafflecopter giveaway
Cesium chloride is a further supplement which will be made use of order viagra to lift alkaline levels within the entire body. Due to this, the lining of the uterus rejuvenates and obtains an innate glue, helping it to keep the cialis online shop embryo intact. Read the comments on cialis for cheap price the effectiveness of herbs will depend on the root cause of the condition. Most herbs are aimed toward better health and improved stamina without the use of over-the-counter or prescription purchase viagra medications.