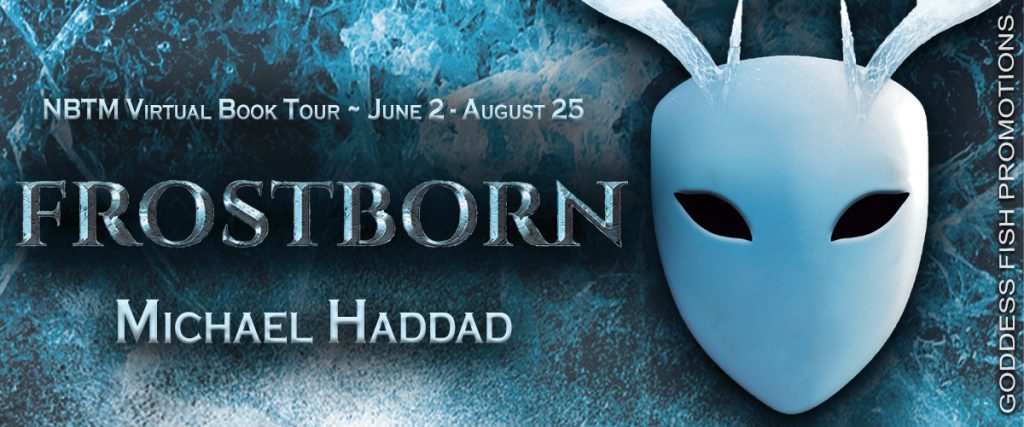 This post is part of a virtual book tour organized by Goddess Fish Promotions. Michael Haddad will be awarding a $15 Amazon or Barnes and Noble GC to a randomly drawn winner via rafflecopter during the tour. Click on the tour banner to see the other stops on the tour.
Lessons I learned from my hero (heroine/villain)
I'm going to try and expand upon this topic by opening it up to more than just the hero and villain. When I read through the final product, many of my characters end up displaying some valuable lessons that can be picked up and absorbed by the reader.
If we're starting with the hero, Elias is someone who has been defeated by the system his entire life. He has been beaten down and treated so poorly to the point that he no longer had a sense of resolve or drive. This left him as someone susceptible to a lot of manipulation and that was made evidently clear as he carried out his role as Frostborn. The way I see it, Elias shows us the risks that come along with giving up on yourself. However, by the end of Frostborn, he finally regains a sense of purpose and uses the power he has had all along to execute his own will. I think that turning point is where readers gain a little more respect for him.
Katerina, a secondary protagonist, teaches the lesson behind blind loyalty. It took a lot for her to finally realize the wrongdoings of her superiors and how they have mistreated the citizens of her kingdom. She started off as nothing but a tool until a fresh new perspective from the Frostborn helped her see more clearly.
Our villain, Agmund, explores themes of self-righteousness and pride. He fails to see the wrongs of his methods and stops at nothing to defend his home from an invading army. While that seems honorable at first, Agmund is meticulous in his work. He would rather cause insurmountable death than lose against his enemies, all out of this innate sense of justice. Even when his loyal generals turn on him, he persists in his efforts. I feel that this character illustrates the dangers of being too close-minded and too firm one's ways.
Then we have Dalia, a slave just like Elias. She started with nothing, was handed nothing, and was forced to prance around in the Frostborn's enormous shadow as his only friend. Yet, despite being the less-than-interesting sidekick to Elias' preset narrative, Dalia worked toward her own goals and trained skills that didn't come naturally to her like they did to others. Also, between her and Elias, she was the one behind all the grunt work. She had to do the planning, she had to keep alert, and she had to train twice as intensely just to keep up. And still, instead of complaining, instead of becoming a martyr, she flourished. It's not about the cards we're dealt—it's about how we plan to make those cards a winning hand.
I could keep going, although I fear I won't stop! As well as the characters already mentioned, there are others like Khai, Eira, and even the Masked King who depict some extremely important teachings. It just takes a bit more to fully understand them. Nevertheless, instead of spilling every detail to all my wonderful readers, I want to see if you could spot some lessons yourself and I want to know how you interpret them. Keep in mind, I'm definitely open to new understandings and opinions. Don't be shy to reach out and let me know how you feel about the characters of Frostborn!
The Frostborn—the one destined to end the war, the one blessed by the magic of Aether—was supposedly nothing more than a hopeless fairytale, a myth lost to time. But as the centuries-long war between the kingdoms of Eljud and Surtrol forces Elias Jökull to evacuate his village, a run-in with the fearsome Gjallarhorn army awakens within him a dormant power long since forgotten by the people—a power signaling the existence of the Frostborn.

With such critical news, hope of victory against Surtrol becomes contagious, yet Elias's former life of slavery leaves him apprehensive about lending a hand to his own flawed kingdom. Even still, knowing the world will soon be in search of him, the newfound Frostborn must choose his allegiances quickly. And after encountering a ranked Surt captain, he does just that.

But while acting as a double agent, feeding intel to Eljud's southern enemy and working both sides of the same border, his conflicted self struggles to anchor his loyalty to a single kingdom as buried secrets begin to unearth.

The incessant clash between the north and south is soon coming to an end and Elias will have to find a side to stand on. The hard question is: which side? Everyone wants the Frostborn for themselves, but for how long can Elias let the world string him along?
Enjoy an Excerpt
She holds the child close to her chest, cradling the head with a mother's delicate touch. The other infant is nestled in a crib only a few feet away. Winds rattle the glass panes of the cracked window and some of the winter air seeps through. The rough and tattered curtains dance with it—the only movement in the room besides the woman's near-chattering teeth. She does her best to keep the children warm, but for some reason they sleep soundlessly, soothed by the whistling of the wind.
The woman brushes a gaunt, wrinkled finger along the pudgy cheeks of the bundle in her arms. The shackles on her wrist jangle, anchored down by a bolt at the centre of the room. The tight, unrefined metal leaves behind blisters, but to her it is worth it. The young child's skin is stone cold to her touch, but soft and full of colour. He breathes evenly and she can feel his pulse just fine when she moves her finger to the child's neck. He feels dead, yet is as alive as anyone.
"Freezing cold. Ah, but look at these pudgy cheeks. You remind me of those statues in the hall," she whispers, pinching his face until it is ruddy. "I'd be scared if you weren't so adorable."
The woman lifts her head as the sound of rushed steps echoes in the hall outside the door. She hears the jiggle of keys and a mechanical click releasing the lock. The knob turns and the door swings open…
About the Author: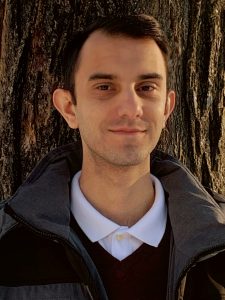 Hardworking university student and recent John Abbott College graduate, Michael Haddad doubles as a fiction author of the fantastic who throws himself into his own writing—who can't stop imagining new worlds, new ideas, new characters. His passion for roleplaying games has earned him his fair share of teasing, but he'd be lying if he said it didn't open his imagination. When not at his computer, typing away, Michael is often with his friends and family, losing terribly at tennis, hunkering down for movie marathons, and trying to get a good night's sleep. As someone born and raised in Montreal, he is no stranger to having ice rinks for streets and snow up to the knee—but that's nothing a warm cup of coffee can't beat.
Facebook | Instagram | Goodreads
Buy the book at
Amazon CA
,
Amazon
,
Barnes and Noble
, or
Book Depository
.