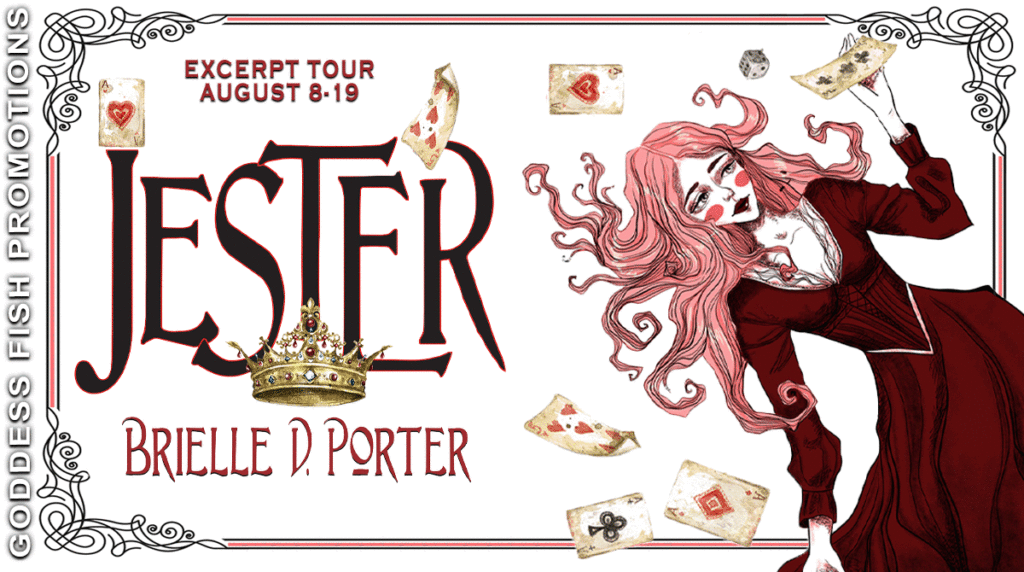 This post is part of a virtual book tour organized by Goddess Fish Promotions. The author will be awarding a $25 Amazon/BN GC to a randomly drawn winner. Click on the tour banner to see the other stops on the tour.
What happens in Oasis, stays in Oasis.

Lisette's father killed the King. His execution leaves Lisette alone, disgraced, and without the magic he intended to pass on to her. In Oasis, that's a problem. Glutted with enchanted performers, Oasis is a sin city where courtiers pay in gold to drink, gamble, and above all, be entertained. To survive on its competitive streets, Lisette peddles paltry illusions in place of magic.

Desperate to prove herself, Lisette enters into a deadly competition to be chosen as the highest-ranked magician in the world, the Queen's Jester. But her rival, the irritatingly handsome Luc, possesses the one thing Lisette does not―real magic. Lisette will do anything to win, but when evidence implicating the Queen in her husband's murder surfaces, Lisette must choose between redeeming her family name, or seizing the fame she's hungered for her entire life.
Enjoy an Exclusive Excerpt
The seeker is gone. I watch him leave, head shaking as if disappointed, the crowd swallowing him up again. My one big shot, gone as quickly as the smoke from my act.
I gather up my knives, suddenly too exhausted to even finish the show. There are a few shouted threats, but I hardly notice through the fog of disappointment. I can't believe it's over.
Seventeen months I've waited for the opportunity to impress a seeker, and with just one word, it's over. And I didn't even make enough gold dust to buy myself dinner.
I loosen Stefan's bindings, my fingers slipping as a loud gasp from the nearby crowd steals my attention. Stefan drops with a thud and a curse, but I hardly hear his complaints. Most of my audience has wan- dered off, inflating the already bloated numbers of the show next to mine. The entire stretch of street, known fondly to those in the business as the Noose, is filled with performers clamoring to be seen. Nowhere else in the kingdom of Terraca is there a place so glutted with magic: everything from the mundane enchantments like the ones used to keep the hotels refreshingly cool inside—even here in the desert—to the spectacular.
Sandwiched between the most impressive hotels in Oasis—including the impressive Crown Hotel—the Noose is one of the best spots to snag wealthy patrons with too much gold in their wallets and too much liquor in their blood.
A bolt of lightning so bright it leaves a streak in my vision cracks the pavement several feet away. Applause and gold nuggets are thrown at the magician, who bows.
Ignoring Stefan's shouts, I wander over to see what has the tourists so hot. I've seen most of the shows in the Noose multiple times; after all, I've got to maintain a healthy edge over my competitors. So, I'm not surprised when I recognize the performer instantly. His name rises in my throat like bile.
Luc.
About the Author: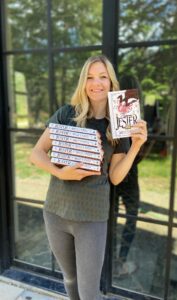 Brielle D. Porter decided to become a writer after a well-meaning elementary school teacher told her she had a gift for it. Stolen moments under the covers reading anything from Harry Potter to William Goldman solidified the desire to tell stories herself one day. Jester is her debut novel.
Brielle lives with her husband and three sons on a lavender farm in Northern Idaho. When she's not writing, she can be found running and beekeeping. Only ask her about her hobbies if you have plenty of time to spare.
Website| Goodreads | Instagram | Twitter
Buy the book directly from the publisher or at Amazon, Barnes and Noble, IndieBound, or Bookshop.