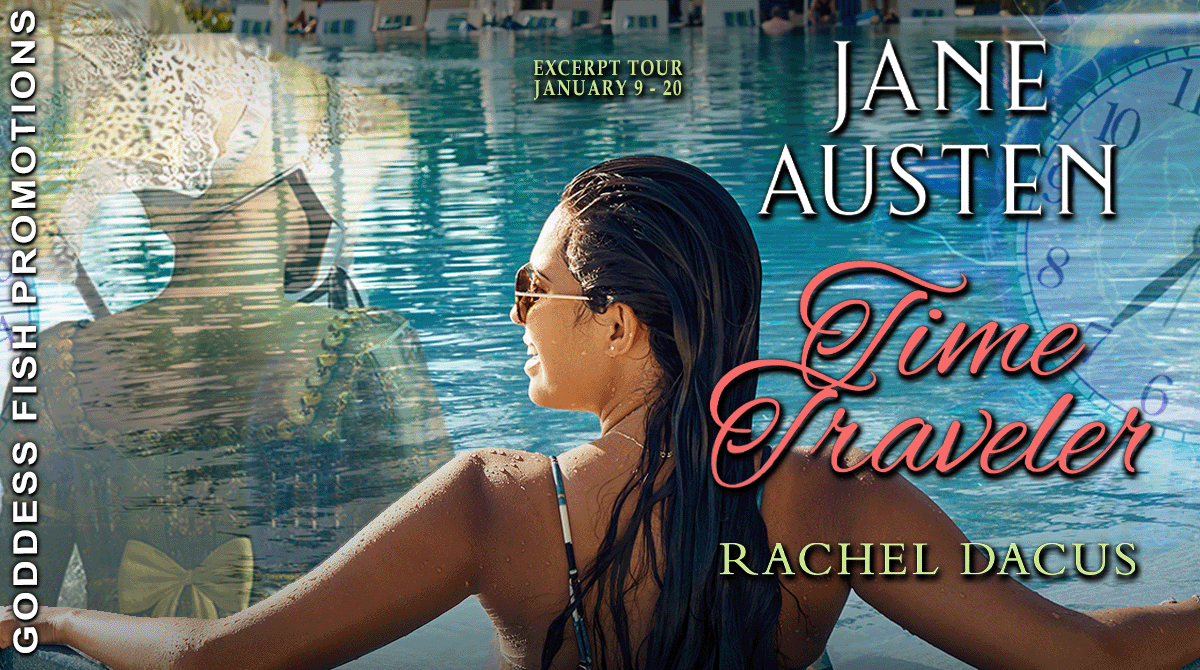 This post is part of a virtual book tour organized by Goddess Fish Promotions. Rachel Dacus will be awarding a $20 Amazon or B/N GC to a randomly drawn winner via rafflecopter during the tour. Click on the tour banner to see the other stops on the tour.
Lonely Regency romance writer travels to the future, meets her fans, dips into a pearly swimming pool, and falls for its owner. Can she ever go home again…

If Jane Austen's novels had never ever existed, would we have rom-com movies and women's fiction? But the young writer is discouraged by a publisher's rejection and ready to give up writing. And an unwelcome marriage proposal she has rashly accepted spells her doom.

Someone must save history and Jane Austen! When a stranger calls and claims to be an interested publisher, a desperate Jane agrees to go with him to his office. That office turns out to be in the future. And it's not an office, but a bookstore in southern California in 2024 where fans of Jane Austen gather every month to discuss her works.

Jane greets the Jane Austen Superfan Club, only to find that superfans can be super picky. Discouraged by their critiques, Jane wants different adventures. Even deadly, dangerous ones. And oh, yes! Romantic ones.

Her "publisher" had hoped to inspire Jane's writing by showing her a book club devoted to her writing. But when she meets a tall, handsome superfan, Jane decides to chart her own course. She disappears with her new friend, and history may have to save itself …
Enjoy an exclusive excerpt from the book:
Jane sat up and looked out of the wall of glass. It overlooked the pool they had walked beside last night. Will was swimming with a most peculiar stroke, like a butterfly spreading its wings. He leapt from up the water and then disappeared under again, doing a stroke she had never seen, even at the seaside when the boys played in the ocean.
Jane lay still, contemplating the day and the swimmer.
She should get dressed and join him at the pool, to watch from nearer. Having only her new, silky outfit from last night, Jane wondered if she could wear it for another day. The idea of returning to the hotel and lacing up the layers of her old life returning made her shiver with dread.
Will had left George a message, Ubering their whereabouts, he had said. George would have to rest content with her absence for at least another morning.
Will's rhythmic swimming mesmerized her as she listened to the sound of his hands and feet slapping the water. He changed to a smoother stroke, swimming quickly back and forth the length of the pool.
Jane dressed and joined him. The day's warmth was beginning, so she was glad she had left off her jacket.
Will swam over to the side of the pool, dripping like the statues of Attic gods in fountains in Hyde Park.
"Did you sleep well?" he asked. When she nodded, he said, "I made breakfast for us, if you're ready."
"Breakfast would be wonderful."
He swam to the far end of the pool, walked up the steps. Drying off with a blue towel, he wrapped it around his hips, which made Jane look up and around at the sky and gardens, anywhere but at the living statuary that was Will Fleming, a man who had kissed her last night.
RACHEL DACUS writes about history, love, family, and art — with a touch of magic. Rachel is the author of both prose and poetry. When she's not writing or reading, she listens to music and walks through the beautiful San Francisco Bay Area, where she lives with her architect husband and a lively Silky Terrier. She blogs about books and the writing life.

Website: https://racheldacus.net/
Twitter: https://twitter.com/Rachel_Dacus
Instagram: https://www.instagram.com/racheldacusauthor/
Facebook: https://www.facebook.com/RachelDacusAuthor

Buy Link:

Amazon: https://www.amazon.com/Jane-Austen-Time-Traveler-Timegathering-ebook/dp/B0BDVXLXC1