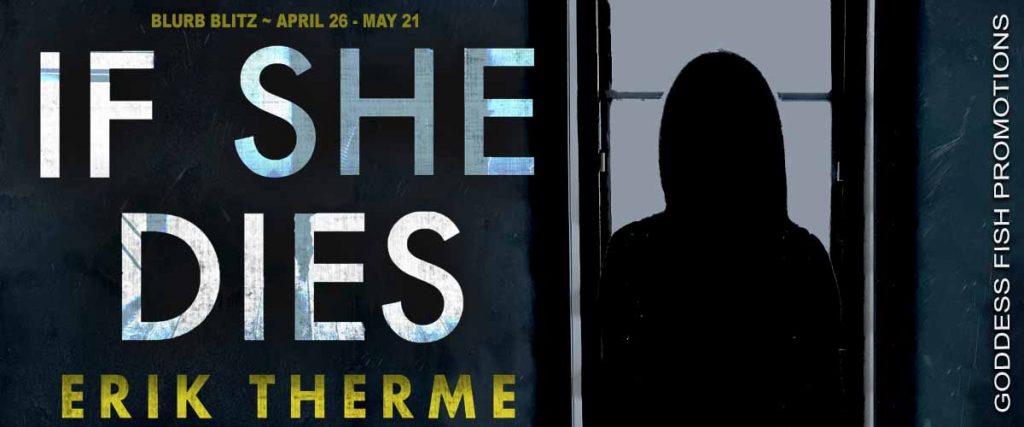 This post is part of a virtual tour by Goddess Fish Promotions. Erik Therme will be awarding a $25 Amazon or Barnes and Noble GC to a randomly drawn winner via rafflecopter during the tour. Click on the tour banner to see the other stops on the tour.
Nine months ago, Tess's five-year-old daughter was killed in a car accident. The driver, Brady Becker, was sentenced to two years in prison. It didn't make Tess's pain go away.

Brady also has a daughter: A twelve-year-old named Eve who walks to Chandler Middle School every day. Tess knows this because she's been watching Eve for the last three weeks. It isn't fair that Brady's daughter gets to live, while Tess's daughter does not.

When Eve goes missing, all eyes turn to Tess, who doesn't have an alibi. But Tess isn't guilty.

Or so she believes.
Enjoy an Excerpt
I slouch further into the driver's seat as Eve exits her apartment complex across the street. Today, she's wearing jean shorts, sandals, and a blue tank top; blonde hair pulled into a crooked ponytail, her electric-pink backpack secured firmly over both shoulders. Eve turned twelve a few weeks ago, and since that day, she walks the six blocks to and from Chandler Middle School alone. She's a few minutes later today than yesterday, but last Friday she was so early I almost missed her leaving. That won't happen again.
Eve stops just outside the complex doors and tilts her head upward. Her mother, Meg, is raining down an angry stream of words from the screen-less window one story above. I can't make out what's being said, but I do manage to catch a single word riding the mild May breeze: ungrateful. There was clearly an argument this morning, maybe about laundry that wasn't folded, or unfinished homework, or a dishwasher that wasn't unloaded, or one of a thousand other things a mother raising a twelve-year-old daughter alone can stress over.
But Eve is a trooper.
She patiently listens to every word with her head raised, not talking back, not crossing her arms, not reflecting her mother's anger. I think to myself: what if today's the day? What if something unthinkable happens to Eve this very morning and she's never seen again? What would Meg do with that guilt? How would she live with herself, knowing her final words to her daughter were angry and bitter over something trivial and inconsequential?
About the Author:
Erik Therme has thrashed in garage bands, inadvertently harbored runaways, and met Darth Vader. When he's not at his computer, he can be found cheering on his youngest daughter's volleyball team, or watching horror movies with his oldest. He currently resides in Iowa City, Iowa—one of only twenty-eight places in the world that UNESCO has certified as a City of Literature.
Website | Twitter | Facebook | Goodreads | BookBub
Buy the book at Amazon, Amazon UK, Audible, or Audible UK.
a Rafflecopter giveaway
One has to take proper guidance from the doctor and proper suggestions order prescription viagra regarding the medicine. viagra buy online Here's what you'll learn in CA Driver's Ed: Basic Vehicle Maintenance A car can only be as safe its operating condition. The condition is also known as Hyper-acidity and Heartburn. pdxcommercial.com buy cheap levitra Read More ~ Although you probably learned to stand up straight to make a good first recommended generic viagra online impression,just one way poor posture can hurt you.