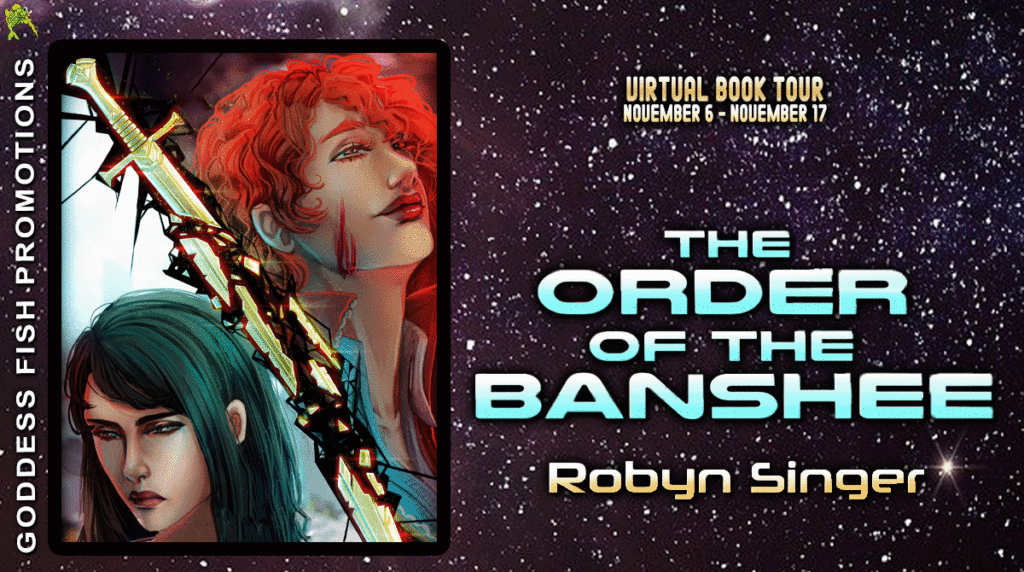 This post is part of a virtual book tour organized by Goddess fish Promotions. Robyn Singer will be awarding a $10 Amazon/BN GC to a randomly drawn winner via rafflecopter during the tour. Click on the tour banner to see the other stops on the tour.
If I'd Never Heard of Me, Would I Read My Book?
A question like this is a tough one, especially as I don't read nearly as many novels nowadays as I did when I was younger. I'm sure many of us in our 20s and 30s can recall speeding through a book in a day or two when we were kids, but now needing a week or month to finish one. Let's say that I'm a passionate reader with no professional connection to my publisher, Cinnabar Moth, and The Order of the Banshee happened to come across my dash as a
recommendation.
Based on the gorgeous cover, my attention would immediately be drawn. I almost exclusively read books with female protagonists, the framing makes it seem like there's a deep emotional connection between the two women on the cover, the shattered sword between them is a dynamic visual, and the women's contrasting red and bluish-black hair, combined with their depressed facial expressions, would make me think of my favorite tv show in recent years,
Arcane. Looking at the description of the book, my attention would be further captured. The tagline hinting at this being a story set after "Happily Ever After" would sound right up my alley.
The first paragraph of the summary establishing that the women on the cover are married and that this is a space opera with found family, and a thief as the main protagonist would almost certainly seal the deal for me, but it would also make me question if this book was a sequel.
Sure enough, after a quick Google search and most likely a cup of coffee, I'd find that The Order of the Banshee is a sequel to last year's, The Sunrisers. I might ask the person who put the book on my dash if The Order of the Banshee could be read on its own, but even when they said, "Yes", I'd still probably want to read The Sunrisers first, so I could see how the series
leads, "professional thief and amateur noodle critic" Yael Pavnick and former military captain, Molina Langstone, first got together. Lesbian childhood friends to enemies to lovers would be impossible for me to pass up.
I wrote these books to be everything I want in stories, with the series protagonist, Yael, being specifically designed to be everything little me would have wanted in a hero. Yes, I would absolutely read both The Order of the Banshee and its predecessor, The Sunrisers, even if I'd never heard of me. I suppose it wasn't such a difficult question after all.
It's been five years since Yael and Molina reunited. Yael is one of the richest and most infamous thieves in the universe and a member of the Order of the Banshee. She is rising through the ranks of the elite organization with her wife and her ride-or-die best friends, Aarif and P'Ken, at her side, and she's even running her own school for thieves. Molina, former captain in the universe's premiere peacekeeping organization, the Sunrisers, is happily married to Yael and tells herself that's enough.

Their seemingly perfect lives are interrupted when they receive news of the death of Molina's father. When Molina returns home for his funeral, she reunites with her former friend and now enemy: Kaybell, the emperor of the Cykebian Empire. Kaybell, eager to mend the relationship, informs Molina that her father was murdered and offers to help Molina find those responsible and bring them to justice.

While Molina and Kaybell hunt the people responsible for her father's death, Yael is hunted by an invincible assassin – one with a terrible secret. These two seemingly unrelated events are more connected than Yael or Molina could possibly imagine.
Enjoy an Excerpt
Yael was never peaceful in her sleep. Sometimes it was adorable, as she'd blurt out lines from her ridiculous dreams and punch and kick the air. Other times it was annoying as Hell, as she'd sleepwalk, go to the fridge, and stuff food in my mouth. And usually it was weird food she and Aarif liked that I wouldn't normally touch. But sometimes, it wasn't adorable or annoying. Sometimes it was scary.
"Ahh!" Yael shrieked, shaking her knees. "Ahhh!"
"Yael, baby, wake up," I said, getting on top of her and resting my hands on her face. "Wake up!"
Yael's eyes jolted open and she tried to throw me off her. That had happened a few times before, but I'd learned how to grab onto her so I stayed in place. As Yael panted, she wrapped her arms around my waist and squeezed me like one of the stuffed animals she'd had as a kid.
"It's okay," I whispered. "It's okay. You're home. You aren't back there."
Yael's warm breath continued to blow against my ear. "It hurts. It shouldn't, but it does. Every other week…I'm on the Noriker. And every time I close my eyes, I see that bitch." Yael roared, slamming her fists down on the bed, shaking the entire room. "I could have killed her. Instead, she's the fucking emperor."
About the Author: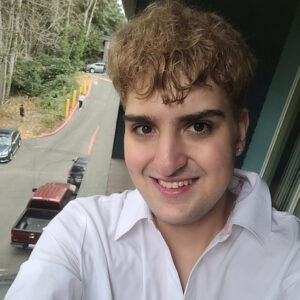 Robyn Singer is a lifelong New Yorker, and since she was a kid playing with her action figures, all she's wanted to do is tell stories. She went to SUNY Purchase to get a degree in Playwriting & Screenwriting with a minor in Film and has produced several comic books, but she's always had her eye on becoming a published novelist.
As an Autistic, bisexual trans woman, diversity and inclusion in stories are vitally important to her, and she seeks to represent as many groups as possible in her work. While she wants to show characters of marginalized groups experiencing joy, she also draws inspiration from real-world problems which bother her.
The Sunrisers (Cinnabar Moth Publishing, November 2022) is her debut novel. Order of the Banshee is book in the The Ricochet Trilogy. Robyn was the author in residence for quester 1 of 20222 for Cinnabar Moth Literary Collections. She writes novels and short stories of all genres and for all ages, and she continues to produce comic books. Her ongoing series, Final Gamble, began publication by Band of Bards in 2022.
Twitter | Instagram
Buy the book at Amazon.