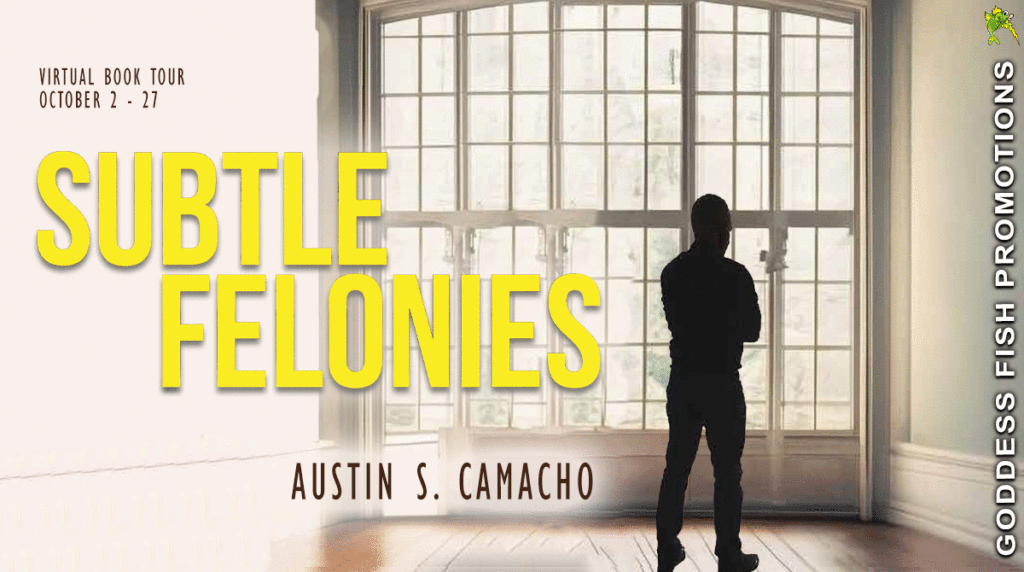 This post is part of a virtual book tour organized by Goddess Fish Promotions. Austin Camacho will award a randomly drawn winner a $25 Amazon/BN GC. Click on the tour banner to see the other stops on the tour.
If I'd never heard of me would I read my book?
Well let's see…
I love books that feature a true hero, and Subtle Felonies has one. Hannibal Jones is a private eye in the classic hardboiled mold. He has a clearly defined morality all his own, he's tough when he needs to be, but tender when that's called for. He also has a smart mouth and is clever enough to solve a twisty mystery. He may seem familiar, because I'm a fan of Lew Archer, Travis McGee and Phillip Marlowe but being a man of mixed race raised in Germany gives him a unique perspective when dealing with the book's diverse cast. This is a man I will be happy to get to know.
I like to really feel the setting, and this book explores the DMV (District of Columbia/ Maryland / Virginia) to give me the sights, the tastes, the smells, the sounds, the FEEL of the area.
I love a books that really move and once Hannibal sinks his teeth into the mystery, events move at a breakneck pace. The feeling of urgency to find the missing man never slackens. Almost every chapter ends with a cliffhanger. It seems like there's no place in the whole book where it will be easy to put it down for the night.
Most of all I love a good mystery. Subtle Felonies has a plot that twists like a corkscrew with clues scattered about the landscape. There ARE enough clues in plain sight to solve this mystery and figure out who the ultimate villain is… but you won't. and in the meantime, a series of bad men and women appear with their own schemes that only confuse the sleuth trying to sort out the big villain's plot.
And, even if I had never heard of me, I'd read Subtle Felonies because it's part of a series of complex mysteries Hannibal Jones has faced. Each of his previous seven adventures is populated by its own cast of fascinating characters, explores parts of the Washington area, moves at its own frenetic pace, and offers opportunities to get to know this knight errant in dark glasses, DC's professional troubleshooter, Hannibal Jones. I'd want to read it because I'd know there's more great reading ahead.
Is retired basketball star Xander Brown missing, or kidnapped? His crazy family and dangerous friends draw DC detective Hannibal Jones into a deadly chase to find – or rescue – a complex man. In public, Xander is a husband, father, partner, friend, but who is he in private? Which role took him away? The search moves at breakneck speed across the posh suburbs and angry alleys of the nation's capital, forcing Hannibal to confront tough truths and deadly risks. Will DC's troubleshooter save a life or lose his own?
Enjoy an Excerpt
Charlotte took a deep breath while examining Hannibal. Her eyes scanned him top to bottom. He felt the way he did in the airport when they put him in the chamber and told him to raise his arms overhead. Was she staring into his eyes, or wondering about his dark glasses?
Were his black suit and white shirt inappropriate for the season?
"Ben told me that you were very good at finding people," Charlotte said. "And that you were trustworthy and above all discreet."
"Yeah, and he probably figured you'd be more comfortable with a black investigator."
She grinned. "Yes, there is that. You wear those shades all the time?"
"Unless I'm asked not to."
"Well then, would you mind?" She leaned in. He removed his sunglasses and slipped them into his suit jacket pocket. She leaned even closer.
"Blue? No, I think hazel eyes," she said. "Where'd you get them?"
"You'd have to talk to my parents about that."
About the Author: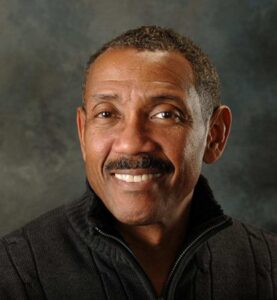 Austin S. Camacho is the author of eight novels about Washington DC-based private eye Hannibal Jones, five in the Stark and O'Brien international adventure-thriller series, and the detective novel, Beyond Blue. His short stories have been featured in several anthologies and he is featured in the Edgar nominated African American Mystery Writers: A Historical and Thematic Study by Frankie Y. Bailey. He is a past president of the Maryland Writers Association, past Vice President of the Virginia Writers Club, and one of the directors of the Creatures, Crimes & Creativity literary conference – now in its 10th year. The 8th Hannibal Jones mystery, Subtle Felonies, was released September 27.
Facebook | Website | Amazon Author Page
Buy the book at Amazon.