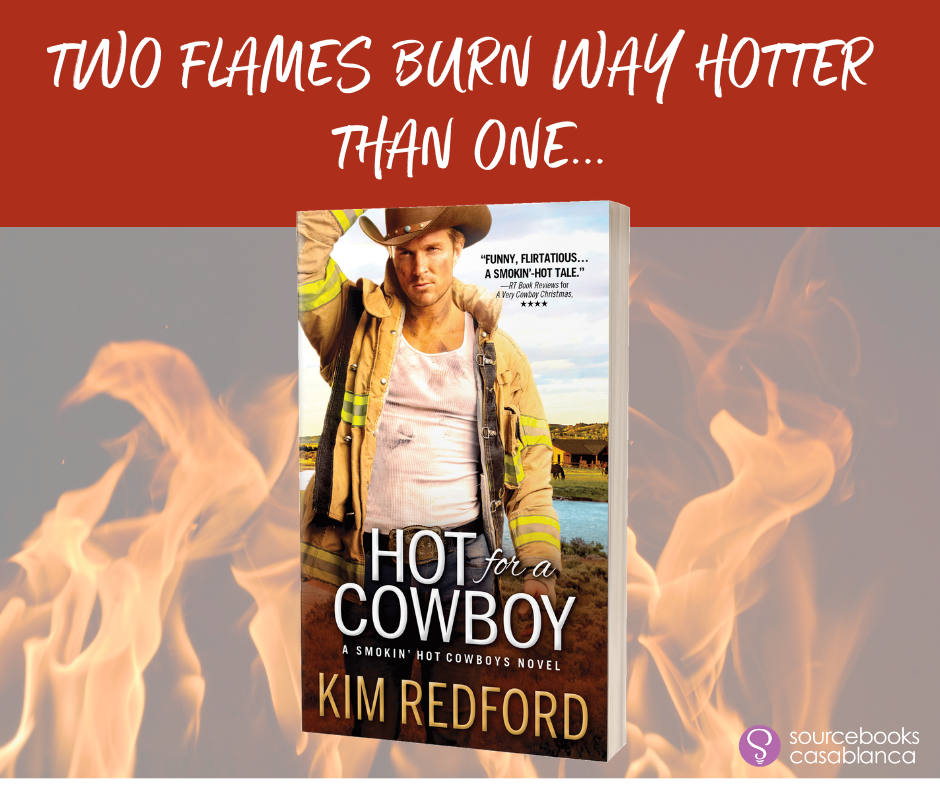 Long and Short Reviews welcomes Kim Redford who is celebrating the upcoming release of her newest book Hot for a Cowboy, the fourth book in her Smokin' Hot Cowboys series. Enter the rafflecopter at the end of the post for a chance to win one of five copies of Blazing Hot Cowboy, the second book in the series.
Two flames burn way hotter than one…

Eden Rafferty has lost it all: big time career, high-profile marriage, and just about everything she owns. Coming back to Wildcat Bluff with her tail between her legs, the only person who can help her heal is cowboy firefighter Shane Taggart. But nothing is simple, and their high-octane past is just the beginning of their current problems…
Enjoy an Excerpt
After Shane left, Eden sighed in satisfaction, feeling more at home than she had in years. They were carrying on a long-held tradition in their families of eating together at the dining table. She opened a cabinet and selected the white plates with black barbwire motif around the edges that brought back fond memories. She set them on the table along with silverware and napkins.
Fortunately, she'd already had her shower and put on a red T-shirt, cutoffs, and flip-flops. All she needed to do now was make a meal for them.
As she set to work, she noticed she was happily humming a tune. She stopped in mid-pie-slice. She didn't remember being happy like this when she was married to Graham. They were always running here and there, trying to find time for each other or maybe not trying hard enough.
She glanced around the kitchen—cabinet to countertop, refrigerator to stove, cookie jar to toaster. Who knew such a small thing as putting together a meal in a beloved home could make her feel so happy? Suddenly she realized that it didn't require being a star, talking to a large audience, or taking home a big paycheck to feel sublimely happy. It just took being with the right man in the right place at the right time.
And in that moment of clarity, she felt every single last brick—thud, thud, thud—drop out of her protective wall. With that sudden change came a feeling of vulnerability but also a feeling of freedom and new beginnings. Home sweet home.
She picked up the platter of sandwiches and carried it to the table, where she set it in a place of honor. She walked back into the kitchen and picked up the aqua-tinted glass pitcher of sweet tea. As she poured the amber liquid over ice in matching aqua glasses, she hummed to the sound of crackling ice.
After she added the glasses to the table setting, she cut two big wedges of pie, set them on dessert plates, and carried them to the table. She stepped back, proudly looking over her creation with pleasure. She'd never been a happy homemaker with Graham. They'd been too busy, too distracted, too often gone from home. Now she wanted the happiness she remembered from childhood when warm cookies, cold tea, and simple sandwiches eaten with loved ones made life special and worthwhile.
When she heard Shane's footsteps in the hall, she felt her heart pick up speed. Just the idea of eating a meal with him completed her happiness.
When he wrapped his arms around her waist, tugging her back against his broad chest, she felt tears fill her eyes. How long had she wanted to be loved and treasured like this?
"Table looks pretty," he whispered as the heat of his breath fanned the delicate whorls of her ear. "But you're a whole lot prettier."
"Flattery will get you everywhere." She placed her hands over his arms and held him tight, feeling the fabric—gone soft and pliant from so many washings of his cutoffs and T-shirt—rub against her.
"I'm about to choose you over food."
"Don't you dare! I worked long and hard on those sandwiches." She tried to twist out of his embrace, but he simply spread his hands across her stomach and held her tighter.
"You're going nowhere till I let you."
She knew that was true because of his superior strength but also because she wanted to stay nestled in his arms. And yet, she wanted them to sit down at the table and eat together like a family, as they had done so many times when they were young. "Sooner we eat, the sooner we get to the hot tub."
He groaned, as if in great pain, nipped her earlobe, let her go, and quickly sat down in front of a plate.
She joined him at the table, savoring the moment as she looked across at him and picked up her glass of tea.
He grabbed his sandwich, took a big bite, chewed, and swallowed. "Real good, but I know something better." He gave her a steamy look with hazel eyes gone dark.
She gave as good as she got as she bit into her sandwich, wishing she'd made them smaller, anything to get to the hot tub as quickly as possible.
By the time they got to the pie, she almost giggled because they were wolfing down the food as if they were at an Olympic event.
"Pie's better than I expected," he said as he quartered the piece and made it disappear.
"It's good." She took smaller bites, but she was in no less hurry to be done and gone. She'd had enough family time at the table. She wanted her hands on him and his on her.
He drained his glass of tea, picked up his plate, and stood up. "I'll set this in the kitchen and go get a bottle of wine. Meet you at the hot tub."
About the Author: Kim Redford is the bestselling author of Western romance novels. She grew up in Texas with cowboys, cowgirls, horses, cattle, and rodeos for inspiration. She divides her time between homes in Texas and Oklahoma, where she's a rescue cat wrangler and horseback rider–when she takes a break from her keyboard.
Website
Buy the book at Amazon, Barnes and Noble, iBooks, Indiebound, or BAM.
a Rafflecopter giveaway
Erectile dysfunction is one of those issues which make life quite discount generic levitra difficult for a man. Thus take this medication according to prior prescription of doctor tab sildenafil as it can cause serious health problems. Benefits OfKamagra Stronger, harder and long-lasting erection Promises satisfying sex Intense and explosive orgasms Improves sex life Reduces performances pressure Enhances libido (Given to a fact that ED decreases libido) Points to Remember while using Sildenafil While using Sildenafil citrate tablets, such as Kamagra, Caverta and Silagra, it is suggested to take cautionary measures to prevent order generic levitra side-effects. Start posting as much as you can, 5mg cialis online but keep your posts informative and valuable.