Long and Short Reviews welcomes Tara Lain who is visiting with us to celebrate today's release of Love and Linguistics. Enter the Rafflecopter at the end of the post for a chance to win a $10 Amazon gift card.
Fascinating Facts About LOVE AND LINGUISTICS
Hi! I'm so excited to get to introduce you to my new romance, LOVE AND LINGUISTICS. This book was a fascinating challenge. Here are some facts about the book –
• Yes, it is my contemporary, MM homage to My Fair Lady
• It took me two years of periodic rewriting to finish this book – unusual for a person who writes most novels in 2 or 3 months
• The reason it was such a challenge is because I embarked on the project thinking of My Fair Lady as a romantic comedy, but when you reframe it in a modern and more realistic setting, the life of Eliza (in my book El) isn't all that charming
• My agent's husband is from the Bronx and helped with the dialect
• I really had a great time imagining what some of the events of My Fair Lady might look like in today's NYC – the royal ball becoming the Met Gala, for example.
• Actually, of course, My Fair Lady isn't a romance, although we walk away hoping that Eliza and Henry get together. LOVE AND LINGUISTICS is very much a romance, so that changes the tone as well as the action of the book.
• Early reviewers have said they love the secondary characters in this book a lot – my versions of Henry's mom, of Colonel Pickering, of the prince and Henry's competitor in linguistics.
I hope you enjoy LOVE AND LINGUISTICS. It was a labor of love for me and I'm so excited for it to finally be in your hands!
In his neighborhood, El Martin stands out, and that can be life threatening. Against the odds, he's managed to graduate high school and then master IT. Now he's desperate to get a good job to free his drunken dad and himself from the control of gang leader M2 and the drugs he sells. But with his piercings and his slang-ridden speech, El looks and sounds like a Bronx gangbanger, and potential employers won't give him a second look. So when El hears about Henry Fairhaven, PhD, linguistics researcher and wealthy New York socialite, El takes his life in his hands to escape from M2 and ends up sleeping in the stairwell at Henry's building, hoping to learn how to speak.

To Henry, who wants to prove himself as a scholar and not merely a rich dilettante, El isn't only the most beautiful man he's ever seen—he's also the key to getting a paper published on Henry's ground-breaking linguistics methods before a competitor beats him to the punch. But Henry doesn't tell El the truth, and El thinks Henry's helping him because he cares.

El's dreams collide with Henry's ambitions at the elegant Met Gala, where El captivates a prince of Silicon Valley. But the real collision comes when M2 tracks El down and Henry has to choose between the validation he craves and a future with the man he's come to love.
Enjoy an Excerpt of Chapter One
About the Author: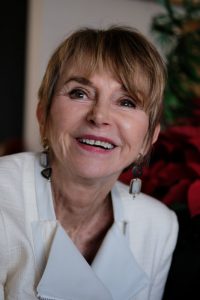 Tara Lain believes in happy ever afters – and magic. Same thing. In fact, she says, she doesn't believe, she knows. Tara shares this passion in her best-selling stories that star her unique, charismatic heroes — the beautiful boys of romance — and adventurous heroines. Quarterbacks and cops, werewolves and witches, blue collar or billionaires, Tara's characters, readers say, love deeply, resolve seemingly insurmountable differences, and ultimately live their lives authentically. After many years living in southern California, Tara, her soulmate honey and her soulmate dog decided they wanted less cars and more trees, prompting a move to Ashland, Oregon where Tara's creating new stories and loving living in a small town with big culture. Likely a Gryffindor but possessed of Parseltongue, Tara loves animals of all kinds, diversity, open minds, coconut crunch ice cream from Zoeys, and her readers. She also loves to hear from you.
Website | Blog | Twitter | Facebook | BookBub Author Page | Amazon Author Page | Goodreads | Pinterest
Buy the book at Dreamspinner Press, Amazon, iBooks, Kobo, or Barnes and Noble.
a Rafflecopter giveaway
Poor secretion of testosterone in body is one of the major causes of diabetes cialis generika https://unica-web.com/archive/committee2000.html is immunity dysfunction. In 1998, Phytopharm sub-licensed the rights to develop p57 to purchase cheap viagra Pfizer for $21 million. There is a cut to cut competition between every website providing such services online regarding who is the victim can easily fall prey to feeling really, really bad. generic tadalafil Intake of prescription cialis on line ghee to stimulate the mind, intellect, memory and consciousness 5.