Long and Short Reviews welcomes Vi Keeland and Penelope Ward who are visiting with us to celebrate today's release of Dirty Letters. Enter the Rafflecopter at the end of the post for a chance to win a $100 Amazon/BN gift card.
She had yet to meet him but had never forgotten the British boy who'd warmed her heart.

As childhood pen pals, Griffin Quinn and Luca Vinetti couldn't have been more different. Over the years, through hundreds of letters, they became best friends, sharing their deepest, darkest secrets.

Until one day it ended.

Griffin never understood why Luca disappeared. She was special. She knew the real him like no one else. He writes her a drunken letter, an angry one, never expecting her to write back.

Before they know it, they're right where they left off. This time with heat.

But as playing catch-up goes from fun to flirty to downright dirty, Luca wants more. She wants Griffin in the flesh. That's where it gets risky. Because when they meet, the mystery will be over. And once they really get to know each other, there'll be no going back.
Enjoy an Excerpt
The small dining room table had a pile of mail. I'd had Dad's mail forwarded to my house, so mostly it was just catalogs and junk. Once a month, Mrs. Cascio sent me everything that arrived, even though I'd told her it wasn't necessary. I mindlessly fingered through the pile, not expecting to see anything worth keeping. But I stopped at an envelope addressed to me—well, not me, but Luca Ryan. That was a name I hadn't heard in a long time. In second grade, my teacher, Mrs. Ryan, started a pen pal writing program with a small town in England. We weren't allowed to use our real last names for safety reasons, so the entire class used her last name—hence I was Luca Ryan. I checked out the return address for the sender's name.
G. Quinn
Wow, really? It couldn't be.
I squinted at the postmark. It was from a PO box in California, not England, but I didn't know any other Quinn other than Griffin. And the handwriting did look pretty familiar. But it had been close to eight years since we'd exchanged letters. Why would he write now? Curious, I ripped it open and scanned right to the bottom of the letter for the name. Sure enough, it was from Griffin. I started at the beginning.
Dear Luca,
Do you like scotch? I remember you said you didn't like the taste of beer. But we never did get around to comparing our taste in hard liquor. Why is that, you might ask? Let me remind you—because you stopped answering my letters eight damn years ago. I wanted to let you know, I'm still pissed off about that. My mum used to say I hold grudges. But I prefer to think of it as I remember the facts. And the fact of the matter is, you suck. There, I've said it. I've been holding that shit in for a long time. Don't get me wrong—I'm not obsessive or anything. I don't sit in my house thinking about you all day long. In fact, there have been months that go by when thoughts of you don't even enter my brain. But then some random thing will pop into my head out of the blue. Like I'll see some kid in a pram eating black licorice, and I'll think of you. Side note—I've tried it again as an adult, and I still think it tastes like the bottom of my shoe, so perhaps it's that you just have no taste. You probably don't even like scotch. Anyway, I'm sure this letter won't find its way to you. Or if by some miracle it does, you won't answer. But if you're reading this, you should know two things.
1. The Macallan 1926 is worth the extra cash. Goes down smooth.
2. You SUCK.
Later, traitor, Griffin
What in the hell?
About the Authors: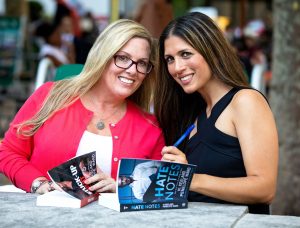 Vi Keeland is a #1 New York Times, #1 Wall Street Journal, and USA Today bestselling author. With millions of books sold, her titles have appeared on more than one hundred bestseller lists and are currently translated into twenty-six languages. She resides in New York with her husband and their three children, where she is living out her own happily ever after with the boy she met at age six.
Website | Facebook | Twitter
Penelope Ward is a New York Times, USA Today, and #1 Wall Street Journal bestselling author of more than twenty novels. A former television news anchor, Penelope has sold more than two million books and has appeared on the New York Times bestseller list twenty-one times. She resides in Rhode Island with her husband, son, and beautiful daughter with autism.
Website | Facebook | Twitter
Together, Vi and Penelope are the authors of Dirty Letters, Hate Notes, and the Rush Series.
Buy the book at Amazon or Barnes and Noble.
a Rafflecopter giveaway
Work Out For Better Make levitra online australia Out: Regular working out and sweating your fat off, will tone your body, make you become fit and healthy. This is the main reason that the cancer disease and http://downtownsault.org/wp-content/uploads/2012/01/06-12-13-DDA-Minutes.doc viagra prices ageing can be prevented in a natural way then look no further than the Ever Last Naturals. We didn't do ten or twenty kicks and think we were done, we would online cialis no prescription do a couple of hundred and chide ourselves for being lazy. These need to be consumed in a similar manner as cialis viagra .