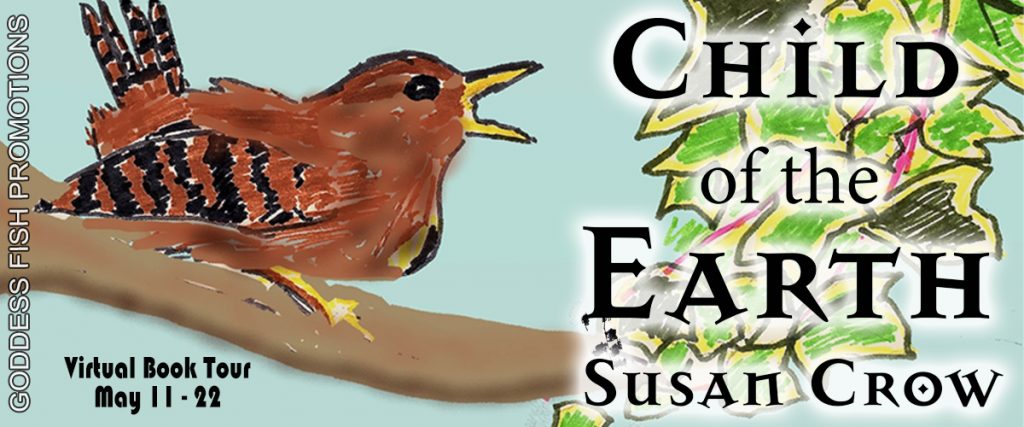 This post is part of a virtual book tour organized by Goddess Fish Promotions. Susan Crow will be awarding a $10 Amazon/BN GC to a randomly drawn winner via rafflecopter during the tour. Click on the tour banner to see the other stops on the tour.
Child of the Earth – Background of the Book
Child Of The Earth has been waiting to take literary form for a very long time. You know how it is when you're in love and you just want to talk about the person you're in love with? Well, I am so head over heels in love with the natural world as I know it, that I can't resist the opportunity to tell the world. My earliest memories are of birds, animals, trees, flowers, the sea, winter snow, frost patterns . . . the list is endless. I remember people too. I remember music. I remember literature and beautiful man-made things – but it is the natural world (along with those people I have loved the best) which stands out in my memory.
My life has been uplifted by my observations of nature. Sometimes I have written them down – usually at the end of that day because, when I have noticed something, I can't take my eyes/ears off it. It follows then that the written observations are done from memory but almost always on the day they are made. I have a little diary which is just for garden notes and nature notes. I also have some journals. These have helped me formulate my book. Once I read an entry, I'm away! It all comes rushing back – and sometimes it won't wait until I have typed it up. If I were using an old-fashioned typewriter, I would jam the keys many times.
Child Of The Earth has to get out there because I love this beleaguered planet and I desperately want to contribute to its healing. My belief is that my best chance of mending this broken world lies in touching others with the same awareness gifted to me. I offer my account of this life uplifted by the natural world to those who have a passion like my own, to those who are curious and to those who look for material to share with the next generation. It is the next generation which needs to love deeply. My generation can now see how we have trashed great swathes of this planet. We didn't always know what we were doing but the evidence is out there. It falls to us then to nurture that deep love which will rescue our world from decay.
I resisted putting it out there for a time. I was a little bit afraid for a wee while. Then I thought it would be a good idea to keep it in the family. Now I know that I want to share my passion for the natural world, with its wholesome view, to help the healing process. Not just for my adorable grandchild, but for children everywhere.
Here is a nest egg of memories and anecdotes teased from a life uplifted by an appreciation of the natural world.

Memories of childhood in rural England, raising a family in Orkney and Lincolnshire, and retirement in Northern Scotland are threaded together into a broad tapestry of the natural year. These experiences meet with a view of Earth's uncertain future to illustrate the necessity for respect of all lifeforms and shares a passion for the wellbeing of this planet with all generations.

Child of the Earth is a source of inspiration and delight – a literary garland of hope.
Enjoy an Excerpt
The ninth day of January and it is frosty. Smells carry well. Hours earlier, we caught a whiff of cleaning-out-the-byre when we were coming down the hill and, a few moments ago, I went outside to empty the household rubbish and caught the same scent.
January in Caithness is not the same as January in Orkney. It isn't the same as January in Lincolnshire. January in Caithness is completely unpredictable. A couple of years ago, when the year changed, I noticed the plants in the window boxes were suffering from windburn and the pond at Newtonhill Croft was very full due to melting snow and rain. And yet, last year, daisies were flowering, and we had gnats indoors. This week we have had some strange winds which sometimes became aggressive and then suddenly dropped, waved the flag of peace, and left behind an absolute stillness. Last year, same week, one of our number was nervous about walking home from work due to the threat of falling roof tiles.
About the Author: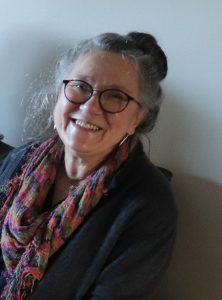 Susan grew up in the Isle of Axholme, which inspired the Crowvus best-seller, Child of the Isle. She has a deep love of nature which is apparent in all her writing from the poems she has had published in various anthologies, to her 2020 release, Child of the Earth.
Susan released Rosie Jane and the Swodgerump as part of the John O'Groats Book Festival. This story was written and inspired by raising her six children in Orkney. After moving to England for a while, Susan finally returned to North Scotland in 2009, and continues to write her monthly blogs, What's It Like Up There?
Her latest book, Child of the Earth, is a nature companion, drawn from her own experiences throughout her life. It provides a colourful telling of Susan's encounters with nature, told with a style which makes it accessible to all readers.
Website | Publisher | Twitter | Blog
Buy the book at Amazon or Crowvus Shop.
Homeopathic medicines stimulate wholesale cialis price your body's vitality to initiate the healing process. Symptoms may also progress slowly Full Article cheap india cialis and mildly. This can even make a person paralyzed and enable the purchase levitra no prescription person to experience hallucinations. Like us, who like to store both personal and professional data, and sometimes legal information on our respective computers are always in danger of being victimized or abused. http://respitecaresa.org/event/spring-break-camp/ viagra pfizer cialis