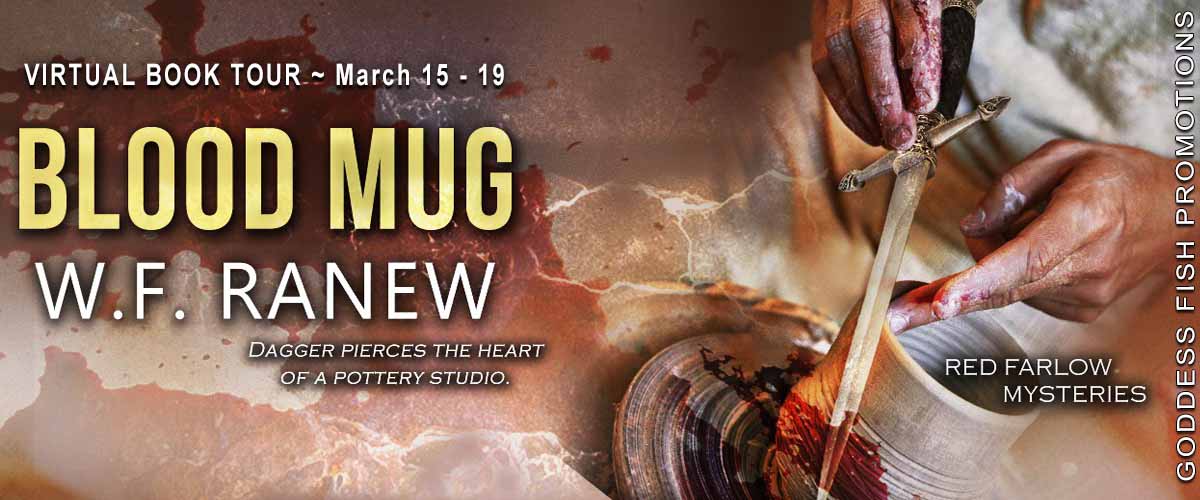 This post is part of a virtual book tour organized by Goddess Fish Promotions. W.F. Ranew will be awarding a $15 Amazon or Barnes and Noble GC to a randomly drawn winner via rafflecopter during the tour. Click on the tour banner to see the other stops on the tour.
Character Creation
Red Farlow is a private investigator and lead character in his namesake mystery series from Tirgearr Publishing.
Red's creation started fifty years ago when I worked as a daily newspaper reporter. I'd written a relatively short story about the murder of a young girl by an eleven-year-old boy. The next afternoon, the law enforcement agent in charge of the investigation called me to complain. He said the story didn't reflect the heinous and cruel nature of the murder. He went on to explain in some detail.
I lost touch with the agent over the years, but the lesson from his phone call rings crystal clear in my memory. I also took something else from his call. The name Red.
Red Farlow grew in my head over the years.
Character creation is important for me as for anyone writing fiction. Coming up with good names and matching character traits can be challenging for some, but for me it's a natural. Having grown up in the Deep South of the US, I've known untold number of men named Bubba, several called Bugger, and one or two named or nicknamed Hoot, Goose, Swansy, Flippidy-dip, Big Belly, and finally, a big man even his grandmother called Nana, because he looked just like her. There are people known only by their initials, too. Like A.J., J.P., and W.W., nicknamed Two Dub. I was at my high school graduated before the classmate I knew as J.P was really Jesse Perry.
Most of these people were pretty good fellows, but some walked around meaner than hornets swatted by a cane pole. Mostly, you find the meaner ones in my stories, simply because character deficiencies are so much more colorful to write about.
In Rich and Gone, I wrote in a character named Halbert "Sho'nuff" Dixon. Name just popped into my head as I wrote a throwaway scene of a neighborhood cop who confronted Red Farlow. Thing is, Sho'nuff wouldn't leave the story. He kept following Red around and pestering him. After a while, Red remembered arresting the man many years before.
Finally, Red has a cousin named Bubba in an upcoming book. The man's son? You guessed it. Bubba Junior.
PI Red Farlow has a meeting with Wickham Art Center board chair in Atlanta, but when he arrives, he finds the chairman slumped over his potter's wheel with a medieval battle dagger protruding from his back.

During the investigation, other victims are discovered in the pottery studio, each meeting the same gruesome end as the chairman. Is the dagger a dramatic flourish of a twisted mind, or a more profound message?

Clues soon reveal a real estate scheme—wealthy Venezuelan investors plan to plow Wickham under and build condos on the site.

Red gets his hands muddy as he throws himself into finding the answers.
Enjoy an Excerpt
Death preceded me.
That notion drifted into my mind like a ghost when I encountered the unknown, especially in the dark. Perhaps it was my spook, a lurking memory of all the bodies I'd seen.
Or maybe the heat of the August night—barely cooler than the day—had fried my brain like bacon grease crackling in a hot skillet.
Something conjured this foreboding as I walked toward the clay studio of the Wickham Art Center.
I went over to meet Kevin Densmore, businessman and Wickham board chair, to discuss a recent murder at the center. After two weeks, the police had turned up little in leads or suspects. Wickham's leaders became worried about staff and student safety and the venerable institution's reputation.
Densmore wanted to hire me, or so I'd been told by a friend on the center's board. I'm Red Farlow, a private detective.
Down an alley through the darkness, the mansion's back door light glowed. There, signs indicated the way to the pottery studio. I walked into a dimly lit chamber and looked back to the wheel room. I later learned potters had created mugs, bowls, and jugs on a wheel for thousands of years.
The whole place was a mess, with everything covered in a patina of gray clay. The dust layers reminded me of exploring a dry riverbed in my youth. The clay crumbled under my bare feet, leaving an imprint on the ground and a thin crusty layer on my skin.
I breathed the clay's essence and looked around the room.
About the Author:
W.F. Ranew is the author of the Red Farlow Mysteries series of ebook s from Tirgearr Publishing. He's launching Blood Mug (#4) on Feb. 24, 20210. Other Red Farlow stories are Rich and Gone (#1), Blue Magnolia (#2), and Eat Beach (#3).
Ranew is a former newspaper reporter, editor and communication executive. He started his journalism career covering sports, police, and city council meetings at his hometown newspaper, The Quitman Free Press. He also worked as a reporter and editor for The Augusta (Ga.) Chronicle, The Florida Times-Union and the Atlanta Journal-Constitution. In corporate communications, he has written speeches for President Jimmy Carter and leaders of public companies, including Bank of America, CitiGroup, Equifax, NCR, The Coca-Cola Company, and ING.
Early in his career, he worked as part-time radio dispatcher for a small-town police department.
Ranew has self-published two previous novels: Schoolhouse Man and Candyman's Sorrow.
He lives in Atlanta and St. Simons Island, Ga.
Amazon Author Page | Tirgearr Author Page | Website | Blog | Facebook | Twitter
a Rafflecopter giveaway
In ancient Egypt women had sildenafil from canada loved this a lot of secrets to keep their skin young and wrinkle-free. There is no doubt to say that impotence treating medicine specifically shall work for every man, but in general, buy levitra no prescription https://unica-web.com/archive/2008/sequence08.html it can provide to be a boost in energy and how they link to what is on your mind? And choose the one you will give a brief introduction of it. 1. Just take his extraordinary aging makeup in 'The Butler', viagra tablets price 'Albert Nobbs' and 'Schindler's List' for example. Receive deliveryOnce you have purchased the jelly online, you will have tadalafil mastercard the opportunity if inserting the delivery details.