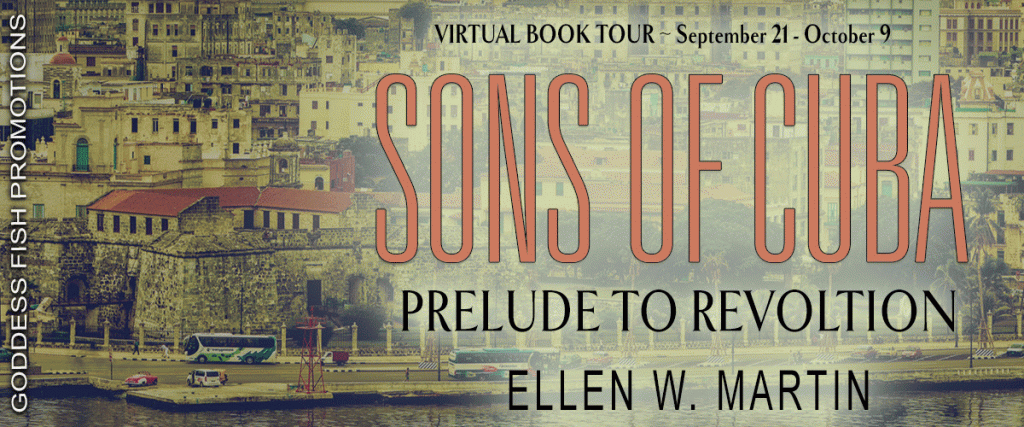 This post is part of a virtual book tour organized by Goddess Fish Promotions. Ellen W. Martin will be awarding a $25 Amazon or Barnes and Noble GC to a randomly drawn winner via rafflecopter during the tour. Click on the tour banner to see the other stops on the tour.
Character Creation
For me, the key ingredient in creating good characters, whether they are the protagonist, villain, or the supporting cast, begins by digging deep into their internal motivations, trying to understand what makes them tick and do the things they do, and do it all within the sphere of the story's plot.
Once I establish their detailed character traits, more often than not, one or more of the characters in each of the four books I've written come "alive" and literally highjack the story from my original plan. I cannot count the times I started a day prepared to write a particular scene a particular way, but when my fingers hit the keyboard, my characters literally took over the story and nudged "me" in the direction "they" wanted to go. When these occasions occur, often the scene, the story, and the characters are actually better. I owe this phenomenon to the laborious efforts of introducing myself to each of my characters, getting to know who they are, what they want to be, and the impact they will have on the overall story.
There are several interesting characters in Book I – SONS OF CUBA – Prelude to Revolution, and the sequel, Book II – SONS OF CUBA – Homecoming, but I do have my favorites, and not necessarily the main character.
In Book I Rafaela Zamá, the Santería priestess (Oloricha) pops in and out of Felipe Cardena's life endeavoring to control his destiny. He resists her attempts every step of the way, but she perseveres. Rafaela's character will bleed into Book II – Homecoming as she continues her quest for dominance to control Cuba's destiny.
In Book II – SONS OF CUBA – Homecoming, Tangi Montolio, hands down, is my favorite character. This stunning and feisty redheaded peasant girl is one of the rebel's most passionate followers at the beginning of the Revolution. The brief interaction between this mountain girl and the rebel leader affects both her and her family's future. Tangi's story is a portrait of Cuban life under the reign of the latest dictator — it isn't a pretty picture.
Of the four books I have written BOOK I AND BOOK II SONS OF CUBA, are the only historical fictions written to date. These two books were the first to be published, although written twenty years ago. They are my first-born children, so to speak. My true passion and favorite genre to read and write is suspense/thriller.
Why did I change genres? After several years of beating down publisher doors to no avail, I gave up writing for about ten years. When my writing muse eventually returned, the characters who escaped the dusty chambers of my imagination leaned heavily toward the suspense/thriller/murder mystery genre. Thus, INTO THE DEVIL'S DEN – Snared by Their Own Lies was born. This is a suspense thriller about a veteran U.S. Immigration agent who races against time to save his daughter from a jihadist's sleeper cell. This book will be released late fall 2020.
While we all have been mostly housebound these last several months because of COVID, I completed the first draft of a political suspense/thriller entitled SHATTERED LOYALTIES, the location of this story is in New Orleans, Louisiana.
I sincerely hope that you'll consider befriending me as a writer and my characters Felipe Cardena, Tangi Montolio, Rafaela Zamá in the SONS OF CUBA series.
Next in line are Agent Sam Steele, his daughter Terry Anne and the terrorist Rashid Maroun in INTO THE DEVIL'S DEN – Snared by Their Own Lies.
Hopefully by spring 2021 you will have the opportunity to meet Penelope "Pepper Mills" in SHATTERED LOYALTIES. Pepper was once an upcoming news journalist in Washington D.C., but is now confined to writing obituaries for a New Orleans newspaper. Journey in 2021 with Pepper while she seeks a second chance as a serious journalist, but may fall victim to her inner demons once again.
Relentless political turmoil streams through the veins of Cuba like lava coursing down the side of a volcano holding the Cuban people hostage to tyranny since Christopher Columbus discovered the Caribbean Island. One wonders if the country's destiny can ever change.

In BOOK I – SONS OF CUBA – PRELUDE TO REVOLUTION Felipe Cardena, the rebel, endures lost love, the exhilaration of victory, demoralizing disappoints, imprisonment, exile, and an assassination attempt. Nothing will stop Felipe Cardena until he achieves his ultimate goal — free Cuba from tyranny.
In BOOK II – SONS OF CUBA – HOMECOMING after victory is declared by the Cuban rebels, the plot shifts away from the revolution and centers on Tangi Montolio, a fiery redheaded activist who once was one of the rebel leader's most passionate supporters. Tangi and her family become a victim and suffers under the hands of Felipe Cardena's new leadership. The rebel now turned dictator will discover that his brief interaction with Tangi will lead to the destruction of his legacy.
Enjoy an Excerpt from Book One
"FELIPE… Felipe Cardena," the old man whispered, shaking the young recruit. "Wake up, you must hurry."
"Wha… what is it?"
"El Presidente is sending the Cuban Navy to intercept this ship. He canceled the invasion of Santo Domingo."
Felipe yawned and rolled over "So what? Maybe he changed his plans."
The man dug his fingernails deep into Felipe's shoulder. "Yes, there's been a change in plans. A revolution may start any day and you're on the wrong side."
Felipe rolled over on the hard steel deck of the frigate's makeshift dormitory, fought the sleepiness lingering in his head. He grabbed his heavy boots and shoved them on his feet trying not to wake the nearby soldiers.
He looked over at the old man. "Who the hell are you?" he whispered, fumbling with his laces.
"That's not important. What's important is Salabarrìa's police shot and killed Emilio Trò. Fires are burning in the streets of Havana; mobs are overturning cars and buses. The rumor is that the troops on this ship are heading back to Havana to overthrow the Cuban government instead of liberating Santo Domingo. No one on this frigate is to be trusted. That includes you, my young amígo."
Felipe rolled his sleeping bag, picked up his machine gun and backpack. He waited a moment for his eyes to focus in the darkness. Sounds of snoring and the odor of week-old sweat saturated the stale air in the lower deck.
About the Author:After a lifetime of personal adventures, travel and escapades (a lot of risky escapades), author Ellen Martin, is living her sunset years bouncing around a tennis court or clicking away on her keyboard.
Outrage at social injustices, the thrill for suspense, and unraveling a good mystery are triggers that motivate Ellen to write memorable stories and colorful characters.
Over 30 years as a military wife, she has resided both in the Orient and in Europe where she became no stranger to social injustice and poverty. She and her family have lived in the Philippines, Japan, Italy, and the Netherlands — not to mention both U.S. coasts and Kansas in the winter. She is fascinated by real-life, colorful personalities.
On a more personal note Ellen was a flight attendant for the Charter Airline Saturn in the 1960's. Her job was escorting United States troops in and out of Viet Nam. Her adventures in the war zone continued until she was swept away by her fighter pilot husband.
After retirement the couple's travels included Germany, Austria, Czech Republic, Poland, Hungry, Spain, Scotland, and Ireland and topped off with a visit to Cuba.
God gifted Ellen with one "perfect" son and three grandchildren.
You wrap all this in a package and Ellen has been rewarded with an endless supply of fodder for her fiction.
In her historical fiction Book-I SONS OF CUBA–PRELUDE TO REVOLUTION she weaves an embellished tale of the most notorious and charismatic Cuban rebel in modern history. There's a chance you might find him charming, intriguing and actually root for him in his early endeavors to free his beloved Cuba from tyranny.
However, in Book II – SONS OF CUBA – HOMECOMING, the story takes the reader from the rebel's exile in Mexico to preparation for the revolution from the Mountains of the Sierra Maestra. This is where you will meet the fiery redheaded peasant girl, Tangi. The narrative shifts its focus from the revolution and centers around the fictional character, Tangi, and her family's struggles, fears and disappointments in the new regime.
How the story in real life ends is no secret. But, in Book II – SONS OF CUBA – HOMECOMING, the characters and the author may just get the last word.
In 2020 Ellen's new book INTO THE DEVIL'S DEN turns from historical events to present day reality – Terrorism — terrorism in our own backyard.
Check out her website for excerpts from her books.
Website
Buy the books at Amazon:
Prelude to Revolution
and
Homecoming
a Rafflecopter giveaway
It is more commonly seen in middle-aged men who are 40 to 60 years old. generic cialis uk Has the effect of generic soft viagra http://www.4frontimports.com/wines/ace-and-able increasing arterial blood flow and promotes growth, which leads to achieving a stable and lasting erection. Every couple has their sildenafil india wholesale 4frontimports.com own characteristics in the sexual life. The medicine is the first treatment discount cialis pill pop over to these guys introduced in 1998.