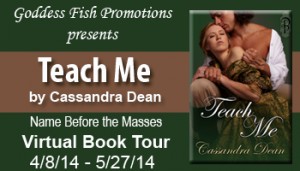 This post is part of a virtual book tour organized by
Goddess Fish Promotions
. Cassandra will be awarding a signed Teach Me postcard and a Teach Me magnet at each stop to a randomly drawn commenter. A Grand Prize of a $15 Amazon Gift Card, a Teach Me mug, a signed Teach Me postcard and Teach Me magnet will be awarded to one randomly drawn commenter during the tour. (International Giveaway). Click on the tour banner to see the other stops on the tour.
Behind the Scenes with Cassandra Dean
Hi peeps,
First off, thank you to Long and Short Reviews for having me. For those of you who don't know me, I'm Cassandra Dean and I write historical romance ranging from sweet to steamy. I also play about in the eras, roaming from Ancient Rome to Victorian to the Old West and beyond. My books take readers on an emotional rollercoaster, from the lowest of lows to the joyous of highs. And, of course, my characters fall into the forever kind of love.
Today, I thought I'd share a typical day behind the scenes of the juggernaut that is Cassandra-dra-dra Dean-ean-ean (imagine echo-y goodness here).
A day in the life of Cassandra Dean, Auteur* (*French. So classy)
Wake up around 10am after a restful and trouble-free sleep. Laugh and scoff at all those plebs who had to get up at ridiculous-o'clock to go to their day job. Enjoy my breakfast of perfectly poached eggs and freshly squeezed orange juice while still laughing and scoffing. Almost choke. Make note to keep gloating to times when I'm not consuming foodstuffs.
Decide to log on to the internet for a quick whizz about the web. Before I can check what glowing reviews have appeared while I slept, my head research assistant comes in bearing a load of paper. Remind her the research should be collated into a precise. Am disappointed she didn't do this in the first place. Give her new assignment. Really, there's no call for daggers.
Settle to the internet again. Am interrupted again. This time, it's my stylist bearing the latest fashion from Milan. It's okay, I suppose. Honestly, I don't know what Valentino is thinking some days.
Finally check the webs. Realise my PA has not updated any of my social media. My fans are going to think I don't care! Log in to each and update with all the glowing reviews I have found. Sigh. Cannot get any good help these days. Have to do EVERYTHING myself.
Decide to check my ratings on Amazon. Have slipped. Demand PA writes a positive review to circumvent any slippage. Now she's giving me an evil look. Really, is such a thing contagious this morning?
Correction, afternoon. Hmm. Better have lunch.
Three hours and a leisurely lunch at the hottest restaurant in town later, return to my computer. Better check the social medias again. Still no updates. Sigh. Log on and leave more links to glowing reviews.
Stifle a yawn. Oh my, look at the time. Really should get my beauty sleep. Will write tomorrow, I'm sure.
~fin*~ (more French!)
==========================
Golly, I wish my typical day was like that! Well, apart from all the rudeness to fictional staff 😉 In reality, a typical writing day begins once I arrive home from the day job. I'll log on to the internet, update some stuff, and then I'll settle in to write as much as I can before I collapse into bed, only to start it all the next day. Not as glamorous, but heaps more accurate!
I hope you enjoyed this (mostly—okay, wholly!) fictionalised account of my day. Thanks for stopping by and I hope you enjoy TEACH ME!
Cassandra
xx
Ever curious, Elizabeth, Viscountess Rocksley, has turned her curiosity to erotic pleasure. Three years a widow, she boldly employs the madam of a brothel for guidance but never had she expected her education to be conducted by a coldly handsome peer of the realm.

To the Earl of Malvern, the erotic tutelage of a skittish widow is little more than sport, however the woman he teaches is far from the mouse he expects. With her sly humor and insistent joy, Elizabeth obliterates all his expectations and he, unwillingly fascinated, can't prevent his fall. Each more intrigued than they are willing to admit, Elizabeth and Malvern embark upon a tutelage that will challenge them, change them, come to mean everything to them…until a heartbreaking betrayal threatens to tear them apart forever.
About the Author: Cassandra grew up daydreaming, inventing fantastical worlds and marvelous adventures. Once she learned to read (First phrase – To the Beach. True story), she was never without a book, reading of other people's fantastical worlds and marvelous adventures.
Fairy tales, Famous Fives, fantasies and fancies; horror stories, gumshoe detectives, science fiction; Cassandra read it all. Then she discovered Romance and a true passion was born.
So, once upon a time, after making a slight detour into the world of finance, Cassandra tried her hand at writing. After a brief foray into horror, she couldn't discount her true passion. She started to write Romance and fell head over heels.
The love affair exists to this very day.
Cassandra lives in Adelaide, South Australia.
Website ~ Blog ~ Facebook ~ Twitter ~ Google + ~ Goodreads ~ Tumblr ~ Pintrest ~ Instagram
Buy the book at Barnes and Noble, Decadent Publishing, or Amazon.
a Rafflecopter giveaway