Long and Short Reviews welcomes Katy Hunter who is celebrating the recent release of Basic Witch, the first book in her Half Blood series. Enter for the chance to win a $50.00 First for Romance Gift Card!
Sometimes being an angel can be devilish…

Cal has problems…man problems. A torrid affair with Travis, a six-foot sex demon, has the celestial beings in a tizzy and she has been forced to make amends.

That's the issue with having an angel for a dad. There are certain expectations—not to mention the fact that she's also sharing her bed with a rather delicious warlock, Max. All she has to do is round up a few troublesome vampires and a rotten demon here or there and her work is done.

Or so she thinks…

Reader advisory: This book contains a brief scene of violence.
About the Author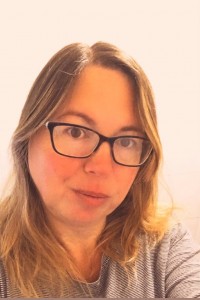 Katy Hunter lives on a mountain in France with her husband, kids and two dogs.
When she's not writing you can find her curled up in front of the fire, book in one hand and a glass of chardonnay in the other.
Follow Katy on Instagram and sign up to her Facebook reader's group. You can also find her on Facebook and follow her on Twitter
Instagram | Facebook Reader's Group | Facebook | Twitter | First for Romance | Goodreads
Buy the book at your favorite online venue or First for Romance.