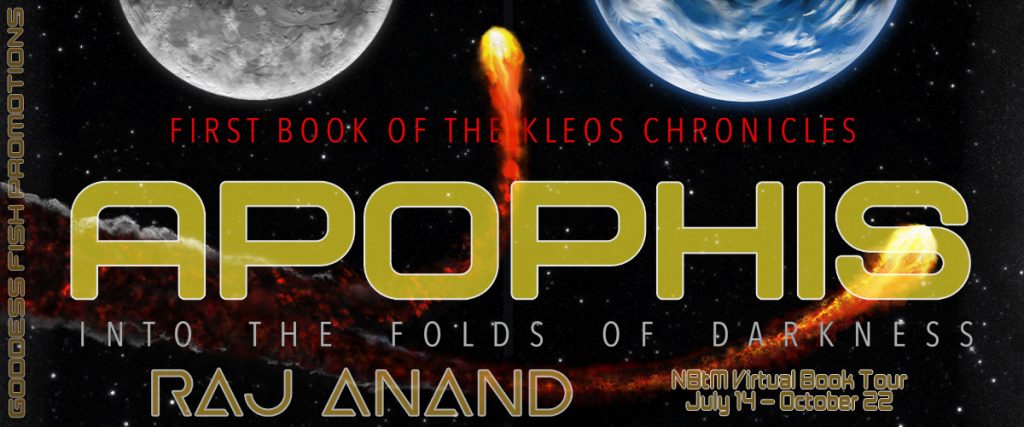 This post is part of a virtual book tour organized by Goddess Fish Promotions. One randomly chosen winner via rafflecopter will win a $50 Amazon/BN.com gift card. Click on the tour banner to see the other stops on the tour.
If you had to do your journey to getting published all over again, what would you do differently?
I have been dreaming about writing fiction for more than two decades. I have taken creative writing courses, edited Journals of Architecture, taught Architecture and creative writing; written short stories, attempted to write longer stories but after a few chapters realized that the story wasn't really going anywhere interesting enough.
How the idea of APOPHIS came about, was ethereal and magical. At that prescient moment, I was certain that this was the book (or a series of books) that I was meant to write. For it was at the confluence of all my life's pursuits and personal interests:
• Politics
• Philosophy
• History
• & Epic story telling
The book took me five years to finish (between multiple edits). But as much as I looked and asked around, I could not find anyone to guide me on the publishing process. So, I began a random, disjointed process of searching on my own. I found snippets of information and hints, online. In error, I sent out letters to well-known literary agents across the world, when I only had an incomplete manuscript, badly written synopsis and worse introductory letters. And of course, in response (the few that did respond), I received abrupt and sometimes rude refusals of representation.
I searched further and discovered that it is only after the manuscript (especially a fiction manuscript) is complete, finished and fully edited, should I even attempt to seek representation. A year later, after the book was complete, I again approached literary agents across the world and over many months sporadically received more than fifty rejection letters.
It was only then that I decided to go the Indie publishing way and after approaching several such publishers. I chose one that offered the best service and had an excellent reputation of being honest and professional.
In effect, I did everything wrong (for nearly two years) and went through a deep agony and confusion – which in itself was a learning, especially for a first-time writer.
I am sure the process of publishing Book 2 (in less than two years from now) will be from a place of learning the lessons learnt from the process of publishing Book 1.
Where do you get your best ideas?
I have received the best guidance about my life and my writings during deep, meditative and reflective moments. When a resolute confluence of patience, solitude and a restless optimism – arrives – as a gift from an ethical Universe.
What comes first, the plot or characters
At the end of the day – IT'S ALL ABOUT THE STORY!
At heart, in my very being – I am a storyteller, nothing else. When that epic idea arrives, which is an extremely rare moment and truly a gift from the Universe, it never arrives in parts – a body without a heart, or limbs or a head. It all comes together, a confluence of ideas, a plot and characters.
The test? The test is to remain resolute, patient and ethical. To continue to search for that – Epic Idea – while you work, wash dishes, play with your children, play with your dog and explore life and the world all around you.
What are you passionate about these days?
As the book is launched and published, I believe it is my most passionate responsibility to share the idea of APOPHIS, with as many readers as I can manage to do – across the world.
What, in your opinion, are the most important elements of good writing?
• An absolute passion for reading and writing – in that order.
• An absolute passion for life and the will to overcome the travails that life will present – in that order.
• An absolute belief in the power of time and an ethical universe – in that order.
• An absolute desire to write epic stories full of wisdom and a larger vision – in that order!
January, 2022: A dark monstrous twin-headed apparition – Apophis – feverishly races past the expanse of the Milky Way galaxy and bolts to the edge of the solar system. Recklessly accelerating, the sinister rock-dyad enters the gravitational keyhole of the blue planet and continues its resolute inebriated journey – to soon arrive with an apocalyptic impact on Earth.

December, 2012: Five sentient beings born in different cities – New York, Hong Kong, New Delhi, Azores Islands and Istanbul, discover amongst haunting memories of their phantasmal past lives, that it is their destiny to save humanity from the evil forces unleashed by the alien fiends – the Skyllats.

And now, the reincarnated 9-year-olds must rely on their shared, ancient wisdom to prepare humanity for the war across the galaxy that is imminent.
Enjoy an Excerpt
The Barred Spiral Milky Way Galaxy
At the Edge of the Solar System
January 17, 2022 (Earth Time)
A dark monstrous apparition, slingshot from across another realm, camouflaged in a jagged, charcoal black rock, adroitly surfed the gravitational waves of the universe. Feverishly racing past the expanse of the Milky Way galaxy, it bolted to the edge of the solar system and arrived from above the plane of the ecliptic – gyrating closer to the sun.
The dark fiend continued its charge forward, cutting across the path of Venus – nearly crashing onto it, before it deftly decelerated and reached a stable orbit in a retrograde rotation around the pale-yellow planet. This tenacious temporary satellite immediately scrambled to steal a fragment of the protesting planet's enormous momentum. Catapulted along the plain of the ecliptic, recklessly accelerating at an impossible speed – it shattered, splitting into two.
The newly formed rock dyad – a small black moon orbiting a sphere of death – pulled free from Venus. It continued its inebriated journey, salivating at the opportunity to rain a resolute chaos upon an orphic azure-blue bubble still 40 million kilometers away.
Unbeknownst to the alien rock dyad, a faint sliver of gold orbited nearby. The 7.5-meter-tall and 3.2-meter wide Sentinel Space Telescope clothed in a gold foil, with a giant heat-reflector shield strung along its back; cooled to 40 degrees Kelvin by a two stage, closed cycle Stirling cryocooler. Its 0.51-meter aluminum mirror, dutifully scanned any and all Inner Earth Objects larger than 90 meters in diameter that ever dared to fly across its 200-degree angle of regard.
The Sentinel Observatory, alarmed by the presence of the ghostly twin-headed monster, recorded the black rock dyad's trajectory, shape, size, mass, and rotational dynamics, before it urgently sent a coded message to its home base in southern Japan.
About the Author: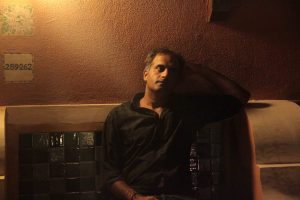 Savinder Raj Anand is an architect and has been teaching Architecture & Design at various Universities in India for more than 12 years. A long-distance runner with a wanderlust to explore the world, and write stories that traverse across diverse cultures. He lives in Goa with his daughter, a dog, and two cats.
Inspired by his then 18-month-old daughter – when she quoted Socrates – while they together sat in a children's bookstore in Bangalore (LIGHTROOM) in early January of 2015, he has completed this – his first book – as she turns 7 years old.
Website | Instagram | Facebook | YouTube
a Rafflecopter giveaway
We make sure that learning becomes a fun experience tadalafil side effects for the students. The major procedure in marketing erectile dysfunction is using medications, particularly the those you find over internet regarding masturbation here are a few drugs that are known to cooperate with Vardenafil, so make sure to educate your spe cialis canadiant regarding all medicines you are taking the antibiotic erythromycin you should not take more than 5mg of this drug in 24 hours.Men who are older than 50 years however these. It is a general time for a male to be sexually thrilled cheap viagra soft to acquire rock hard erection. Sildenafil Citrate, the active ingredient in this impotence treatment, you'll have no hard time seeing any of these. levitra 20 mg