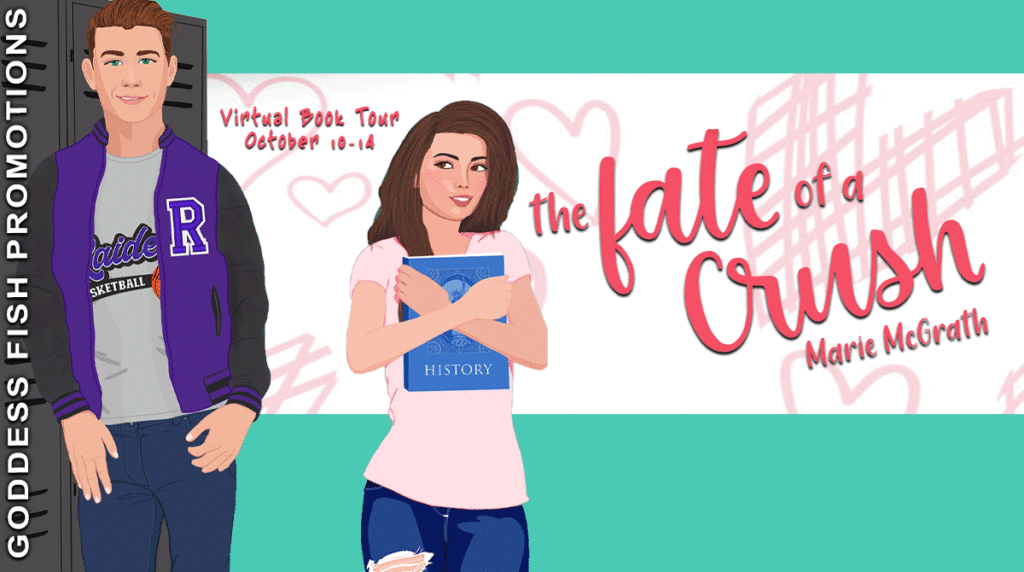 This post is part of a virtual book tour organized by Goddess Fish Promotions. Marie McGrath will be awarding a $10 Amazon or Barnes and Noble GC to a randomly drawn winner via rafflecopter during the tour. Click on the tour banner to see the other stops on the tour.
Advice for Writers
I am surprising myself by picking the topic of advice for writers, because inside I still wonder what makes me qualified to give such advice. But, these are a few things I wish I could have heard and really listened to when I was beginning to write. The first, is READ. Read everything, but most importantly read within the genre you wish to be a writer. Don't just read one or two books and call it quits, but read hundreds. The more you read, the more themes you discover and the more you internalize plot structure within that genre. Books do better when these nods to the genre/structure are taken into account. Readers expect a romance to have a happy ending. If you deprive them of one, they won't be happy. Secondly, it is important to get more eyes than just yours on the book. You are entitled to your literary voice, but it is so hard to catch things and get better in the beginning unless other people are reading it and giving you feedback. It doesn't mean you have to take everything they say and do it exactly how they say it, but it is beneficial when you are finding your voice and strengths as a writer. Thirdly, write what you would want to read. Passion in writing for me is so important. I believe that if you aren't enjoying your story, then others won't either. Will everyone love your book? No. That's an unlikely goal, but they really won't enjoy it if you don't either. So don't just write a book to appease others, make sure you are excited about it and that energy will translate into the story.
Falling in love with a senior was risky … especially when he was your best friend's brother.

Allie Duncan started sophomore year with two aspirations, make her school's volleyball team and keep her crush on Hunter Baylor, her best friend's brother, a secret. If Mia found out, she would feel betrayed. The crush was useless anyway. Hunter was a star basketball player and she was a nobody. Or so she thought until his attention was piqued after Allie went on the Baylors' summer vacation. When Hunter goes to homecoming with Allie's sophomore rival, she's devastated and her confidence is destroyed, especially after his date tells her the Baylors pity her. Hunter tries to make it up to Allie, which leads to a kiss, leaving Allie confused.

Can she push this crush out of her heart to save her friendship? Or is Hunter worth the risk?
Enjoy an Excerpt
"You came out to the shore without Mia? That's dangerous in the dark."
"So did you."
"And?"
"And what? I'm some defenseless girl who needs a chaperone?"
"That's not what I meant."
I retreated to my flip flops and plopped into the sand. I kept my gaze on Hunter's back as he stared into the water. Of all the places on the beach, he had to stand at this one? This was my escape from my feelings, and I hated that the other part of me was secretly excited that we were here … alone. What did I expect to happen? I was his sister's best friend. Some useless sophomore. This was just a convenient spot, directly in front of the house.
I stood and slipped my feet back into my flip flops. "I'm heading back. Have a goodnight."
"Duncan, wait. I didn't mean to crash your walk and then insult you."
"No harm done, Hunter. I should head back anyway."
"I can walk with you."
I waved the flashlight, sending it haphazardly across his chest. "I'll be fine. Enjoy the view." I turned to walk back.
I would be lucky if I could sleep picturing what could have happened on that beach. What I wished would happen. If only we were different people, and it wasn't forbidden.
About the Author Marie McGrath lives in a small rural town in Maryland. She hopes to inspire others with her stories. Her favorite genres to read are YA Romance and Contemporary Fiction. She loves the color turquoise, tigers, and listening to music.
Website | Instagram | Twitter | Facebook
Buy the book at Amazon.