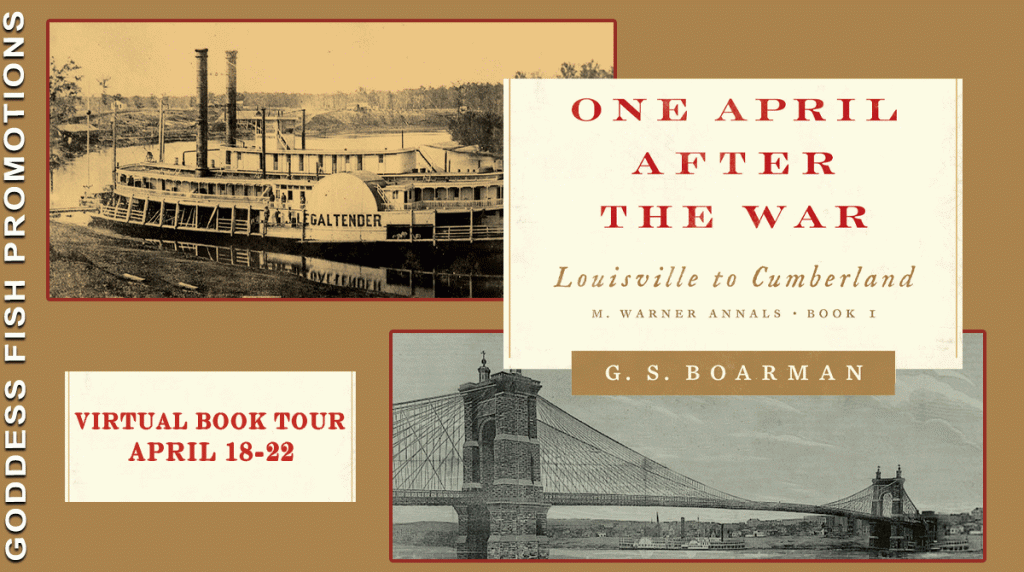 This post is part of a virtual book tour organized by Goddess Fish Promotions. G.S. Boarman will be awarding a $10 Amazon/BN GC to a randomly drawn winner via rafflecopter during the tour. Click on the tour banner to see the other stops on the tour.
*****
I would, firstly, like to point out the coincidence of April 1870 (the time in which the book takes place) and April 2022 being exactly the same: they both begin on a Friday, Easter is the 17th in each year, and there is only one day's (or night's) difference in the full moon. One April After the War: Louisville to Cumberland is structured so that each chapter corresponds with one day in April. In this way, and in this year in particular (2022), the reader can read a chapter a day and follow the characters in "real" time across the month of April. I have appended a copy of a calendar designed specifically to reflect both the coincidence of April 1870 and 2022 and the chapter-a-day structure. If this interests you, have a copy in hand on April 1.
Speaking of April, the title reflects several influences. First, it is a nod to Irene Hunt's Across Five Aprils (1964), a novel that was an assignment for my 8th grade history class. April, of course, marked both the beginning and the end of the Civil War. Abraham Lincoln died on April 14, 1865, and this is significant for my novel because of the last thing he did before going to Ford's Theatre that night: he signed a piece of legislation authorizing the organization of a new federal detective agency, the Secret Service. The two primary male characters in One April, Merritt and Argent, are operatives of this division of the Revenue Department. There is one other historical fact that occurred in April, but that is not revealed until the third book, though it is revealed obliquely in the second book, One April After the War: Cumberland to Washington.
The work of the Secret Service is prominent in the books. The Secret Service's original mission was to combat counterfeiting, a constant problem all through the history of the United States, but once the federal government decided to print national currency, counterfeiting became the federal government's personal problem. Before a national currency was established (during the Civil War), people relied on hard currency (gold and silver) or bank notes, issued by individual banks. These bank notes were not universally accepted as legal tender; it could simply be denied by anyone for payment of any kind. It was the phrase 'legal tender' that finalized April as the month for the first two books. Originally, I had imagined the book opening on a glorious late March day, but during research, I found that the steamer Legal Tender left Cincinnati (where Merritt and Argent were wrapping up a counterfeit case) on April 1. Being Secret Service men charged with protecting the legal tender of the nation, I thought it was a sign that these men were ordained to travel on this steamer, to leave Cincinnati on April 1. I had already decided that Merritt and Argent would make an assumption about Mary Warner that would set the tone for their relationship. That they would take Legal Tender to Louisville and meet Mary Warner under a confused assumption on April 1 seemed too good to pass up: Merritt and Argent would be the embodiment of April fools on April Fools Day. So, the book would begin on April 1, and I then determined that it would end on April 30 (except for a kind of epilogue covering a few days in May).
One April After the War: Louisville to Cumberland is the first novel in the M. Warner Annals (Books II and III are already written; Book II will be available on March 15; Book III will be available in late summer or early fall). M. Warner is the protagonist, a young woman from Louisville summoned to Washington. Her name is Mary, a name she shares with all her sisters and her mother; only her mother was known as Mary, all the daughters were called by their middle names. M. Warner was therefore known as Lally, a diminutive of Eulalia, her middle name. I came across both this name and the family policy of naming several, if not all, daughters Mary and referring to them by their middle name in a family ancestry book. I immediately knew, years before I wrote the books, that Mary Eulalia would be the name of any female protagonist I might create. I named our only female dog Lally. There were four boys in her pack, and we referred to them as Lally and the Boys. (We just said goodbye to Lally a few weeks ago, after 15 years; Jack and Fry preceded her by two years and 6 months, respectively; only Morty remains. Jack and Morty are M's pet dogs in the books, and in later books, play important parts.)
Another female character name has an interesting history. Miss Carrie was named for a woman I had never met, but about whom I had heard occasional comments from older brothers, many years ago; I never learned her last name. I only knew that Miss Carrie was somehow connected to my grandmother's farm near Bardstown, KY and that she "put up" all kinds of fruits and vegetables. I particularly remember the phrase "Miss Carrie's pickles." In preparation for this blog, I asked my oldest brother about the mysterious Miss Carrie. I was astounded to lean that she had been the daughter of a slave (she was in her 80s, my brother thought, in the mid 1950s when he knew her). She had lived on the farm not very far from the farmhouse in a much smaller ramshackle house. This house was in serious disrepair and was torn down in the early 60s. I have no memory of this house, but very well remember the root cellar near where the house is said to have sat. I was very afraid of that root cellar. I regret that I never thought to ask my mother, before she died, about Miss Carrie. My mother was reportedly very fond of Miss Carrie's pickles.
When Mary Warner is requested to attend a meeting with her estranged godfather, President Ulysses S. Grant, she quickly finds that an invitation from the office of the President is an offer she can't refuse.

Fresh from concluding a counterfeiting sting in Cincinnati, Secret Service agents Merritt and Argent are tasked by the President to convince Miss Warner to return with them to Washington, D. C. For the two Treasury agents, this simple assignment to escort the socially awkward and willful young woman on an 800-mile railroad journey from Louisville, Kentucky to the White House proves far more interesting and difficult than the men could have ever thought possible. And, in the face of danger, it may just turn out that Mary is more of an asset than a problem for the two agents.

For Mary Warner, the trip begins to take on a sinister meaning as she finds herself virtual prisoner to Merritt and Argent. Madness, morality, and murder all swirl in a strange April storm at midnight turning this odd odyssey into something so much more than a mere trip between cities.
Enjoy an Excerpt
She was always slow to realize the magnitude or importance or sacrifice of any kindness or gesture, and now she realized, years too late, that in the middle of a war, with sons dying and stretched between the demands of both the farm and his duty to the Union, her father had stopped for a moment to collect this picture for her. More and more, with each year added to her age, she was beginning to see herself as perhaps others had always seen her – selfish and ungrateful and incapable of natural feelings.
About the Author:After the death of G. S. Boarman, a great niece cleaned out the old Kentucky family farmhouse and in the attic, amid the rusting coffee mill, the rickety outdated furniture that was still awaiting repairs, and the stacks of vermin-eaten Harper's Weekly's and Police Gazette's, she found a curious box marked simply "M".
On the kitchen floor, the metal hasps were flipped back and the top pried off. Lying on the top of a very neat and orderly collection of things was a scrapbook and lying loose inside the scrap book was a note that said simply, "Please finish the story." The scrapbook itself contained a rough outline of a narrative with sometimes undecipherable glosses and cryptic references to mysterious sources.
From letters and notebooks, ledgers and calendars, train schedules and stockholders' reports, the story was slowly extracted and pieced together, and the small treasures, carefully wrapped and preserved in the box, took their place in the narrative.
Boarman's will had already been read, probated, and executed, but the niece, as executrix, felt obligated to fulfill Boarman's last wish — to breathe life into the long-ago story of a woman who held some importance to Boarman.
Website
Buy the book at Amazon.