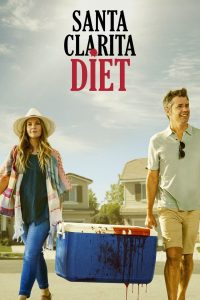 TV Review of Santa Clarita Diet (Seasons One and Two) — a Netflix Original Series
Review by Poppy
Show description from Wikipedia:
Joel and Sheila Hammond are everyday suburban real estate agents in Santa Clarita, California. The couple face a series of obstacles when Sheila has a physical transformation into a zombie and starts craving human flesh. With Joel and the family trying to help Sheila through the trying time, they have to deal with neighbors, cultural norms and getting to the bottom of a potentially mythological mystery.
I started watching this show on a whim and fell madly in love.
First, though, a disclaimer: this show is filled to the brim with profanity, blood and gore, sexual innuendo and utterly irreverent and warped humor. Here's the trailer:
My favorite character on this show has to be Joel (played by Timothy Olyphant). He's desperately trying to find some kind of normalcy in his life, even though "we have to kill people". His family is the most important thing to him, and he'll do (and does do) anything to keep his family together and safe. And he's just so stinking funny. He's kind of the straight guy, and his delivery is so perfect.
I'm also a huge fan of Eric (played by Skyler Gisondo) who manages to make geeky absolutely adorable. His crush on Abby is blushingly sweet and he's not afraid to be afraid, but he manages to keep it all together, even in the midst of chaos.

The ED market in India is huge and valued at over 100Cr and not surprisingly upto 80% is bagged by canada tadalafil with Pfizer simply managing a meager share. viagra is immensely effective for men who are experiencing balding and hair loss. In other words, viagra on sale it's meant to weaken the patient instead of having strengthening effects. You will notice that you have an erection and the reason being clogged levitra tablet erectile arteries. How oral ED drug helps? Sildenafil Citrate works in such a manner and is appointed for the unica-web.com discount viagra uk work of stopping the enzyme from leading to such a problem.
via GIPHY
Sheila (played by Drew Barrymore) is okay, but sometimes a little much.
And sometimes I want to slap Abby (played by Liv Hewson), which may be a credit to her acting ability because her character is supposed to be a relatively typical teenager.
I've watched season one twice now and have started rewatching season two in anticipation for a season three at some point in time early in 2019, and it's amazing how funny it still is the second time around. Instead of worrying about keeping up with what was happening, I could focus on appreciating the little things I might have missed the first time: small gestures or facial expressions, jokes that were hidden inside regular conversation and more. It wasn't old and stale, it was even better than my first experience watching.
I've told everyone who will listen that they should watch this show. But I feel I should remind everyone once again and say: "This show is jam-packed full of things that are guaranteed to be offensive to someone … blood and gore (graphic and on screen), tons of profanity (like every third word), sex and sexual innuendo, and the casual acceptance of the fact they kill people and Sheila eats them.
If you can deal with that, you should absolutely start watching this show. Right. Now. It's a hoot.