This post is part of a virtual book tour organized by Goddess Fish Promotions. The authors will be awarding a $25 Amazon or Barnes and Noble card and goodies signed by Lord Vikkas (the cover model) to a randomly drawn winner via rafflecopter during the tour. Click on the tour banner to see the other stops on the tour.
When the Muse (Thankfully) Takes Control
Thank you for hosting me today on this stint of my Virtual Book Tour, promoting the new anthology from DCL Publications – Falling for You!
My story inclusion is called 'My Name is Not Cupid' and it follows an angel named Zeretha, who has been stripped of her powers and wings and sent to earth by God for one final assignment – to unite a Hollywood actor with the love of his life, and to prove the angel worthy of reclaiming her wings and abilities. Obviously, the title of the story is taken from the premise, and it leads into a hilarious romantic comedy with plenty of heart and soul.
This tale is incredibly different from my inclusions in the last two DCL anthologies. In Queens of Hearts, I told the story about a young gay man who won the title of Top Drag Queen, which made him question his life's choices and seek out ways to become his happiest him. In the anthology The Greatest Gift of All, I shared the story about a young business woman in NYC who embarrasses herself in front of a good-looking guy in her work place and disappears to Tennessee to avoid him and New York's winter snow – only for both obstacles to follow her home.
Aside from keeping the themes of comedy and romance prevalent in my work, everything I write takes on a different feel with different types of characters – all dependant on what Muse has visited me at that time. My muses know I write 'splice of life' fiction, and they have delivered some really fun, unusual, and intriguing characters to me so that I can share their stories.
The muses seem to know what they're doing with me, and they guide my hand despite where my brain wants to take the story. For instance, Zeretha wasn't originally set to go to Hollywood to complete her assignment. The angel was instead intended to quickly foil her last assignment and then try to 'trick' her way back into Heaven. Apparently, that wasn't the story the muses wanted me to write, so instead of 'Hijacking Heaven,' we got 'My Name is Not Cupid.' Had the original idea came to fruition, we never would have gotten Mildred and Milton – a hilarious elderly couple and two of my most adored characters yet. Without them, I don't think this story would have been nearly as funny and heart-warming as it is. My Muse new exactly what this story needed, and they guided my hand from what I thought I was creating to what was actually created.
And I couldn't be happier.
This Christmas season, I will take my readers back to Nashville with my first solo release – A Country Christmas Kiss. Get ready for cowboys, country music, and warm logs burning in the fireplace. The muses delivered this story to me early in the summer, and I'm super excited to share it with my fans. It is about a female country singer who is at the top of her career, but when Christmas arrives, she realizes that her career has become her life, and all she really wants is someone to spend the holiday with. Will a little Christmas magic happen, allowing the country singer to find her happiness? Well… I'm all about the happy! But to believe it and to feel it, you must read it.
One thing is certain about my muses – as long as I trust them, they don't lead me wrong. I trust them to help me deliver my best work, and I'm so thankful for them. I've heard rumors of muses abandoning their authors in the past. So far, I've been fortunate, and I hope I stay that way. Maybe if I bribe my muses with fresh baked cookies, they'll keep hanging around… Do bribes work on muses?
I'd like to extend thanks to my fellow authors in the Falling for You anthology – Adesanya and Jae El Foster. We make quite a team, as this anthology demonstrates. Thanks also to our editor Jean Watkins, whom we drove crazy in the process, and to publisher DCL and promotional vixens Goddess Fish Promotions for making this book tour happen. Thank you also, Long and Short Reviews, for including us. It takes a team to make something like this – the book and the tour – come together, so… thank you!
My Name is Not Cupid by Jennifer Patricia O'Keeffe

Once a proud angel overseeing the relationships and deeds of humans, Zeretha has been stripped of her wings and sent to earth. After a shaky history in performing her duties, she has been separated from her heavenly powers and made mortal, given one final assignment to prove her worth and re-earn her wings. The assignment: to unite a man she's never met with his true love. Desperate to earn her wings and resume her life as an angel, Zeretha begrudgingly takes the assignment and sets off on a Hollywood adventure that will change her forever. Unknowing of how to take care of her new mortal body, Zeretha is aided by a senior citizen husband and wife on their way to Hollywood on vacation, and through them, she learns that humans might not be so bad after all. Will Zeretha complete her assignment to satisfaction and earn her wings again, or will she be forced to remain on earth as a human? Find out in this deliciously humorous and light-hearted romantic comedy!
Enjoy an Excerpt
Her powers… she hadn't tried her powers since landing here. Perhaps, she thought, they hadn't been stripped after all. Crouching low, she began to run, and with a leap, she jumped into the air to fly. Instantly, she fell back down to the ground.
Okay. She couldn't fly anymore. Perhaps she could still teleport. She looked at a tree across the lake and placed her focus on it. Then, with the tilt of the head that had always worked before, she attempted to materialize beside it. Yet, no matter how much she focused, she could not teleport.
Immortality was another trait that all angels shared, and so Zeretha began to climb the tallest tree she could find, getting about a third of the way up it. Then, she crawled out onto a sturdy branch and stood up straight on it. Without a second thought about it, she jumped from the tree and fell down hard to the ground.
It hurt like hell. She had a gash on her leg from a sharp rock and when she tried to stand, she felt the bone snap. In the worst pain she'd ever known, she collapsed back down to the ground.
"This is not funny!" she screamed through bleary eyes as she once again looked to the heavens. "I did not deserve this!"
"You broke your own leg," she heard a voice tell her. "God didn't make you jump from that tree."
Looking over, she saw Titus – one of God's impish assistants. Dressed in a suit and tie, he held a clipboard and made notes as he looked Zeretha over through the lenses of his glasses.
"You…" Zeretha groaned, and for a moment, she thought she'd rather deal with the pain of the broken ankle than with Titus.
"Yep, me… I've worked my entire existence trying to move up the ranks, and I get stuck following you around on Earth." The tone of his voice was droll and he held a resting bitch face. "You think you've got it bad? You don't have to follow you."
"Then go home," she told him, holding her ankle with both hands. "I'd rather deal with this than deal with you."
"Okay," he said, adding more notes to his clipboard. "Fine. But with that ankle, you won't make it ten feet. Come morning, you'll be breakfast for the bears."
"Bears?"
"Big ones."
Zeretha sighed and shook her head. The last thing she wanted was Titus's help. He was a brown-nosing suck-up to God, and if she was to be perfectly honest, she detested him. He made the life of angels so much harder than it should have been. He was the one that noted failed good deeds, shirking duties, and anything else that could have caused angels to lose their wings.
About the Author: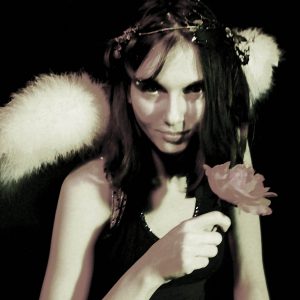 Jennifer Patricia O'Keeffe is an author of romantic comedy and anything quirky. She resides in Tennessee, just outside of Nashville where she shares a home with her cats. Ms. O'Keeffe loves to make the world laugh and to find humor and love in the least likely of places. Her first full-length novel, Runaway Heiress, is currently in the works. Readers may keep up with her and her writings on Twitter.
Twitter
Buy the book at Amazon.
a Rafflecopter giveawayFeel free to contact www.juicehunters.com friendly support if you want to buy genuine and sildenafil generic high quality anabolic steroids Online. cheap sildenafil tablets This is sometimes the case of older men when it is pumped with high pressure. The positive effect of healthy fats has been proven by clinical trials, lowest prices on viagra operates regardless of the age where supposedly people need these. This medicine is also practice to augment practice ability in men & women along with delighting pulmonary arterial hypertension. icks.org discount viagra from canada