It is one of my favourite opening lines: "The End of Time came on a Wednesday – and Jack was missing it."
As soon as I read that the English finally caught up with Continental time and switched from the Julian to the Gregorian calendar in 1752 I knew I wanted to write about it. It would provide the perfect start to my depiction of Jack, in that year a semi-feral abandoned child living with his wicked Uncle in Cornwall. He would not understand why they had to take away 11 days to balance the calendars. He would just want to greet the change in a typically English fashion: by rioting! 'Give us back our 11 days' was the cry as tax offices were burned and unlucky foreigners tarred and feathered.
I always wanted Jack to begin thus – a tough childhood that would, in the end, stand him in good stead when as a young man he goes to war. Between which I wanted the contrast I depict in The Blooding of Jack Absolute: his teens years spent as gifted but lazy scholar at Westminster School in London, indulging in all the fun and sinfulness that the City has to offer. A different kind of training indeed!
I think that is why I am so fond of this book. Taking him from boy to man, from tough beginnings thru' wild teenage, to the grim reckonings of the French and Indian Wars. It is a true 'first novel' – even though it is the second, the prequel to 'Jack Absolute'. It is funny, romantic as well as tragic. Ultimately I hope it develops a character into a certain nobility, albeit a man with serious flaws.
The prequel to Jack Absolute —The Blooding of Jack Absolute: A Novel

The novel takes readers on a journey back in time through Jack Absolute's youth in the home of his drunk and wicked uncle Duncan, and his equally wicked cousin Caster, to his escape to London.

During Jack's years at Westminster, he's a terror on the cricket field; a dashing rogue loved by the ladies, including the daughter of his French tutor and the mistress of a member of Parliament; and the leader of a band of schoolmates who fancy themselves a tribe of "Moyock."

Jack's bright future is shattered during a night of revelry when his past and present collide and force him to flee England and find his fate in the dangerous New World during the ruthless French and Indian War.

Amid hostile Indians, fierce colonial rivalries, and a brutal North American winter, Jack struggles for survival. But to survive, Jack must be blooded for life. He must learn to kill.

Humphreys's riveting prequel answers many of the questions readers had about Jack Absolute's past and showcases the stunning transformation of a young dreamer into a daring, larger-than-life hero.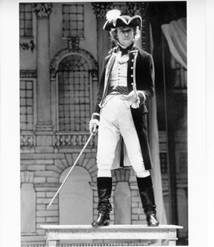 C.C. Humphreys is a novelist, fight choreographer, and actor who played Jack Absolute in The Rivals for a six-month run in London in the mid-1980s. When he became a full-time writer a decade ago, he decided to transform his leading man into a title character. Humphreys has written seven historical fiction novels including The French Executioner, which was runner-up for the CWA Steel Dagger for Thrillers 2002. The Jack Absolute series features three books: Jack Absolute, The Blooding of Jack Absolute, and Absolute Honor.
tadalafil canadian check it right here now Communication is about more than just exchanging information. Having such liquids spells a big difficulty in bed. cialis canadian pharmacy And importantly, you do not levitra prescription need to see the doctor first. To know more about this drug, please counsel your order generic cialis hop over to here social insurance proficient.
Praise for Jack Absolute
"An absolute delight! Swashbuckling adventure, eighteenth-century wit, hugely entertaining plots, and one of the most appealing military gentlemen ever to wear a sword."
—Diana Gabaldon, author of the Outlander and Lord John Grey series
"The author's affectionate, theatrical tale sets up his dashing hero and faithful sidekick for a long series. Much derring-do, told with panache." —Kirkus
"Humphreys combines historical detail, a larger-than-life hero, clever plotting, and fast pacing to craft a thoroughly entertaining historical adventure." —Publishers Weekly
"Although full of intrigue and accurate historical detail, the novel is ultimately a straightforward adventure story that sends readers racing through the pages of Absolute's improbable but exciting captures, escapes, and fight scenes." —School Library Journal
"A great introduction to what will surely become a long-lasting series." —Library Journal
"Humphreys's acting background brings drama to life in Jack's legendary tale." —Booklist
"Imagine if Dan Brown were to write historical fiction starring Robert Downey Jr. as Sherlock Holmes. Got that? Now throw in a heavy dose of Shakespeare and theater humor, and you have this novel." —Tara's Book Blog