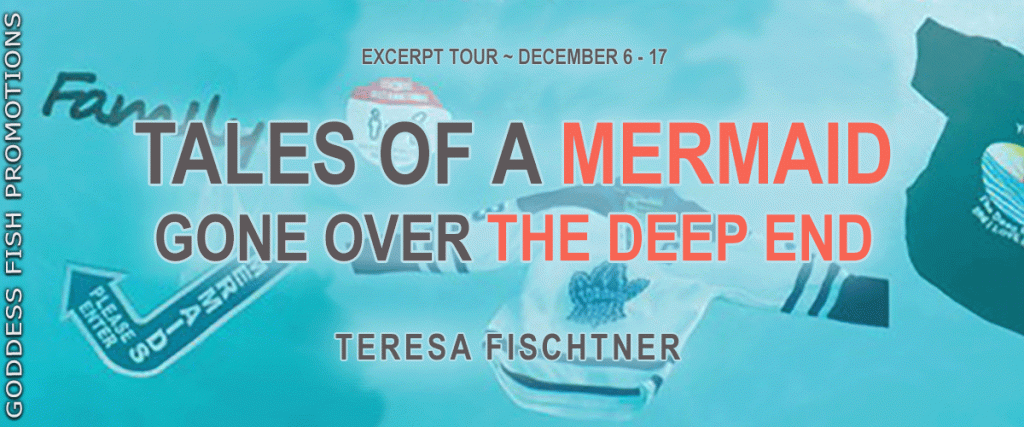 This post is part of a virtual book tour organized by Goddess Fish Promotions. Teresa Fischtner will be awarding a $15 Amazon or B/N GC to a randomly drawn winner via rafflecopter during the tour. Click on the tour banner to see the other stops on the tour.
Advance praise (payback) for Teresa Fischtner:

"Well, this is a little embarrassing. I didn't actually read the WHOLE book, but it's probably pretty good. I'm not sure what she said about me, but you should know—SHE shot me in the back on my 19th birthday!"
– Ronny Fischtner (author's son)

"I love my mom and I love MOST of this book. It should be noted that my bowling has improved, I've given up hockey, accounting is for nerds, pancakes is food for super heroes and no one needs to count how many boyfriends I've had."
– Malyn Fischtner (author's daughter)

"I'm pleased to be the source of so much humour for my wife. I just wish she didn't feel the need to publish it."
– Ron Fischtner (author's husband)

"It was the last class of the evening that I was teaching, and we were doing our stretches, and at the surface of the water I noticed a single floating nipple happily bobbing away on its own. Unsure if its owner was still in the water, I quietly asked the nearest lady, "Excuse me, could you just pass me that nipple over your right shoulder?

"There I held a lovely C-cup breast that went rogue. I made posters for the lost breast (seriously, I made missing boob posters). No one claimed her. I introduced her to all the instructors, but no one recognized her (honestly, they all look the same after a few years at the pool). No one ever claimed Betty (yes, we gave her a name). Betty stayed on the teachers' table in our special little box for a long time. Eventually, like all good boobs, she wrinkled up, lost her bounce, and sagged lower and lower in the box until we all forgot how much fun she was when we first found her."

This is a feel-good book of true short stories about me, my family, friends, and my aquafit business, Over the Deep End. We all have stories to share, and the true ones are always the best. I'm sharing some of my most vulnerable moments, some of my greatest moments, and some of my saddest. Hopefully, in one story or another, you find something way better than me—you might find you. We all have a story and a different way to tell it. I hope telling my stories helps you tell some of your own.
Enjoy an Exclusive Excerpt
I met Pam at the pool. She had been using a therapy pool in London while she was still in recovery, but now she had to find her own water therapy. We don't have a chair lift or a ramp for our pool, but that wasn't going to stop Pam. We don't have wheelchair parking or automatic doors, but that wasn't going to stop Pam. I had never worked with anyone confined to a wheelchair, and that didn't even make her flinch.
Pam was able to get herself into a standing position, and then I would work her feet to get down the steps. I'm not going to lie, it wasn't pretty in the beginning, but now, years later, we move together like professional dancers (dancers with two left feet wearing clown shoes). The first time she got in the water, she was able to walk the length of the pool holding a noodle at the surface. Her moves were jerky and took all the energy she had, and it was freaking amazing! It was another Terry Fox moment for me—I was in awe of her.
We got her in the deep end and tethered her to the wall. If she could walk, then she could run, and run she did. She was coming to the pool three times a week and getting stronger all the time. Of course, she joined Bert's therapy class; she had two therapy swims a week and one regular aqua fit class. I love it when she arrives at a new class in her chair, and everyone in the water wonders, "How the hell are they going pull this off?" and then we do. She quietly has the respect of everyone in the water, no matter what class she is in. It is no big deal, just Pam taking an aqua fit class. She inspires a lot of people.
Every year at the pool, we host a "Water Running Marathon." It is a fundraiser, and each year, we pick a new charity. It is a one-day event that people sign up for a forty-five-minute time slot in the pool for which they water run the entire time. We have instructors on deck to help motivate and good tunes to keep them on pace to water run five kilometres in the forty-five minutes. It is a pool party with a purpose. We raise money and awareness for charities that tend to go unnoticed. It is always a pretty magical day. When Pam started coming to our classes, I asked if she wanted a spot in our marathon, and of course she did. Not only did Pam want a spot, but she also put together a team of water runners and got pledges for our charity. I was always proud of our water running marathons but never prouder than when Pam rolled through the doors.
Life can feel like it's really slapping me around sometimes, and I have two good legs. Every time I think of Terry Fox or dance Pam into the pool, I'm not just thankful for my good health, but I'm thankful for theirs. People with different abilities are people with different opportunities for greatness.
About the Author: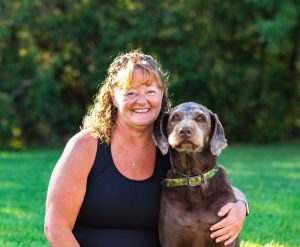 Teresa Fischtner is an "aqua entrepreneur." After 25 years working in accounting, she changed careers and started teaching aquafit at her family pool. Customers come to "Over the Deep End" for full body workouts in deep water and they leave with a sense of community and friendship that Teresa has created, and all her mermaids and mermen continue to nurture.
This is Teresa's first book; she writes from her heart with honesty and humour. Comments and kindness always welcome at teresa@overthedeepend.ca.
Website | Facebook | Instagram | Goodreads
Buy the book at Amazon, Amazon CA, Bookshop, Indigo Chapters, Barnes and Noble, Book Depository, or Smashwords.