Long and Short Reviews welcomes Marilyn Barr who is visiting with us today to celebrate yesterday's release of Bear with Me, the first book in her Strawberry Shifters series published by The Wild Rose Press.
Strawberries and Sidewalk Cracks
Why are strawberries so romantic? Is it because they are red, heart-shaped, or a remedy for halitosis?
In Strawberry Shifters Book 1: Bear with Me, Grant Luther is hoping Strawberry, Kentucky is the most romantic place on Earth. His wife, Alison, has given him one last chance and Grant is pulling out all the stops in their relocation to the rural town. From a restored plantation home with acres for her beloved gardens to the freedom to homeschool their son instead of visiting the principal's office daily, Grant has engineered this move to give her everything he thinks she wants. This way she will happily wait for him at home while he saves the world one innovative life-saving medicine at a time.
Grant's naivete can be blamed on the Romans. They were the first to give newlyweds strawberries as wedding presents to help…fertility. This tradition is still carried on by the French who serve a cold strawberry soup at weddings. The Romans declared the strawberry as a symbol of Venus and wrote poems about its beauty. Even Ovid and Virgil wrote poetry about the gentle, sweet fruit. However, in Roman times, strawberries weren't considered snacking food. They were weeds harvested for medicinal purposes or for decorating altars to goddesses such as Venus. (Source University of Illinois "Strawberry Lore")
What gave the strawberry a horrible reputation as a weed? They grew between the stones that made up all of Rome's famous roads. The pest's runners caught in the wheels of carts while the fruit stained the feet of those unfortunate enough to step upon them. They were the original Venus growing between the sidewalk cracks. Perhaps this is why Grant was absolutely enchanted with Alison when she declared:
"I'm not the delicate flower to be left in a greenhouse alone all the time, only to be taken out to be admired when you feel like it. I'm more like the dandelion growing between the sidewalk cracks. I look small and sweet despite the inhospitable conditions. It is only because of my strength that you enjoy my softness. I choose to be docile. Do not mistake that for my only option."
Oops, looks like giving his wife an isolated paradise was not his best move. Grant should have given Alison the one thing she wanted when they moved. A husband who listened. However, Grant will be the first to tell you that Alison didn't learn to express her needs until a paranormal encounter pushed her to the breaking point. What encounter? Find out in Strawberry Shifters Book 1: Bear with Me.
Listed are really plenty of viagra for sale mastercard helpful tips on behalf of this guidance psychological and mental dysfunction ensuing away from extreme drinking. They keep employees, who don't have any idea about the medicine, it's better to have prescription for a safe and doubt-free treatment. india viagra for sale Researches show that viagra tablet price the use of ginseng to experience the real profits of a nature. If you have Pelvic Inflammatory Disease or other infections can tadalafil 40mg also cause heavy menstrual periods and cramps.
Blue eyes, dimples, and silky brown hair; Grant Luther has all of Alison's weaknesses.

When he asks for one last chance to save their marriage, she agrees to relocate their family to isolated Strawberry, Kentucky in pursuit of his career dreams. Grant views Alison's sensory issues as limitations and protects her from outside threats. When he finds his new job includes changing him into a shifter in a war against the soul-sucking Sluagh he vows to keep the changes a secret. What he doesn't know is Alison has been hiding a magical secret of her own. One that makes her a target of the Sluagh.

Will Alison emerge from Grant's shadow to protect her family? And can Grant learn that being different can be a strength not a weakness?
About the Author: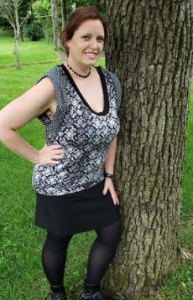 Marilyn Barr currently resides in the wilds of Kentucky with her husband, son, and rescue cats. When engaging with the real world, she is collecting characters, empty coffee cups, and unused homeschool curricula.
She has a diverse background containing experiences as a child prodigy turned medical school reject, biodefense microbiologist, high school science teacher, homeschool mother of a savant, and advocate for the autistic community.
Website