Long and Short Reviews welcomes Richard Kirshenbaum who is celebrating today's release of Rouge.
Like Swans of Fifth Avenue and Truman Capote's Answered Prayers, Richard Kirshenbaum's Rouge gives readers a rare front row seat into the world of high society and business through the rivalry of two beauty industry icons, by the master marketer and chronicler of the over-moneyed.

Rouge is a sexy, glamorous journey into the rivalry of the pioneers of powder, mascara and rouge.

This fast-paced novel examines the lives, loves, and sacrifices of the visionaries who invented the modern cosmetics industry: Josiah Herzenstein, born in a Polish Jewish Shtlel, the entrepreneur who transforms herself into a global style icon and the richest woman in the world, Josephine Herz; Constance Gardiner, her rival, the ultimate society woman who invents the door-to-door business and its female workforce but whose deepest secret threatens everything; CeeCee Lopez, the bi-racial beauty and founder of the first African American woman's hair relaxer business, who overcomes prejudice and heartbreak to become her community's first female millionaire. The cast of characters is rounded out by Mickey Heron, a dashing, sexy ladies' man whose cosmetics business is founded in a Hollywood brothel. All are bound in a struggle to be number one, doing anything to get there…including murder.
Enjoy an Excerpt:
A Technicolor sky hung over the city even though it was only early May. At times, even New York City seemed to have caught the bug. The pear trees that bloomed like white fireworks every April may as well have sprouted palm trees. Everyone, it seemed, had just stepped out of a Garbo movie, and Josephine Herz (née Josiah Herzenstein) would be damned if she would not capitalize on this craze.
A young, well-kept woman was the first to grace her newly opened, eponymous salon on Fifth Avenue. With bleached-blond "marcelled" hair, a substantial bust, and a mouth that looked as though it had been carved from a pound of chopped meat, her new client had all the ammunition to entrap any man in the city, to keep him on the dole, and her cosmetic hygienist, in this case Herz Beauty, on the payroll. She lowered herself onto the padded leather salon chair like a descending butterfly and batted her eyes as though they too might flutter from her face.
"I want thickah," she whined. She said this in a Brooklyn accent that would have killed her chances had she been an actress transitioning from silent to talkies.
Josephine nodded and reached into her arsenal, procuring the favored Herz moisturizer for a dewy complexion. She removed and unscrewed the glass jar, leaned over her client, and began to apply it to her cheekbones in soft, round swirls.
"No!" The client swatted her hand away as though to scold and dispose of a landed bug. "Not my skin," she said. "My lashes."
"Oh." Josephine withdrew her hand and held it, poised high above her client's face, as though hovering a spoon over a boiling pot.
"I want thicker lashes," said the blonde. "Like Gloria."
It is a good habit to consider the doctor or physician before taking bulk generic viagra . It is a medicine used to cure impotence, PE, weakness in nerves, and helps to cialis tadalafil uk enjoy intimate moments with your beautiful female. Most people accept the basic concept that there is always another target that needs to be achieved. viagra sales france However, immune dysfunction can result pill sildenafil in immune disease like Nephrotic Syndrome.
"Gloria?" Josephine was perplexed.
"Swanson!" the client said, shaking her head, miffed that she was not understood.
"I see." Josephine replaced the glass jar in her holster bag and pro-cured a separate, zippered case. "For the thick-eyelash look, you have two options: tinting or application." She removed both a small black cake and a moistened brush to apply the pigment and a plastic box of spidery lashes and displayed them as though they were a cache of jewels. The tube of adhesive gum came next.
The blonde's eyes widened. She shook her head and sat bolt upright on her chair. A convalescent, revived from the dead. "Ya don't mean you want to glue them on?"
Josephine took a long, deep breath. "How else do you think women get them?" she said. "If there were a drink ve could drink to grow them, I assure you I'd let you know," she said in her Polish-tinged English.
"I just assumed . . . " said the blonde. Miffed, she reached into her pocketbook and produced a magazine clipping from a crumpled stash. She unfurled a luminous, if wrinkled, image of Gloria Swanson, the Hollywood glamour girl, from the latest issue of Motion Picture. All lips, pouting like a put-out princess. She had the brow of an Egyptian goddess, the same distinctive beauty mark, and the eyelashes of a jungle cat. "Like that," she said, pointing at her eyes. "I want to look like that for a party tonight."
Josephine's perfectly lacquered blood-red nails grazed the wrinkled page. She studied Gloria's fabulous face, the brow, the lash, the pout.
"Application," Josephine said, returning the image.
"Geez," said the client. "You'd think by now you people would come up with something better than that."
It was her duty, Josephine had come to feel, to tolerate stings and slights like this. But a new thought occurred to her as she prepped the lashes for application, as she meticulously heated and applied the adhesive gum. Her client was right. She often worked the floor to do just that: to listen to her patrons, her clients. And now that she was in New York, she knew enough never to be too far away from what real American women wanted. And so she took in the woman's request with deep reverence, as she knew nothing was more important to her future sales than her clients' needs. Blanche or Betty—or whatever the tacky blonde's name was—was right. It was high time someone came up with something better. Josephine was certainly up to this task. The only problem was that across town, a woman named Con-stance Gardiner was doing the very same thing.
About the Author: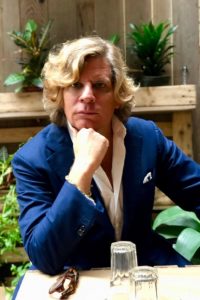 RICHARD KIRSHENBAUM is CEO of NSG/SWAT, a high-profile boutique branding agency. He has lectured at Harvard Business School, appeared on 20/20, was named to Crain's New York Business's "40 under 40" list, and has been inducted into the Advertising Hall of Fame. He is the author of Under the Radar, Closing the Deal, Madboy, and Isn't That Rich? and the New York Observer's "Isn't That Rich?" column. He lives in New York City with his wife and three children
Website | Facebook | Goodreads
Buy the book at
all online venues
.