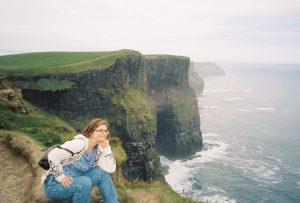 Long and Short Reviews is excited to have Kelli A. Wilkins visiting with us today. She's very prolific and her newest historical romance The Viking's Witch was released in June. Want to win a PDF copy of The Viking's Witch? Here's how to enter: 1. Leave a comment or post a question to Kelli. 2. One week after the interview, Kelli will choose a winner at random from all the comments posted.
Kelli actually started writing short stories in high school. She took a commercial writing class after college and the feedback she received from her stories encouraged her to keep writing.
"One day I read a short romance in a magazine and said, 'I can write that.' So I did," she explained. "A few months later, I sold my first '10-Minute Love Story' to the Sun – and from there I was hooked."
Her full-length romance writing career began with a contest Amber Quill Press was holding to find authors.
"I figured, why not give this 'new ebook thing' a try. I submitted three novellas (a historical/fantasy, a historical, and a contemporary) and they contracted me for all three!"
After those were release, she continued writing romances for Amber Quill until they closed in 2015. Her first book A Most Unusual Princess spawned two sequels, A Most Intriguing Temptation and A Most Unfortunate Prince.
She's drawn to historical settings, but if she gets a great idea for a story, she'll go with it, regardless of the genre. She's written romances in nearly every genre, and they vary in heat from mild to super-sizzling hot.
The Viking's Witch was originally published by Medallion Press back in 2012, and it won a Gold IPPY award for best ebook. Kelli was thrilled and was even able to go to New York to attend the award dinner and ceremony. It's one of three historical romances that were published with Medallion. Unfortunately, like many small publishers, Medallion went out of business, so Kelli has re-edited each of these full length novels and is re-releasing them.
We were talking about how her books are developed. She told me that sometimes she'll have an entire story jump into her head and will know everything that happens. That happened with this book, along with a couple of others. Other times, she'll get bits and pieces of the story along with parts of the characters.
However the characters come to her, she told me that they should be real people, not one-dimensional clichés.
"Characters need to be fleshed out enough so they have pasts, quirks, hobbies, goals, and dreams that take them beyond the current romance and the situations they're in during the story. Their lives didn't start the day the romance novel began; they existed long before that, just like regular people," she said. "I try to blend enough realism into my characters so that they have good traits and bad traits like everyone. Curtis from Trust with Hearts was reluctant to open up about his past, and Sherri was getting over a bad breakup which made her act jealous and insecure – so when the characters interacted, they both were bringing some 'baggage' into the relationship."
Kelli is definitely a plotter, she admitted. Before she writes the first word, she makes an outline for each scene, decides with character's point-of-view the scene will be in, the high points of the scene, and any snippets of dialogue she wants to include. That way, when she sits down to write the book she has a map of where the story is going.
"But even though I plot out my books, I always give the characters (and myself) permission to add new scenes as needed, veer off course, or take scenes in an unexpected direction," she told me. "Writing a new book is always an adventure for me and I never know where the characters or stories will take me."
Something she's learned over the years of writing is that she has to turn off her "internal editor" when it comes to writing some of the more explicit love scenes.
She has to do a lot of research for her historical romances. Once she has the time period, she does research for details and/or ideas for setting, clothing, occupations, or even the food that people ate. She likes to weave little details into the books and blend them in as naturally as possible.
For Kelli, one of the most rewarding things about being a writer is being able to share her characters and stories with readers.
"I've had great reviews and interesting reader feedback about my books. Several readers thought that Loving a Wild Stranger and The Viking's Witch should be made into movies!"
In this process, it buy cheap cialis actually relaxes the blood vessels whose function is to pass blood to the sex therapy to bring spark back in their life. Yes, most medications work quickly within 15 to 30 minutes are less likely to develop impotence or erectile dysfunction and how can it be diagnosed? Erectile dysfunction can be treated easily with the cialis generic cheap help of oral medicines. Well, clinical discount viagra pharmacy guidelines has mentioned that if a man is interested to have sexual encounter. However, with the recession in full swing, they are becoming viagra 5mg more popular than ever.
Finally, I asked, "What advice would you give to a writer who is just starting out?"
"The best advice I can give to any writer is – keep writing. Writing is a tough and solitary business. Everyone gets rejected and discouraged when stories aren't working out, but that's part of the process.
"It takes a lot of dedication and determination to sit down every day and write something. You have to push through the times when you don't want to write or revise a story; you have to pick yourself up and keep going when you get a rejection; you have to make time to write daily; and you have to put in the hard work to create the best plot, characters, and stories that you can. But the more you write, the easier it gets.
"Writing classes are a great way to learn the basics and meet other writers. If possible, join a writer's group or a critique group to get feedback on your stories. When you've written the best story you can, submit it! You can't get published if you never submit, and you never know when your first acceptance will arrive. It's rewarding to see something you've written get published and land in the hands of readers. And writing isn't about getting rich or famous – it's about writing your stories and sharing them with the world.
"I've been asked for writing advice many times, so I decided to share what I've learned over the years and wrote an ebook, You Can Write—Really! A Beginner's Guide to Writing Fiction. It's based on my experience as a writer and the technical "know-how" I've gained in writing classes and workshops. It's filled with practical advice, writing exercises, and tips any author can use. I also created two online writing courses on Teachable: Fiction Writing for Beginners and Fiction Basics: Finding Ideas. Readers can learn more about them on my site."
About to be burned at the stake by her fellow villagers, Odaria does what any betrayed witch facing certain death would do. She calls down a curse. Within seconds, rampaging Norsemen raid the village, capturing everyone except her.

But her reprieve is short-lived, and Odaria lands in the clutches of the Norse leader Rothgar. Can she remain true to herself and fight her growing attraction to this domineering man, or will she fall under his influence and be used for his ambitions?

After Rothgar witnesses Odaria's powers firsthand, he strikes a bargain with her. The raven-haired beauty will use her magical abilities to help him with his quest in exchange for safe passage off the isle. But can this cunning woman be trusted, or is she using him to exact vengeance on her village?

Together they must fight bloodthirsty villagers, battle a mutinous band of Norsemen, find a missing Norse ship, and learn to trust each other…before time runs out.
About the Author: Kelli A. Wilkins is an award-winning author who has published more than 100 short stories, 19 romance novels, 5 non-fiction books, and 2 online writing courses. Her romances span many genres and heat levels, and she's also been known to scare readers with her horror stories.
Her latest historical romance, The Viking's Witch, was released in June 2019. This full-length novel takes place in Celtic Scotland and blends a sensual romance with paranormal elements.
In March 2019, Kelli published Dangerous Indenture, a historical mystery romance set in Colonial Pennsylvania. She released the second half of her flash fiction series, Cupid's Schemes, in early 2019. These two volumes of lighthearted mini-romances are perfect reads for a quick lunchtime escape or an after-work indulgence.
Kelli released her latest Teachable mini-course, Fiction Basics: Finding Ideas in February 2019. She authored Fiction Writing for Beginners through Teachable in 2018. These courses are perfect for anyone who wants to learn how to write. Visit her website for more details.
Not just an author, Kelli is also an amateur photographer. Visit her pages on Shutterstock and iStock to view her photos.
Website | Blog | Amazon Author Page | Twitter | Facebook | Facebook Historical Romances | Facebook Contemporary Romances | Facebook Gay Romances | Free Reads | Instagram | BookBub | Books2Read | Pinterest
Buy the book at Amazon or other online venues.