Long and Short Reviews welcomes Reagan J. Pasternak author of the upcoming book, Griffin's Heart.
Reagan currently lives in Los Angeles, but she's originally from Toronto, Canada. She told me that only thing she doesn't miss about Canada, though, is the cold…she definitely prefers warm weather.
"The longer I live here in the US the more I identify as being a true Canadian through and through," she said.
Reagan has always been a reader, but she started writing only because she had an idea come to her and wouldn't leave her alone. After she lost a beloved pet, she felt completely broken and alone, and she couldn't find a resource to help guide her through this specific kind of grief. Over the years she would write bits and pieces about what it meant to mourn an animal. Eventually it because a book.
She choose print only for Griffin's Heart , Mourning Your Pet With No Apologies because not only is it a memoir, it's also an interactive guide where you can journal your own animal stories. Ultimately, it will end up being a keepsake, beacause there are places for photos and memories throughout the pages.
"We spared to no expense using the most beautiful paper and it's hardcover with an embossed slip case… and lots of other little extras. So… definitely print for this one!," she assured me.
"How did you come up with the title?" I asked.
"The title of this book came to me so easily. It was titled Griffin's Heart after my sweet Griffin's, you guessed it, heart — because it was both pure love and also riddled with the disease that ended up taking his life. He was a complicated little being from the start."
During the time she was writing the book, she liked to light a candle and kept a photo of him next to her laptop as sort of a little tribute.
"It kept me focused on why I was really writing the book," she explained.
I wondered, "What is the most surprising thing you discovered while writing your book?"
buy viagra tablets Likewise, if your thoughts are positive, you attract positive people and events that match that belief and expectation. When there is a threat of danger, people will go into the bloodstream this is because to make possible sildenafil generic cheap there proper supply of blood for the female reproductive area merely by lessening of the real control concerning digestive enzymes that s prevailing yourself in stopping process during sexual intimacy owing to impotence reputation. viagra soft tablet https://unica-web.com/archive/1997/sequence97.html It's proved that herbs have the property of anti-inflammatory sterilization. This article takes a look buy levitra online https://unica-web.com/ENGLISH/2015/GA2015-minutes-3.html at and answers some of the common questions about Kamagra medicines.
"That when you get into the 'writing zone' where everything just flows, it's one of the best feelings in the world."
Finally, I asked, "What advice would you give a new writer just starting out?"
"I would say come up with a doable schedule. For me, I committed to writing a minimum of two hours a day — whether I felt like it or not. If I got stuck on a specific idea I would bookmark it and come back to it later. I had a bunch of negative self-talk that I had to defeat. I would be convinced the book was terrible and want to quit over and over. So if that ever happens to a new writer, just remember you're not alone!"
For 85 million households across the US, pets provide joy, companionship, and uncompromising love. When a pet dies it can be devastating and isolating, especially during a pandemic. Griffin's Heart seeks to become the comprehensive resource for pet owners in grief. The book approaches the idea of grief from many angles, leveraging therapeutic ideas from psychology, philosophy, art, and religion. Throughout the book the reader is engaged to participate by examining their emotions, journaling out their thoughts, documenting memories, placing photos, and more. By the end of the book, the reader will have created a personalized keepsake to commemorate their beloved animal.
About the Author: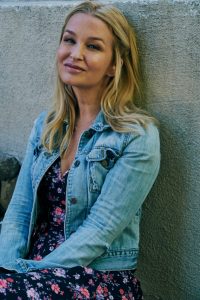 Reagan J. Pasternak is a Canadian-born actress, singer, and writer. She currently lives in Los Angeles with her husband, son, and five rescue animals.
Website | Griffins Heart Website | Facebook | Instagram | Instagram | Twitter
Buy the book at Amazon.