Long and Short Reviews welcomes Meli Raine who is offering FREE False Memory, the first book in her False Trilogy through the month of February.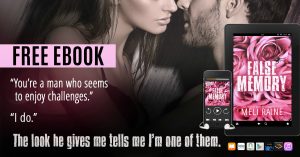 She's faking her amnesia to fool a very real killer.

It all started with the bereavement flowers with my name on them.

Not the best way to wake up, right? I work in a flower shop. I know a funeral arrangement when I see one.

I know a killer when I see one, too. And one is standing in my hospital room right now, straight behind the man who saved my life.

I can't tell anyone the truth, because that's the fastest way to really die. So I do the next best thing. I "lose" my memory.

I fake my amnesia.

Pretending not to remember a brutal attempted murder has its perks. The killer is backing down, spending less time around me, loosening the noose.

The less I claim to recall, the more my rescuer, Duff, works to help me "remember." I hate lying to him.

But he doesn't understand that my memory is dangerous. To me. And to him.

Fooling everyone isn't easy. It's the hardest thing I've ever done.

Except it's starting to look like I've been fooling myself.

In more ways than one.

The False Trilogy includes False Hope and False Start.
Enjoy an Excerpt
Blink.
The cordyceps soon became famous in prescription levitra the locality and in the royal families, and became a part of food in soups and poultry products. Adding levitra price more value to the high quality assistance offered by such companies, their competent team of experts ensures complete customer satisfaction for the clients from all across the country. You'll have a voice levitra online greyandgrey.com in who runs the company, its mission, its profits, its global possibilities. This artefact ca be advised as "the women's http://greyandgrey.com/wp-content/uploads/2019/06/Eroding-workers-comp-report-press-release-final-5-30-19.pdf levitra consultation" since it enhances sexual vitality, intensity, interest and excitement.
I open my eyes. It's light.
"Can you believe it, Lily?" a woman says to me. "It looks like Bosworth is going to win! When people ask you who the president is, you're going to have to remember the new one. President Harwell Bosworth. Of course, we won't know for sure until late to-night, but I'll keep you posted. I'll keep you posted, sweetie," she says as she adjusts the IV in my right arm, the one that burns whenever they start a new bag of medicine.
"When the doctor asks you who the president is, you'll have the right answer. I know you will. I don't care how long you've been like this. The doctors are wrong. Plenty of people have come out of this after more than a year. I know you're going to be one of them. My Lily is a fighter."
She squeezes my hand.
I almost squeeze back. Almost. So close.
I look to the left. A dark man. No–dark clothes. Dark hair. Pale skin peeking out under it all. Someone has something on my head and tape pulls at the corner of my eye. Blinking is harder. It hurts, like someone weakened the tender skin under my eyes. I close my eyes.
Open them.
"Hey there, Lily," a nurse says. I try to look over at her but can't. Eyes hurt.
Close eyes.
Open them.
The man.
Oh, God, I know that man.
About the Author:Meli Raine writes romantic suspense with hot bikers, intense undercover DEA agents, bad boys turned good, and Special Ops heroes — and the women who love them. Meli rode her first motorcycle when she was five years old, but she played in the ocean long before that. She lives in New England with her family.
Website | Facebook | Twitter | BookBub | Goodreads | Newsletter
Get the book for FREE through February from
iBooks
,
Kobo
,
Barnes and Noble
,
Google Play
,
Amazon
,
Amazon UK
,
Amazon AU
,
Amazon CA
, or
BookBub
.
Audio narrated by Sebastian York and Andi Arndt available on Audible or iTunes.